The modest commercial building at 422 N. Excelsior Ave. isn't one of Butte's architectural gems, but it's a property that has a storied past nonetheless.
It's a place where generations of Butte families have operated small, community markets, going as far back as at least the 1910s.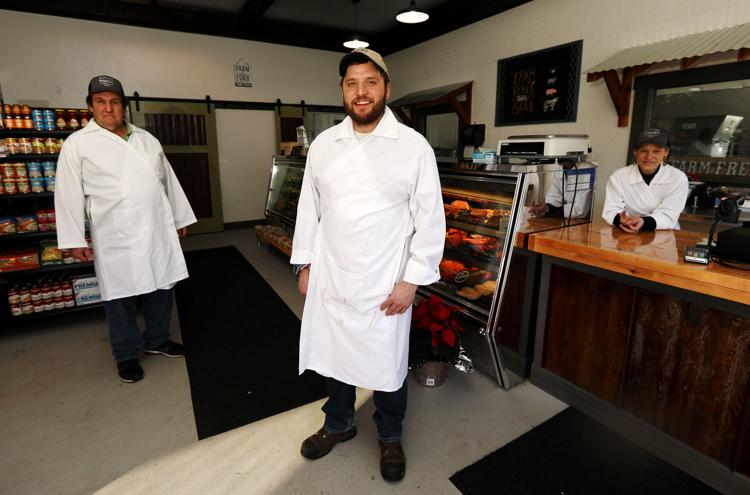 And now, Justin and Ashley Fisher are bringing that tradition back with the opening of Excelsior Meats — a small market, butcher shop and meat-processing site on the residential thoroughfare.
This isn't the first time the building has gone by the Excelsior Meats name.
Starting in the 1940s, Butte's Noonan family operated a business under the same name inside the commercial space.
That enterprise lasted into the '90s, when the building was purchased by another proprietor, who turned it into Mining City Meats.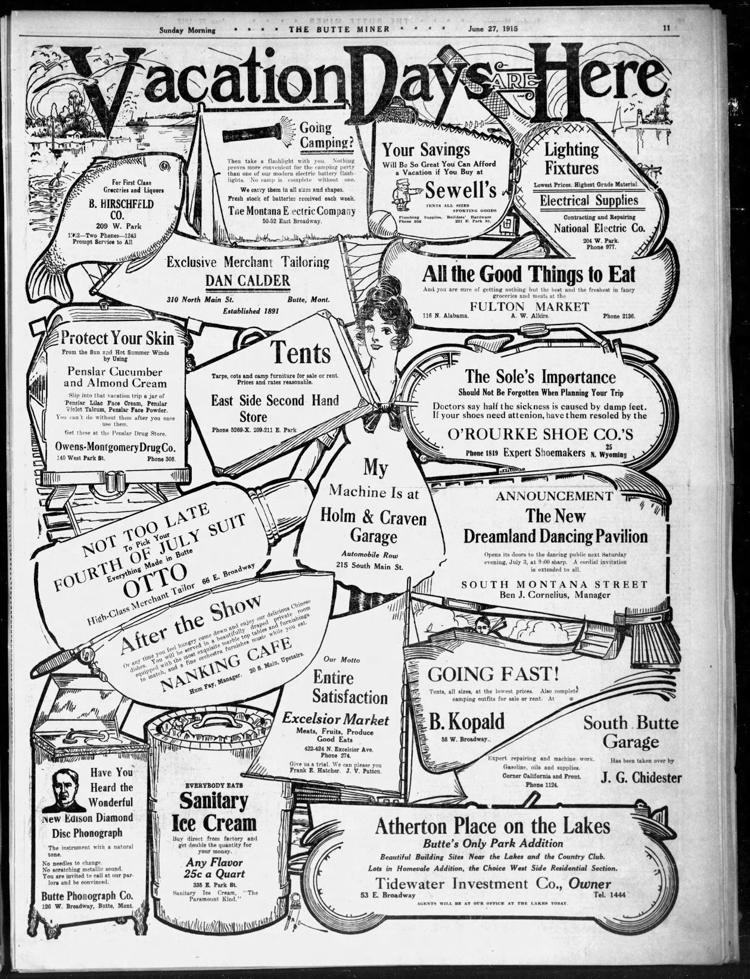 Before them, however, a business called Excelsior Market set up shop inside the property, placing an ad in a 1915 edition of the Butte Miner advertising their wares: meats, fruits, produce and "good eats."
Ashley and Justin, both 33, are also the owners of Ranchland Packing Co., a meat-processing and wholesale business on Centennial Avenue they purchased in 2012.
Justin Fisher said the initial reason for purchasing the Excelsior Meats building was to expand their processing operations.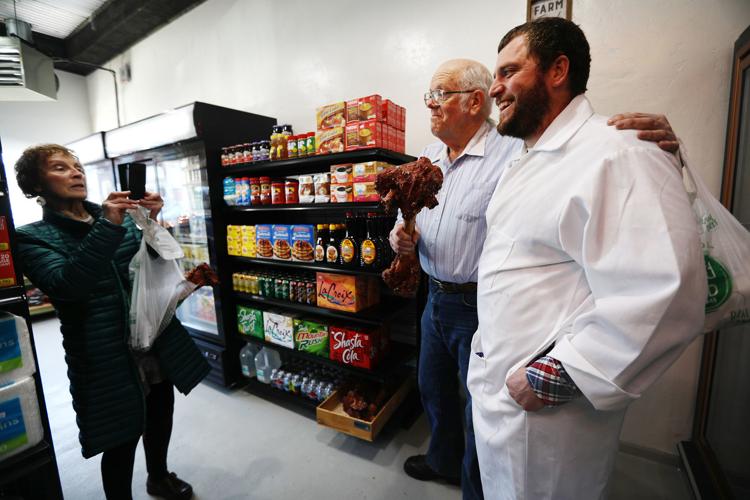 But as they renovated the building, which hadn't been updated since the 1980s, neighbors began to drop in and reminisce about the previous markets, stating how nice it would be to have a small shop nearby for Saturday morning breakfast or a quick after-work grocery stop.
As they continued work on the building, they found they had extra space that wasn't suitable for processing, so they decided to take a leap of faith and expand into retail. They took on the Excelsior Meats name, removing an outdated awning and exposing a vintage painted sign commissioned by a previous owner.
To help with the retail portion of the business, the couple worked with a consultant to figure out which products to carry and joined Utah-based Associated Food Stores Inc., a cooperative that combines the forces of community stores to give them better buying power.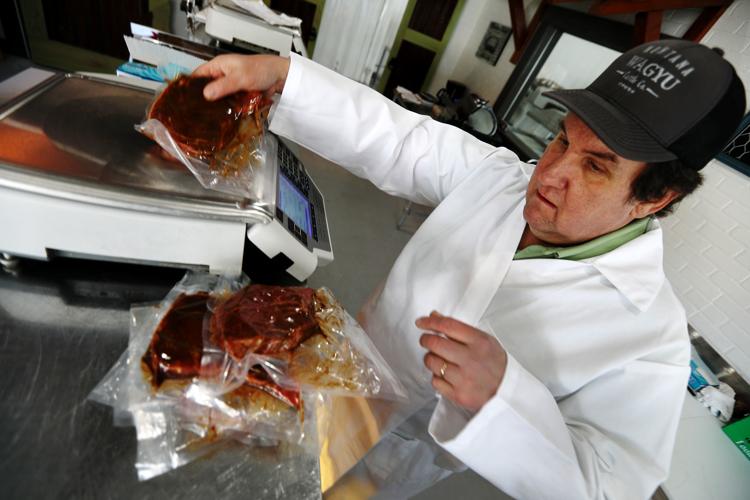 A majority of Excelsior's products are Ranchland-processed meats.
"Our core is Montana beef, Montana pork," said Justin Fisher, noting that offering locally raised meat is a cornerstone of both businesses.
The Fishers often buy live bison, pigs and cows, which they slaughter and process at Ranchland.
Supporting local providers is important to the Fishers, and Justin says he enjoys working with live animals and getting to know the ranchers.
"I like to know for my own personal self where the meat comes from. I know who raised these pigs, these (cows)," he said, later adding that pigs killed on a Monday can be on someone's dinner table as early as Friday.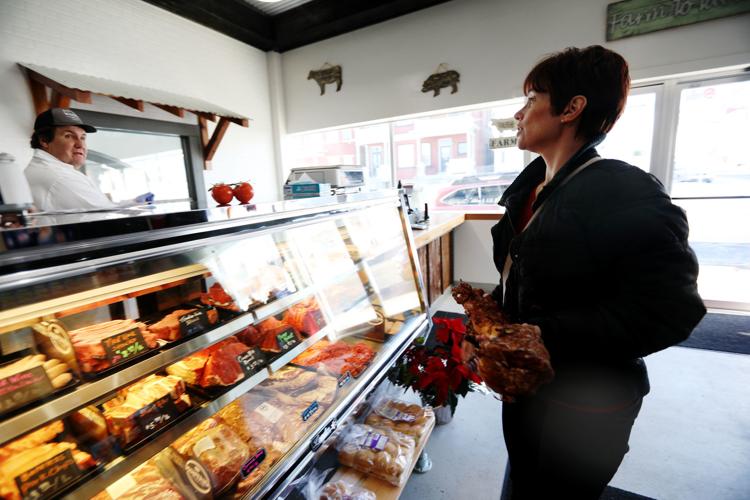 The Fishers also strive to be "nose to tail" butchers, utilizing as many parts of the animal as possible through their wholesale business.
Many of the meats at Excelsior are familiar but the shop also offers cuts off the well-trodden path.
"We have to get through the whole animal. So that's a challenge both for Ranchland and for here. That's why a lot of places have gone away from doing that. It's a lot of work (and) nothing's in proportion. Tenderloins, ribeyes, New Yorks, those are easy sales, but they're a very small portion of the animal. A tenderloin is only 10 pounds out of 700 pounds of meat," said Fisher, noting that a beef cow is comprised of a lot more than just the traditional cuts.
Ranchland sells cuts to restaurants most mainstream-consumers haven't heard of but that skilled chefs can make a "wonderful meal" from nonetheless, Fisher said.
Some of these alternative cuts have become trendy in the culinary world — products like hanging tender, oxtail, soup bones and flat-iron steak — which have made the endeavor to reduce waste a lot easier.
Ranchland sells its wholesale products throughout the intermountain west region, and many of the alternative cuts find themselves in some pretty swanky places.
"We really target those resort towns — Sun Valley, Jackson Hole, Big Sky, Bozeman, Whitefish," said Fisher.
Next to the hamburger, the beef cuts and whole chickens and turkeys, the neighborhood shop offers bacon, lamb, oxtail, bison and a whole lot more. Then there are the sausages and bratwursts, including a smoked andouille sausage and a brat infused with Cold Smoke beer.
For pets, meanwhile, there are dehydrated beef bones.
The store also carries pantry staples like milk, eggs, produce and snacks.
Like many entrepreneurs, Fisher has a passion for the products he creates, a passion that he describes as an obsession.
When he travels to other cities and towns, he's always sure to stop by the local butcher shop, which is like a chamber of commerce for him. He's been to butcher shops in New York City and even in Mexico just to get a taste—no pun intended—of how butcher shops are run in different parts of the country and world.
Both Fisher and Ashley are Butte natives.
Fisher worked in a high-end butcher shop in Bozeman while attending college.
The couple then moved to Seattle, where Fisher worked as a meat cutter and a meat manager at two grocery store chains before transitioning to a meat-packing plant north of Seattle.
The couple then moved back to their hometown and purchased Ranchland Packing.
"I didn't, actually," said Ashley, laughing, when asked if she pictured herself working in the meat business when she was a child. However, she says it's a business she has grown to love.
Since opening Excelsior Meats, Ashley has had more opportunities to interact with the public, which she says has been a perk of the job. She and Justin also now have a one-year-old daughter in tow. The new baby and the business are keeping them on their tows, Ashley said.
As for Excelsior Meats staff member Nikki Johnson, she said it's been fun working in the northwest Butte neighborhood.
Many locals have stopped in and reminisced about the previous markets that were staples of the neighborhood.
"Everybody has been super welcoming and warm and encouraging to us," she said.
One could argue that the butchering profession is also a bit nostalgic, but Fisher says it's a trade that has made a modest comeback in recent years.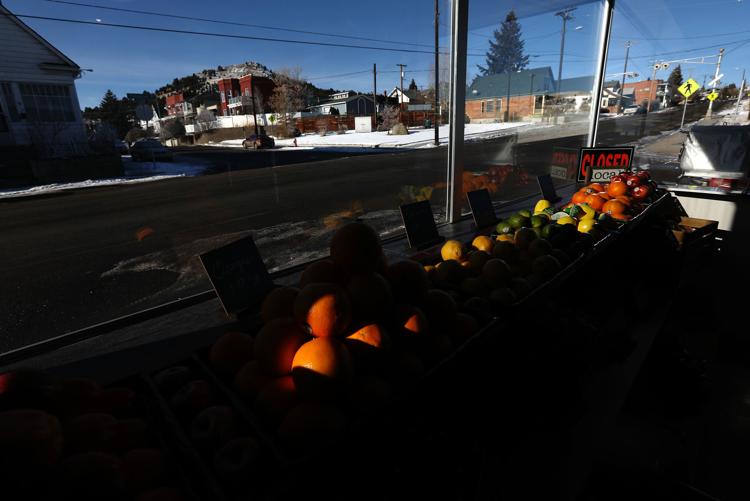 He said much of the increased interest has been driven by the so-called "foody" culture — a culture in which everyday folks are taking up the culinary arts as a hobby and are cooking more often at home — and the buy-local movement, which has now evolved into a new catchphrase, the "source verified" movement.
"I just kind of stayed in it, I stayed in the industry," Fisher said, reflecting on his career.
It's an industry that he and Ashley plan to stay in for the long haul.
Get local news delivered to your inbox!
Subscribe to our Daily Headlines newsletter.