"At first, a lot of us thought it was just another program. We'd done a couple in the past, and a lot of people said, 'Oh great, another one,'" said Jaydn Bellander, 17.
"Our school has done different programs to help stop bullying, and not a lot of people took them very seriously. Some did, some didn't," explained Meadow Grace, 16.
But after completing the six-session course with their sophomore, junior, and senior peers, Grace and Bellander both concluded that the teen Mental Health First Aid pilot was not just another program; it changed their lives and the culture of their entire school for the better.
"A lot of people's attitudes have changed. Now they feel comfortable talking about mental health," said Bellander of the majority of her peers. "I feel like the stigma around talking about mental health at our school has been erased."
Bellander and Grace were two of the 180 Jefferson High School students who participated in the program — called tMHFA — last April after the Boulder school was awarded $5,000 by Lady Gaga's Born This Way Foundation and the Well Being Trust to pilot the course.
Based off an Australian teen Mental Health First Aid program and adapted by the National Council for Behavioral Health, the pilot course aimed to give high school students the tools to recognize and respond to developing mental health or substance use problems among their peers, to understand mental health challenges and reduce the stigma associated with them, and to help teens identify trusted adults or other resources they can reach out to and use for help. 
"I felt like students recognized that mental health awareness is important and recognized their own feelings more," said Sarah Layng of the tMHFA course. Layng is the Jefferson High librarian and staff member who led the recent pilot.
"A lot of students were reassured and felt some relief because it was like 'Oh, I can finally talk about these things and don't have to feel bad about myself,'" Layng said.
Layng explained that the six tMHFA pilot sessions at Jefferson High School were held once or twice a week with groups of 15 to 25 students and were led by herself and two Mental Health First Aid trainers with the Montana Hospital Association, Natascha Robinson and Shani Rich.
The first few sessions focused on easier conversations around what mental health challenges exist, and the last few brought up deeper discussions about what a mental health crisis like self-harm or suicide looks like, Layng said.
"The program cuts to the chase and is very honest," Layng reflected.
At the start of the course, Layng said some students were reluctant to participate and didn't really understand what they were getting into. She explained that some teens thought the course was going to train them how to counsel and diagnose each other when it was really meant to show teens how they can talk with their peers and friends who may be struggling with a mental health challenge and then connect them with an adult or resource that can help.
Layng said once Jefferson High students understood the pilot goals and developed trust with her, Robinson, and Rich, she felt they opened up more.
"Overall I thought it was a great program and went way better than I envisioned," Layng said. "It felt like the overall morale of the school was more peaceful (after the tMHFA course) and that there was more awareness, empathy, and openness."
For Grace and Bellander, this openness and the discussion-driven structure was what made the tMHFA pilot so different from the other programs their school has implemented in the past.
The teens said they felt like their thoughts and emotions were taken seriously and they were motivated by how passionate the instructors were about the course. 
"We feel like we're not taken seriously, like we have to act like an adult but aren't treated like one," Grace said of being a teenager. "With this program, you felt like you had a say. The instructors didn't talk as much as the students, which was different."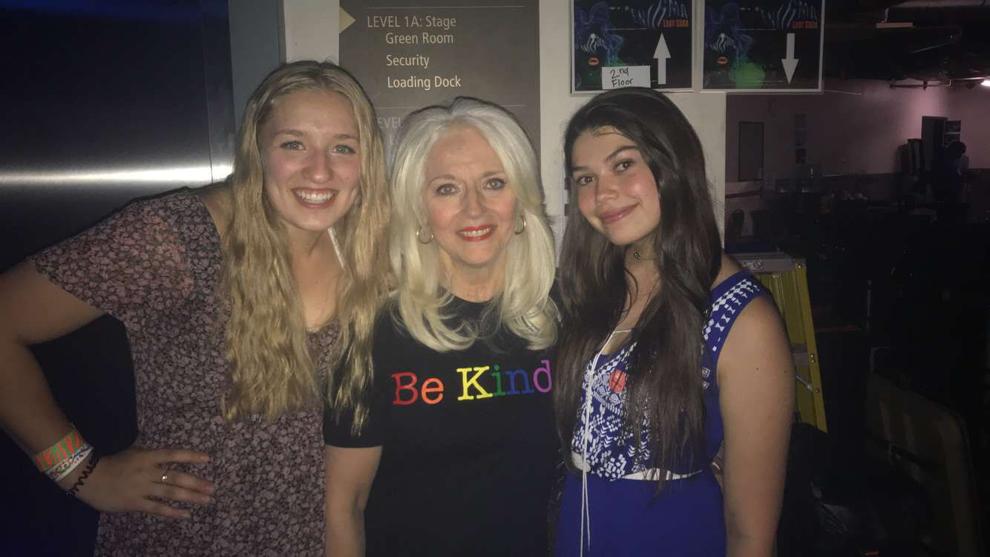 Jefferson High School students completed the tMHFA course on April 23. Most participating students filled out pre- and post-program surveys about their experiences, which were sent to researchers at Johns Hopkins University to help evaluate the pilot's effectiveness.
But Grace and Bellander got to share their thoughts about the pilot a little differently. The two teens flew to Las Vegas in early June with Layng and students from the other eight pilot schools to talk about the tMHFA program with members of the Born This Way Foundation — including Lady Gaga.
Both Boulder teens described their roughly 48-hour trip to Vegas as life changing and movie-like. The pilot school students were interviewed on camera, filmed during nearly all of the tMHFA group discussions and activities, and spent a large chunk of time talking with Lady Gaga and her mom, Cynthia Germanotta, who co-founded the Born This Way Foundation with her daughter.
"We talked to Lady Gaga's mom a lot. She was so nice... I completely understand how Lady Gaga can talk about anything, because her mom is so supportive," Grace said. "Then Lady Gaga came in and said, 'Where are my hugs?', and we were like, 'We can hug you?'...it was a movie moment."
While Grace and Bellander made new friends and experienced a Lady Gaga concert both as crowd members and on-stage guests, the main purpose of the trip was to help the Born This Way Foundation and its partner organizations behind the tMHFA pilot understand from the teen participants directly what the course's impact is and how it can be improved for the next set of pilot schools.
According to Born This Way Foundation executive directors Maya Smith and Rachel Martin, the tMHFA partner organizations plan to make various changes to the pilot before it's launched at 20 more schools across the U.S. this fall. They could not disclose whether any of the second pilot schools are located in Montana.
The directors also said speaking with the teens in Vegas reinforced the Born This Way Foundation's entire mission to listen to, support, and encourage young people.
"They're not a problem to be solved; they're not people to (merely) ask for input from. There's nothing about their age or experiences that make them incapable of addressing and implementing solutions to the problems they face," Smith said.
One of those problems is maintaining good mental health, Smith and Martin emphasized. According to the Centers for Disease Control and Prevention, suicide was the second leading cause of death among Americans between age 10 and 34 in 2017. And Montana has the highest suicide death rate in the nation, CDC data shows.
For Grace and Bellander, their school's recent tMHFA pilot has helped create solutions for their generations' and state's mental health challenges. Bellander said she personally helped one of her peers with a mental health crisis soon after the pilot course, and both she and Grace know other tMHFA participants who have done the same for other teens, too.
"We are so privileged that, even though we live in a small-town area, we were able to be part of this," Grace said, noting that the pilot may have already helped save lives.
Even though Jefferson High School's pilot is over, the school plans to continue using the tMHFA program material and will run the upcoming sophomores through a course similar to the one this past spring.
Both Grace and Bellander feel it's extremely important to keep the program alive in their school and view the tMHFA material as knowledge that will stay with them for the rest of their lives.
"Around this age, you're always told to care about your grades and how you act, but this program made me realize that mental health is also one of the biggest parts of your life," Grace said.
"I feel like now is the perfect time to learn, because as you get older, you start to worry about other people's mental health...that's why it's important to build your own good mental health foundation now, and this is a great program to help do that."
Bellander expressed similar thoughts, stating that she feels confident in her ability to address mental health challenges she and her peers face moving forward, and she said she wants to continue to help raise mental health awareness.
"I think it's important to learn about mental health challenges as a teenager, because there is such a difference between generations," Bellander said.
"Our parents grew up not talking about them, but my generation is more progressive and faces different issues, which is why it's so important to be there for one another and to understand that it's OK to not be OK."