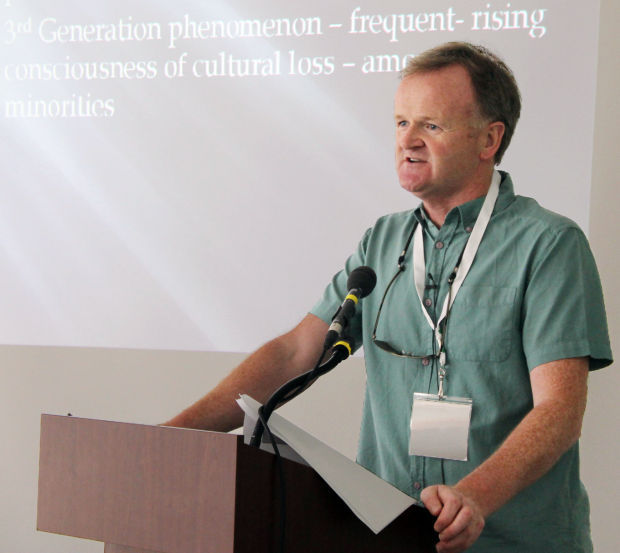 One of the darkest periods in Irish history would end up changing the dynamic and history of North America.
Irish speaker Donnchadh O Baoill talked about the impact the Great Irish Famine had on the population of Ireland and immigration to America and to Butte during a presentation at the Butte Archives Saturday as part of the Irish festival.
"It was the most pivotal part of modern Irish history," he said of the famine.
The An Gorta Mor (The Great Hunger) occurred in Ireland from 1845 to 1852, and was the main cause of Irish migration to the United States. Many of these newly arrived Irish moved on to Butte, he said.
The famine, which was sparked by a potato blight and indifference from many in the British government, ended up killing an estimated one million people, O Baoill told the audience of more than 50 people. The wave of immigration that followed reduced the once 8.4 million population of Ireland by half.
Many of the surnames in Butte came from the west coast of Ireland — the poorest part of Ireland and the part that was most affected by the famine, O Baoill said.
The Irish immigrants who arrived in America would soon get involved with politics and form labor organizations. O Baoill says the oppressive treatment by harsh landlords in Ireland incited an activism in the Irish in America, who sought to protect their interests in a new country.
He also noted that the immigrants spoke the ancient Irish language when they first arrived. However, he said the language was quickly abandoned by most Irish in America as they assimilated to the new land.
He praised Butte and festivals like An Ri Ra which encourages people to embrace their Irish heritage. O Baoill said he hopes more people will try to revive the Irish language through classes and studies.
"This generation has an opportunity to take a new look at the past," he said. "This enhances the community and gives it good self-esteem."
Get local news delivered to your inbox!
Subscribe to our Daily Headlines newsletter.