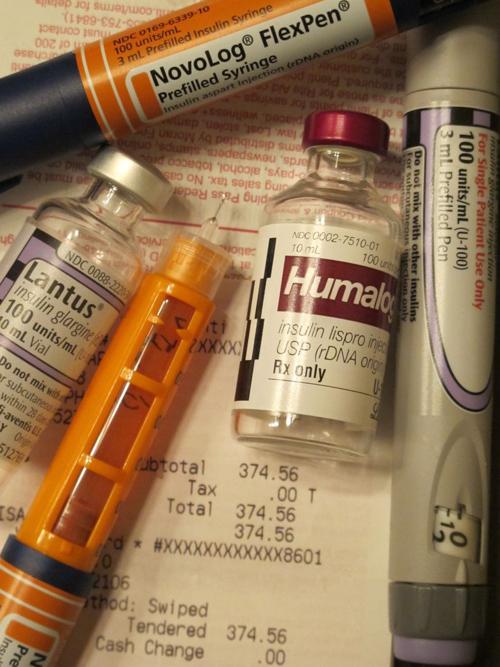 The outrage was deafening.
When it was disclosed last month that EpiPen prices had more than doubled, consumers, parents, state and federal officials, and members of Congress all weighed in, and within days, America's newest health-care villain, Mylan Pharmaceuticals, announced that it would produce a half-price generic version of the anti-allergy emergency device.
The do-it-yourself, auto-injection units filled with epinephrine are lifesaving in the infrequent episodes of allergic emergency among the estimated 3.4 million people with severe allergies.
But consider another group of patients, nearly ten times larger. Most of the nation's 31 million diabetics need injections of insulin several times day, every day, to survive. They, too, are suffering through rampant price gouging for their life-saving drug.
"Many more patients suffer hardship from high insulin prices than EpiPen prices," said Dr. Bruce Rector with the Drug Pricing/Value Campaign of Doctors for America.
In a recent investigation, Lee Newspapers reported that the price of insulin in the U.S. has tripled, quadrupled, and more in the last two years. One physician described an increase from $45 to $1,447 for one concentrated form of insulin since 2001.
"Physicians are so frustrated, and they have no idea who to believe ... Everyone points their finger at someone else. I constantly get asked to explain how a medication that has been around for 100 years continues to go up rapidly. It just doesn't make any sense," said Rector.
Pharmaceutical-industry watchdogs say the Machiavellian shenanigans to limit the production and distribution of insulin have been refined to an art form.
In a commonplace practice called "evergreening," pharmaceutical companies have made mostly minor and usually unnecessary tweaks to their insulin in order to extend their patents, keeping generic drug makers out of the market and robbing those who need insulin of a less expensive alternative.
"The outrageous price of insulin products is a longstanding scandal. The common thread is the abuse of drug corporations of their power over life and death," said Peter Maybarduk, director of Access to Medicines for Public Citizen.
"We need comprehensive action to make medical technologies affordable for all. For starters, congress can enact legislation against these sorts of price spikes. It is not complicated. The challenge is in standing up to the lobbying power of the pharmaceutical corporations."
"This is price gouging, plain and simple," U.S. Senator Jon Tester (D-Montana) said Friday. "Just last week I was talking to my childhood best friend. He was diagnosed with diabetes in the 70s. He paid $2 for a drug that now costs him $175. That's a little higher than the rate of inflation.
"These drug companies and middlemen are taking advantage of the marketplace," Tester added. "I understand trying to recoup costs and making a profit, but these recent increases are totally unacceptable."
"Outrageous pricing for insulin, similar to EpiPens, is a life-and-death issue which threatens more and more families," U.S. Rep. Lloyd Doggett (D-San Antonio) said Friday.
"Pharmaceutical price gouging is bigger than one drug or one company. We have to draw a line between profits and profiteering," said the senior member of the House Ways and Means Committee.
As Lee Newspapers recently reported, all the players in the multibillion-dollar process of making, distributing, and delivering insulin insist the enormous and repeated price increases aren't their fault.
While Mylan, headquartered in Canonsburg, Pennsylvania, is the only maker of EpiPens, three worldwide drug companies make insulin.
"The big three — Eli Lilly, Novo Nordisk, and Sanof — have been getting away with evergreening and price hikes for decades," said Merith Basey, Executive Director for Universities Allied for Essential Medicines. Her organization represents physicians, faculty, and medical students from 67 major research universities working to ensure that the drugs developed in their labs are made available to the world's poor.
The $600 price tag on EpiPens "pales in comparison to the amount that people living with Type 1 diabetes spend monthly on insulin and other diabetes supplies," she said.
"Prices are increasing, costs are not," Basey said and added the claims that the three insulin producers don't control the price is simply "smoke and mirrors."
"They control 100 percent of the market in the U.S. and an estimated 96 percent of the market globally."
Pharmaceutical pricing games are becoming publicized, but perhaps not quickly enough to halt the organ failure, loss of limbs, and deaths of diabetics unable to afford their insulin.
There are "millions of people in America who are struggling to afford the medications that they require to stay healthy," U.S. Surgeon General Vivek Hallegere Murthy told reporters last week.
"If we really want to focus on keeping people healthy, on reducing the incidence of disease complications, then we've got to make sure that people can get medications at affordable prices."
On Friday, price rip-offs on life-saving drugs became an issue in the presidential campaign.
"Over the past year, we've seen far too many examples of drug companies raising prices excessively for long-standing, life-saving treatments with little or no new innovation or research and development," Democratic candidate Hillary Clinton said in a statement outlining a multi-step plan to control the cost of life-saving drugs.
A consumer response team to monitor drug price hikes and impose penalties for unjustified price increases.
"Strong new enforcement measures" to utilize when there are unjustified price increases that threaten public health.
Direct intervention to make treatments available and support generic and alternative manufacturers that enter the market and increase competition to bring down prices.
New penalties for unjustified price increases and use of the collected fines to expand access and competition.
Republican candidate Donald Trump's campaign did not respond to a request for comment.
Andrew Schneider, a prize-winning public health journalist, lives in Missoula.
Get local news delivered to your inbox!
Subscribe to our Daily Headlines newsletter.