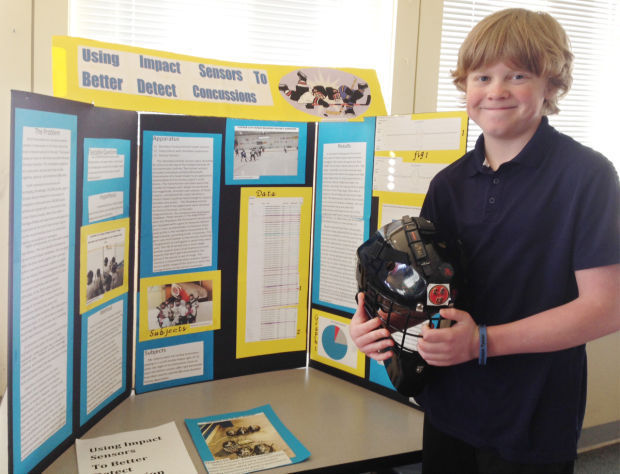 Carson Barry, 12, is on a mission to educate his sports club peers about concussion safety.
He'll get a chance to do so on a bigger stage next week when he competes in the Montana Science Fair at the University of Montana-Missoula. He's a sixth-grader at Silver Bow Montessori School.
"I want to get more teams to wear sensor helmets and get more coaches to help out," said Carson, who plays hockey for the Copper City Kings of the Montana Amateur Hockey Association.
His mother, Chris Barry, educates recreational youth coaches, parents and officials about the correlation between head injuries and suicide, a growing focus of research.
She lost her son, Cullen Barry, 17, to suicide in May 2011. Since then, she has traced his symptoms to several concussions he suffered while playing club hockey.
For three years, since losing his older brother, Carson, the young scientist, has worked to prove his hypothesis:
Would a helmet impact sensor report more possible concussions than the number of hockey players who report to the coach after feeling concussion symptoms? Carson's study says "yes."
After using seven of his teammates and himself as test subjects over seven games during the 2015 season, Carson and the Shockbox Sports Helmet Sensors recorded 55 impacts on the ice -- an average of eight per game -- enough for validity purposes.
Each impact, measured in gravity acceleration to the head (g), fell within a force of 70g range and higher, indicating a concussion.
The sensor measured magnitude of hits, direction of the hit, and the number of impacts.
For instance, Carson received 17 impacts and "close impacts" during seven games, including two state contests.
"I haven't had very big ones," he said.
HEAVY IMPACTS

But another, bigger teammate recorded three hits over 160gs simultaneously -- purportedly dangerous levels of suffering concussive symptoms, including headaches, crankiness and memory loss.
The player did not self-report but reported symptoms later to his mother to reflect the data.
"From a coaching standpoint, it takes a lot of the guesswork out of how hard a kid hits," said Travis Barry, 28, the Copper Kings Coach and Carson's brother. "In hockey and football, it's fast and you can't keep track every time a kid is hit or checked."
Chris Barry attributes Cullen's agitated state and relentless physical symptoms to sports concussions starting when he was 8 years old. She continues to dig up research showing a strong correlation between concussions and increasing incidents of suicide among high school, college and professional athletes.
"If one kid runs into another kid's head, you need to know what to do," she said. "Their little heads may be most vulnerable of all."
CLOSE SCRUTINY

School-affiliated youth sports are under closer scrutiny as the Montana Legislature reviews a 2013 law that requires a player on a school team to sit out if he or she shows signs of concussions.
If passed, Senate Bill 304 would amend the Dylan Steigers Protection of Youth Athletes Act to allow trainers, coaches or officials to remove an athlete from competition if they determine a player suffered a concussion.
In essence, the law would expand to protect school-affiliated trainers, coaches and officials from zealous parents who demand their child continue to play. But it remains to be seen if the bill would cover recreational sports outside of school.
For Chris, licensed professional counselor at Margaret Leary Elementary, it only makes sense to include recreational club sports in the law.
"The law does not cover vulnerable little heads; it covers school sports only," said Chris. "Our state law does not cover soccer, hockey, Little League."
The helmet sensor would provide hard proof of concussions.
The kids, too, would understand the danger and why they need to speak up if they have symptoms.
"It's about protecting those kids," said Chris. "They need to know why those rules are in place. It's because brain injuries are happening -- not because the refs are mean. They need to know the risks."
As Carson refines his project, his family supports him.
"I want to reduce the number of concussions and suicide risks,'' said Carson, who is adamant about getting the word out.
Get local news delivered to your inbox!
Subscribe to our Daily Headlines newsletter.