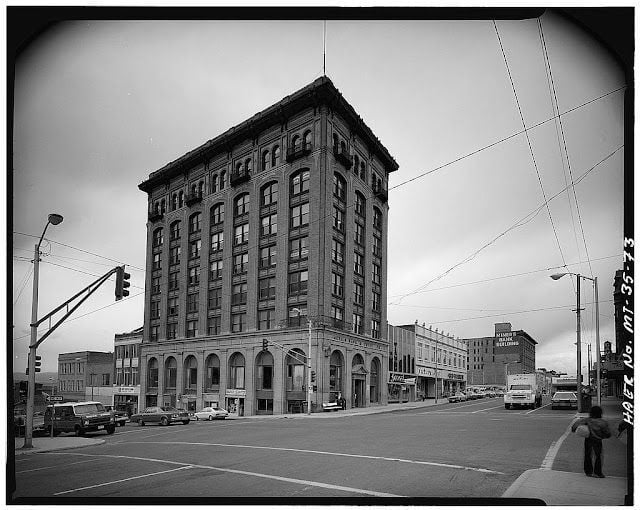 Ohio-born Cass Gilbert was already a nationally known architect in 1906, when he came to Butte to design Butte's second skyscraper, the State Savings Bank building at the corner of Park and Main. The 47-year-old Gilbert had established his reputation with the Minnesota State Capitol building.
The new building in Butte, today's Metals Bank building, was financed by F. Augustus Heinze as one of his last local deals before selling essentially all of his assets to the Amalgamated (Anaconda) Copper Company. He provided much of the $325,000 for the bank building, which replaced a two-story structure and adjacent buildings.
It was one of the first skyscrapers in Montana, defined by its steel girder internal frame construction, and the second skyscraper in Butte after the 1901 Hirbour Tower a block north on Main Street.
Montana architects Link and Haire were the general contractors for the construction. Link and Haire were architects or contractors for several other buildings in Butte, including the Mother Lode Theater and the Silver Bow County Court House, and Link was also involved with the Mountain View Methodist Church and the Immaculate Conception Roman Catholic Church.
One detail, the 32-ton bank vault door, wasn't installed until September 1907. It was hauled up unpaved streets from the Northern Pacific depot on Front Street on a makeshift truck pulled by a team of 26 horses. That door survives in a restaurant today, part of a renovation in the late 2000s that also produced elegant loft apartments and condominiums on the upper floors.
The State Savings Bank was reorganized in 1920 as the Metals Bank and Trust, and when it acquired the assets of William A. Clark's bank in 1928, it became the richest financial institution between Minneapolis and Seattle.
Gilbert was also the architect for the Montana Club in Helena, built in the same time frame as the State Savings Bank in Butte. The next year Gilbert was elected president of the American Institute of Architects, and in 1910 Gilbert was in New York working on the 60-story Woolworth Building, the tallest building in the world when it was completed in 1913. He also designed the U.S. Supreme Court Building, and the Cass Gilbert Society has visited Butte because the Metals Bank is such a shining example of his early work. Gilbert died in 1934.
Heinze's asset sales in Butte in 1906 gave him a $25-million fortune which he took back to New York. Most of that was lost in fraudulent stock manipulation schemes organized by his brother, and Heinze died in Saratoga, New York, in 1914 at age 44.
Local geologist and historian Dick Gibson has lived in Butte since 2003 and has worked as a tour guide for various organizations and museums. He can be reached at rigibson@earthlink.net.