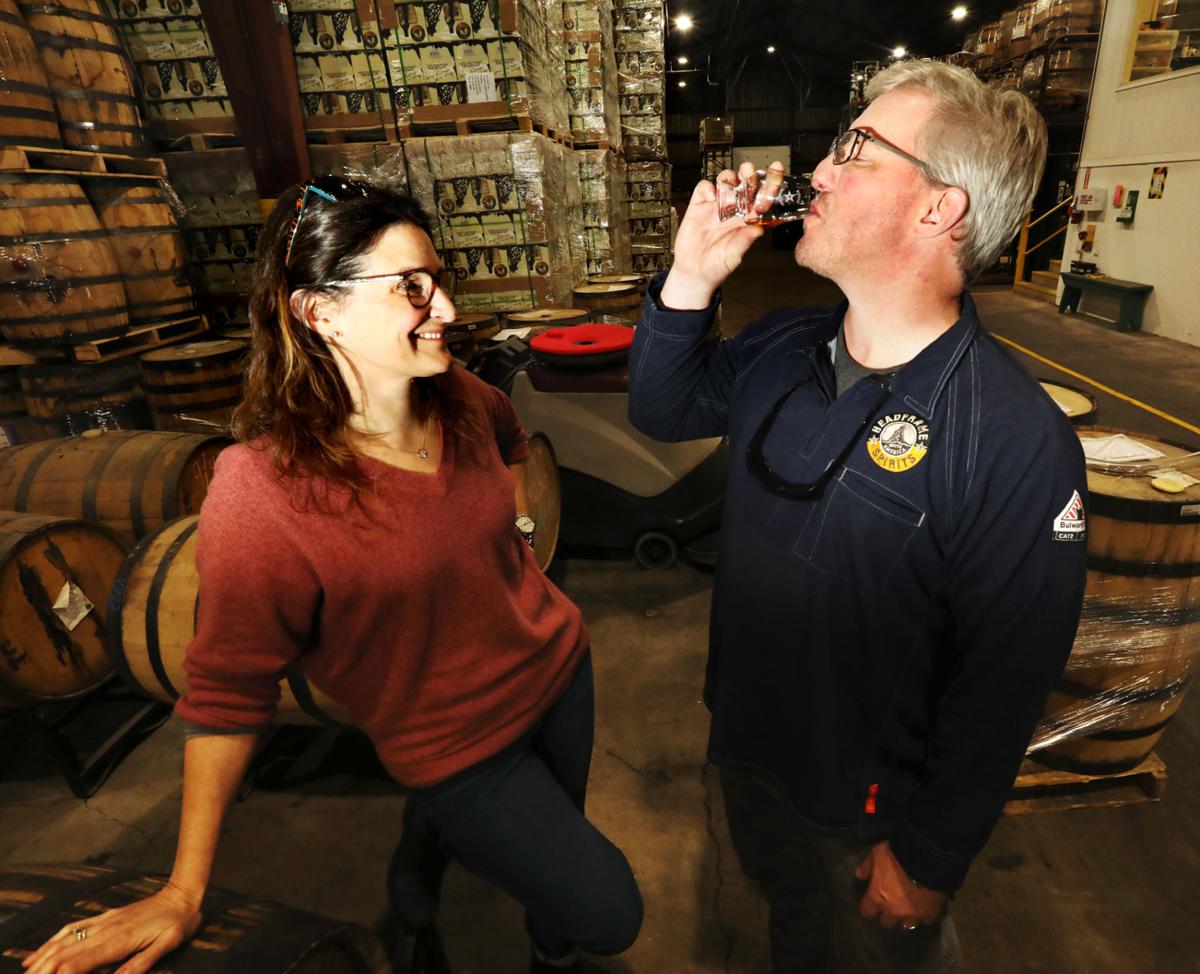 Name two things Headframe Spirits is good at.
Right: Making booze, and giving back.
The Butte distiller is about to do a whole lot more of both.
Headframe's co-owners, John and Courtney McKee, recently signed a six-year contract that will increase the amount of whiskey Headframe makes by a factor of 10.
The deal will make their company by far the largest producer of American single malt whiskey. Over the next six years, they expect to make 20,000 barrels, using Montana barley malted at Butte's Montana Craft Malt. In the process, they expect to become MCM's biggest customer, using nearly a third of the malter's output capacity.
The deal will require a $1.8 million capital investment to expand Headframe's distilling and whiskey-storage capacity — an investment that has already begun at the company's Kelley mine operation, where local contractors are already at work.
The whiskey will be made and aged at the Kelley site — for a large distilling company that for now must remain anonymous, the McKees said last week. In order to meet the contract, Headframe will be producing 12 to 15 barrels of whiskey per shift, for two shifts every weekday — 24 to 30 barrels a day.
The whiskey represents a major new brand in an emerging market. It will not be a Headframe brand, like the Kelley single malt the company makes now, but rather a completely new line. It will be marketed as a Montana-made whiskey — Montana-grown, malted and distilled. And it will be recognized as a product of Butte, America.
The principals in Headframe's partner company "have been to Butte, and they love it," John McKee said. "They have been here for the Folk Festival, and they are blown away by what we're able to do here, the community support that exists."
John McKee is a founding member of the American Single Malt Whiskey Commission, an organization that is promulgating a standard for what can be sold as American single malt — a move parallel to that of organizations in Ireland and Scotland that control what can be marketed as Scotch or Irish whiskey.
That standard is likely to require that any whiskey branded as American single malt will be:
Made from 100 percent malted barley;
Distilled entirely at one distillery;
Matured in oak casks of a capacity not exceeding 700 liters;
Distilled to no more than 160 proof (80 percent alcohol by volume)
Bottled at 80 proof or more (40 percent alcohol by volume).
He pointed out that this is a great place to make malt whiskey.
"Many Scottish single-malts are Highland whiskeys," he said. "We have everything we need here to make world-class whiskey."
Headframe is proposing to expand its lease at the Kelley mineyard, and clean and refurbish the currently abandoned Kelley hoist house to store the whiskey, none of which will be transported elsewhere until it is aged six years.
The whiskey will be bottled elsewhere by Headframe's partner company.
The hoist house is a "dead" building now in that it has no power, no water, no functionality. The huge hoist engines were removed decades ago. The McKees commissioned a laser scan of the building and its contents to confirm that there is no longer anything in the building that has historical significance. That said, they are not proposing to make any permanent structural changes to the building. They won't even fill in the cavernous holes where the hoist engines were. They will simply install temporary decking over them.
The 20,000-square foot empty steel building with a concrete foundation needs roof work and a monumental cleaning. It's full of bird guano and trash. Once Headframe is given permission by Butte-Silver Bow, the company will clean the building, repair its roof and perform other perimeter and interior repairs as needed, install plumbing, power, lights, a sprinkler system and "rudimentary temperature and humidity controls," John McKee said.
"We will preserve the integrity of what's there. We are not tearing anything out or filling anything in. It will be a living building rather than a dead one," he added. "It's a non-disruptive adaptive reuse of the building."
That work will cost the McKees an estimated $500,000. The remaining $1.3 million of their investment in the project will go into the "warehouse" building they are currently using for manufacturing stills, storing their products and corporate offices. That building is where the distilling will take place, and the project requires a far larger still system than they currently have. "Our business plan calls for us to make six still systems for sale to other distilleries every year," McKee said. "This project for ourselves is so big that it will represent two of those."
They will also need to erect grain silos and build a system to load and unload grain into and out of the silos, and upgrade wastewater systems.
Almost every penny of the $1.8 million goes straight back into the Butte economy, the McKees emphasized. About the only thing contracted to an out-of-town vendor was the laser scan of the hoist house, McKee said, because there wasn't a local vendor who could do it.
The McKees expect to make 1,920 barrels of the new whiskey this year (a barrel is 53 gallons), and in each of the next four years they plan to make 4,000 barrels.
Each barrel of single malt will use somewhere between a third and a half a ton of malted barley.
For Jen O'Brien, CEO at Montana Craft Malt, the deal is enormous.
"It's just a cherry on top for us to have a great customer and partner in Butte Montana," she said. "We couldn't be more excited."
"We think this partnership will put Butte on the map when it comes to malting and distilling, far beyond our current reach," she said. "John and Courtney McKee have an amazing vision for what they're doing at Headframe. We could not be more aligned in our values and goals, and feel very fortunate to be included in this project."
She said, "This partnership will mean some job creation" at Montana Craft Malt.
John McKee said Headframe needs to hire several more people — including four, right away — to make the project work
Master Distiller Reade Huddleston will be in charge of making the new whiskey, just as he is Headframe's own brands.
Until the company is ready to crank up production at the Kelley, the plan is to add a shift at Headframe's Uptown distillery to produce maybe two or two and a half barrels of the new whiskey per day — "gap whiskey," John McKee calls it.
It's a chance for the company to basically get used to making the new product. "We'll be training people in the craft," John McKee said.
He added that just like everyone, Headframe's employees have had a stressful year.
"When COVID started, we called our employees together and said, 'We got you — nobody's going to lose their job.' But it was still difficult. We switched our manufacturing from booze to hand sanitizer. People had to do different things. But once negotiations on this deal began in earnest, we looped them in, and I think it gave them some reassurance that things were going to be okay."
"The purpose of this project," Courtney McKee said, "Is to demonstrate care for our community. We're bringing dollars to Montana, dollars to Butte. We're making jobs, supporting as many local businesses in the process as we can.