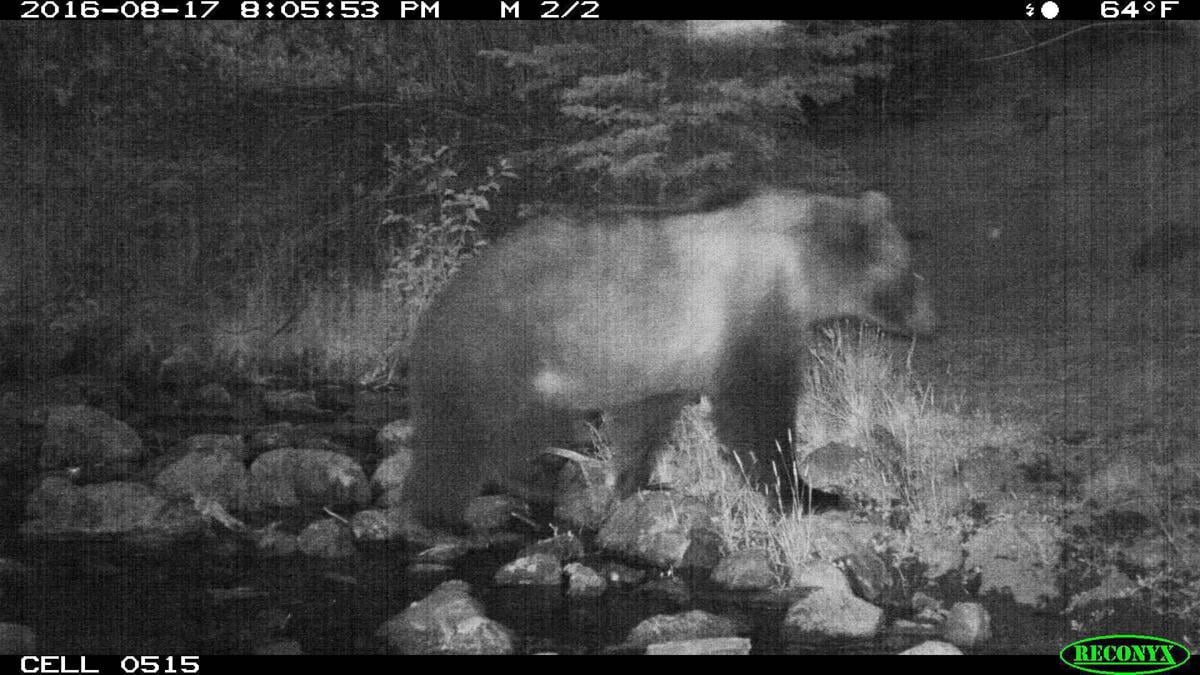 A father and son bow hunting for elk in the Big Hole Valley on Sunday got more than they bargained for – an encounter with a grizzly bear. The hunters backed off and surrendered the cow elk they had shot to the bear.
At 12:16 p.m. on Sunday, the Beaverhead County Sheriff's Department took a 911 call from the hunters, who were on the Gibbonsville Road about 10 miles west of Wisdom in the Beaverhead-Deerlodge National Forest.
The hunters, from the Bitterroot drainage to the west, told Deputy Sheriff Kyle Malkovich and Fish, Wildlife and Parks warden Regan Dean that after they shot the elk, they began to follow the blood trail to the animal when a grizzly bear came into the area and started to parallel them.
Beaverhead County Sheriff Franklin D. Kluesner said that when the bear huffed and growled at them, they "made a wise choice" and retreated, leaving the elk behind for the bear.
"The hunters saw the bear and believe it was a grizzly. Based on its behavior, we believe it's highly likely to have been a grizzly bear," Kluesner said.
"The most prudent thing to do was definitely surrender the elk."
The warden gave them permission to abandon the elk they'd shot, a Fish, Wildlife and Parks spokesman said.
Kluesner said encounters with "apex predators" like grizzlies and mountain lion are more common with bow hunters because they often mask their human scent and use elk calls to attract game – which also will attract predators. "If a bear smells a human, they will likely shy away," Kluesner said, "but if that scent is hidden," bears become more of a factor.
Beaverhead County, Montana's largest, stretches nearly 200 miles from southeast to northwest. Much of its 5,772 square miles is remote mountain country – perfect bear habitat. Located squarely between two grizzly-bear ecosystems – one in northern Montana and one to the southeast, in Yellowstone – Beaverhead County is a place where the two subgroups of bears will likely come together as the populations continue to recover.
Grizzly bear encounters have been more frequent in other areas of the county like the Centennial Range. The upper Big Hole Valley had not had a confirmed grizzly sighting for about a century until this year, when two sightings were confirmed – not including Sunday's incident.
"Much of the Big Hole Valley is very remote country," Kluesner said. "Other than hunting season and firewood cutting, there's very little human activity.
"But elk hunting season has just started," he said, "and there's a lot of fall left before these bears go into hibernation."
Kluesner reminded hunters to carry bear spray -- something echoed by the Fish, Wildlife and Parks spokesman, who added, that neither hunter was carrying bear spray, although the father told the warden he normally carries a pistol. The warden told him bear spray was much more effective.
Klausner added that if you encounter a bear, "The best thing is to walk slowly in the opposite direction from the bear, trying not to make any aggressive gestures or movements, or make eye contact.
"And try not to run," he said. "They are predators and running away can trigger a predatory response."
If a bear comes up on you suddenly, he said, it's recommended to curl up in a ball.
The FWP spokesman alerted hunters to be ready to encounter grizzlies "anywhere in the western half of Montana."
"The forest is a beautiful place," Kluesner said, "But it can be very dangerous. We just need to find a way to share it with the bears."