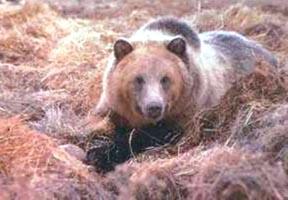 ANACONDA — While black bears are common locally, a different species is also becoming more active in the area.
Officials have documented recent grizzly bear activity in mountain ranges near Anaconda, said Jamie Jonkel, a state Fish, Wildlife and Parks bear manager.
"Individual bears coming from the north could easily come through that area," he said. "The Flint Creek Range historically had a lot of grizzlies. We haven't been able to verify any resident bears, but they seem to be passing through." Grizzlies, particularly young males, often migrate over hundreds of miles of terrain. It's likely some of those bears are crossing through the area, which they once inhabited in abundance, Jonkel said.
The Anaconda and Flint Creek ranges were once both well populated with grizzlies, but their populations were reduced to nearly nothing by the 1970s.
"But in recent years, the bears started coming back a little bit," he said. "Activity picked up in 2000 with sightings. We started getting all kinds of calls." Since then, there has been documented activity in the John Long Range and sporadic grizzly sightings in the area.
"I have gotten good reports of tracks and digging and sightings in and around both upper and lower Willow Creek drainages," he said.
In 2005, a grizzly was poached in Cabbage Gulch, southeast of Anaconda. And this year, around the Fourth of July, officials relocated a young male grizzly from a ranch near Drummond to Ovando.
"The bear was involved in a bee yard depredation," Jonkel said. "He was relocated to a remote area." Around the same time, unofficial discussions swirled about grizzlies spotted near Echo Lake, just outside of Philipsburg and just outside of Anaconda.
"The Echo Lake area has some good bear habitat and it's not too far fetched to assume a grizzly might pass through en route to the Pintlers from the Flints," Jonkel said.
The closest verified grizzly activity to that area is a plaster cast of a front foot taken by a U.S. Forest Service worker in 2002 up Olson Gulch. The cast is on display at the Philipsburg Ranger Station.
While current bears appear to be just passing through, that could change someday as bears return to historic ranges, he said.
"Over the next 10 years or so, we're going to start seeing more activity in that area," he said.
Although grizzlies have a reputation for being dangerous, their presence is no cause for alarm as bear-human altercations are rare, Jonkel said.
People should simply practice safe hiking and camping techniques — such as carrying pepper spray and keeping a clean camp — when recreating.
And residents should stick to strategies for reducing bear attractants.
"If there's a grizzly in the area, they've got the same issues" as black bears as far as attractants, he said.