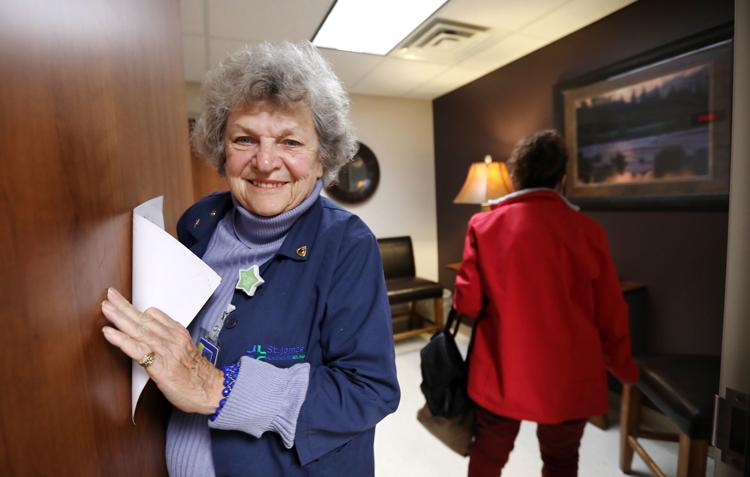 When this year's St. Patrick's Day Parade kicks off Sunday at 12:30 p.m. at the corner of Arizona and Granite streets in Uptown Butte, Marlene Harrington Dick will be doing something she's done every year for more than three decades: taking part. 
But the 84-year-old will also be doing something she's never done: leading the parade, as this year's grand marshal. 
The board of the Butte America Foundation, which is organizing the parade for the third straight year, selected Dick from a group of "quite a few entrants," according to Matt Boyle, parade director and BAmF board member.
"With all the work she did with the Ancient Order of the Hibernians and all the other countless things that she's volunteered for, she stood out so well for us," Boyle said. 
Proof of her commitment to "countless" volunteer causes isn't hard to come by.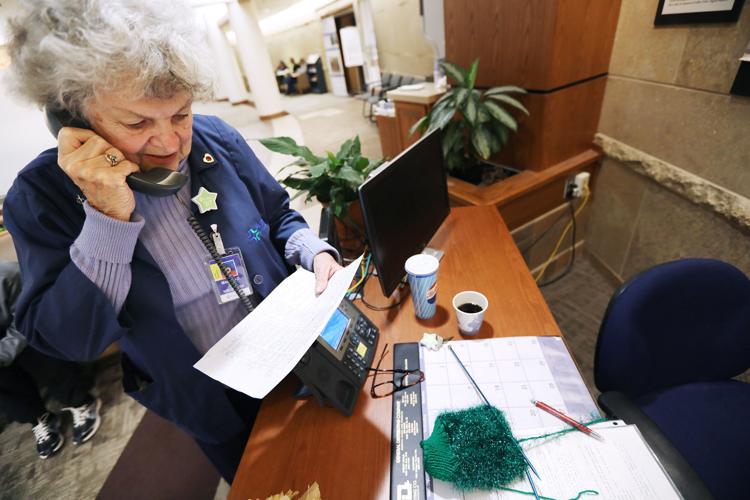 On Tuesday afternoon, for example, Dick could be found behind St. James Healthcare's surgery desk, sewing sparkly green gloves to hand out at the parade in between showing patients to their appointments. 
She said she has sewn "100 some pairs" of the gloves over the years and she's there at the hospital every Tuesday afternoon, volunteering from noon to four. She is also active with everything from the Red Hat Society to the Democratic Party to the March of Dimes, among many other causes and groups. 
And she has been a member of the local Ladies Ancient Order of Hibernians since helping to found it some 30 years ago. She has helped carry the banner for the order in the parade for decades, but she hasn't always been content to fall in line — literally.
Not content to march behind the male contingent of the AOH, Dick insisted the women should march alongside them and made the change happen. 
Noting that an older female relative had pushed for Butte's Friendly Sons Banquet to become the Friendly Sons and Daughters Banquet years ago, Dick said, "So I wasn't the first objector in the family." 
A 1951 graduate of Butte High School and a member of St. John's Catholic parish for some 70 years, Dick and her husband, Arthur, were married for 58 years, before his death in 2011. Together, they raised eight children. But even with all the responsibility of managing such a large household, Dick found time to set her sights on other aims. 
"I never did work while I was raising my kids, but I thought I'd be in quite a mess if something happened to him, with all the kids," Dick said. 
That led her to the campus of Montana Tech, where she earned a degree in 1980, the same year her third grandchild was born. 
With such deep roots in Butte's Irish-Catholic community, Dick seems like a natural fit to lead the St. Patrick's Day Parade. She even had her DNA checked and found she's 78 percent Irish. 
Despite this pedigree, Dick says she was "surprised" to find out her kids had nominated her and that she was selected for the job this week. 
"It just was overwhelming to me," she said Tuesday. 
While organizers have expressed concerns about a low number of entries in this year's parade, Boyle said participation has spiked since the snow stopped falling — or at least started falling less frequently — and the sun started shining. 
As of Tuesday morning, the parade had 48 entries, up from 28 about a week ago. 
And though the deadline to enter passed on Monday, Boyle said people can still sign up through Saturday.