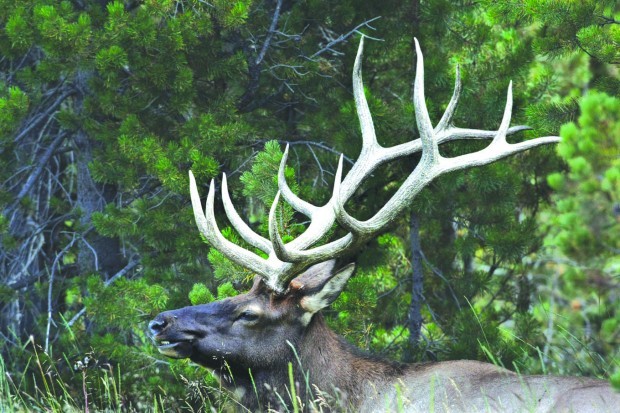 Game numbers remain healthy in most parts of southwest Montana, but hunters will have fewer chances to kill cow elk as state biologists have scaled back on cow elk tags in an effort to reduce the kill.
That's the situation as hunters head into the field Saturday for the opening of rifle season for deer and elk.
Some areas – in particular the upper Clark Fork River basin – remain over the target population set by biologists with the Montana Department of Fish, Wildlife and Parks.
Others – notably in the Madison Valley – have been brought down after years of liberal regulations that aimed to reduce the herd and get it more in line with what's acceptable to ranchers. Those regulations included second elk tags and more opportunity for hunters to kill cows with a general license for part or all of the season and they have worked to bring elk numbers down in several areas.
The end result is that hunters had fewer cow elk "B" tags available this year and fewer chances to kill cows with a general license this fall. That will reduce the harvest in some areas and biologists recorded healthy calf crops in many places, which bodes well for game herds in coming years.
Vanna Boccadori, Butte FWP wildlife biologist, said the reports from the archery season indicated it's been similar to conditions during a harsh winter. Elk were found in areas near water, similar to how they end up in large groups during winter where there's feed.
"The elk aren't everywhere like they were last year," she said. "It seems like they were a lot more concentrated where water is."
In addition to more restrictive regulations, FWP has an aggressive wolf hunt planned this year, with no set statewide quota, more than four months of rifle hunting and the state's first trapping season. All of those measures are meant to reduce the number of wolves in Montana and cut down on predation in some areas, as well as reduce wolf-livestock conflicts.
Hunters during the six week archery and backcountry rifle season have already killed eight wolves statewide and the rifle season for wolves began Monday.
Here's a look at some of the trends for elk and mule deer and the hunting opportunities throughout southwestern Montana this year.
Elk numbers remain strong following a couple years in which cow elk hunting has been tapered back in some areas.
One area that is still over the objective population sought by biologists in the Upper Clark Fork River drainage, which includes hunting districts 210-216 and district 291.
Ray Vinkey, Phillipsburg FWP biologist, said he counted 8,385 elk in the region, down from last year's count of 9,245. But that was by design, with plentiful cow tags issued in an effort to reduce the herd.
Vinkey said FWP has reduced the number of cow elk tags but there are still plentiful opportunity, with more than
"Our elk population numbers on the whole are still above our objectives, but access remains a challenge," he said.
Vinkey noted that last year FWP issued more than 3,000 cow elk tags for the Upper Clark Fork, while this year it's been scaled back to 1,850. But that is more than the total of cow elk tags issued for the rest of FWP Regions 1 and 2 combined.
In the areas closer to Butte, elk herds are continuing to come up after two years of a more restrictive kill on cows, Boccadori said. She said calf production was good throughout her districts, which includes the lower Big Hole Valley, Fleecer Mountain, Bull Mountains and Highland Mountains.
"All my numbers are either stable or increased," she said. "There are a lot of calves running around out there; it should be a good year going into the fall."
Regulations remain fairly conservative in the Fleecer Mountain area and hunters will not be able to kill cow elk on a general license with either a rifle or bow.
Farther south, elk numbers remain over their target population in the Lima Peaks country, said Craig Fager, FWP Dillon biologist. Hunters who drew a B tag will have a good chance to kill a cow there.
Elk are doing fine in other areas Fager covers, including the East Pioneers and Medicine Lodge areas. He said one area were the herd is below the objective is the West Pioneers.
The herd throughout the Gravelly Mountain complex is still strong, said Howard Burt, FWP Region 3 wildlife manager. The districts that include the Gravellys – 323-327 and 330 – will again offer cow elk hunting with a general license for the first two weeks of the rifle season.
"We didn't have a lot of winter mortality," Burt said. "Production was up some in most of those areas – that bodes well for this coming year and the next numbers wise."
The Tobacco Root Mountains are over objective in elk population and the districts that encompass it – 330 and 333 – offer five weeks of cow harvest with a general license. But in the Madison Range – districts 360 and 362 – biologists this year are working to slow the kill of cow elk after years of offering a
Julie Cunningham, FWP Gallatin-Madison biologist, said years of liberal regulations have brought elk numbers down. A limited number of cow elk B tags were issued and otherwise hunters can only kill brow-tined bulls with a general license.
"Everybody sees a difference from when there were 6,000 to 7,000 elk in that valley," she said. "A lot of sportsmen are saying it's about time we do this – if we continue liberal hunting too long, it can be difficult to grow them back."
Mule deer are more susceptible to large swings in their population and southwestern Montana is coming out of a low point in their numbers throughout many areas. In many parts of southwestern Montana numbers remain lower than long-term averages and biologists have adjusted seasons accordingly. That means fewer B tags to kill mule deer does.
"My counts this winter were stable, but still at the low end of where we've seen them in the past," Boccadori said. "They're just on the low end of average – there's definitely reduced opportunity."
The good news is that mule deer, like elk, are showing signs of coming back, although slowly. A relatively mild winter and good forage conditions are helping, biologists say.
Fager said mule deer numbers remain lower than average around Dillon, but they did record decent fawn production this year. He said mule deer continue a slow recovery from the drop several years ago.
"Deer did pretty well through the winter, which was not severe last year, but the total numbers will take some time to build back up," he said.
Vinkey said in his areas mule deer are faring better, with stable to slightly increasing numbers. The Anaconda and Deer Lodge area offers some mule deer B tags.
White-tailed deer in southwestern Montana continue to thrive in agricultural valley bottoms and hunters have the opportunity to kill does with a region-wide B tag, as well as more tags in some areas. Whitetails live largely on private land and require permission from landowners for hunting, but many landowners do allow access.
Boccadori said they don't conduct surveys of whitetail but monitor their harvest and there are plenty of them.
"There will always be whitetails," she said.