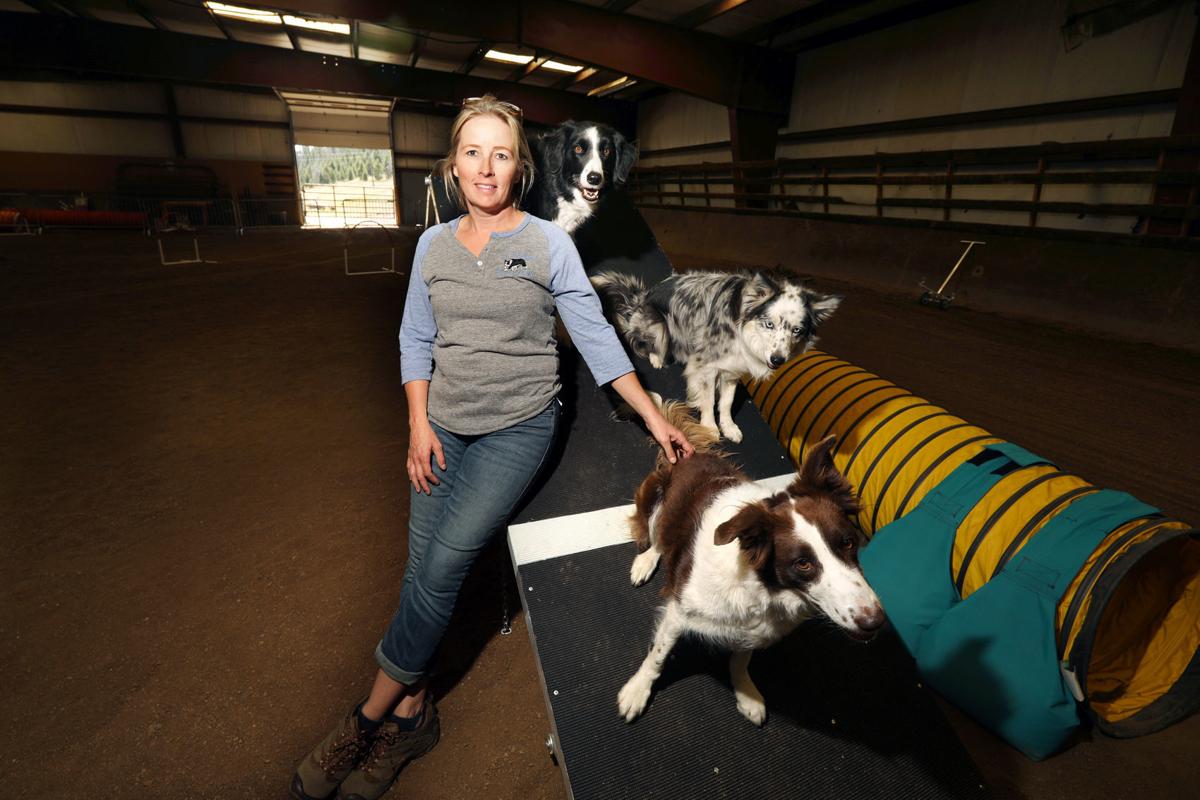 Over 100 athletes from Canada to Wyoming will meet in Elk Park this weekend for an annual competition that will test their speed, agility and stamina.
The competitors won't be running on two legs. They will be on all fours. They are also furry and love to chase balls and eat treats.
This weekend will mark the fifth anniversary of Butte's Copper Paws Agility Labor Day Trial, a dog-agility competition for powerhouse pooches that will send them barreling through tunnels, over bars and through hoops.
The woman behind the yearly competition is Butte resident Trish Blakeley, who started dabbling in dog agility with her border collies seven years ago.
Ever since then, she's been hooked on the sport, becoming a dog agility enthusiast and founding Butte's local agility club, Copper Paws LLC.
When Blakeley started the Labor Day Trial five years ago, about 40 dogs competed. This year she is expecting over 100 dogs and around 70 human competitors, many of whom have traveled from out of state for the competition.
The competition runs Saturday through Monday with over 400 runs each day. Members of the public are invited to attend but aren't allowed to bring their dogs so as to not distract the four-legged athletes. In addition to meals served by Anaconda's Montana Clovers 4-H club, there will be several raffles. Funds from the raffles will go towards Granite County Spay & Neuter Clinic.
Through Copper Paws, Blakeley hosts classes for aficionados and novices alike. She also volunteers to teach dog agility to kids in Anaconda's 4-H club.
You have free articles remaining.
Blakeley said taking your dog to agility classes is a bit like taking your kid to dance class.
"It's a really good bonding experience with your dog," said Blakeley.
She added that she's seen shelter dogs come out of their shells through the sport, and the sport is an especially good outlet for working dogs, who tend to have a lot of energy and need to blow off steam.
The sport is most often associated with border collies, but Blakeley said she's seen all sorts of dogs benefit from the sport, from pit bulls to one particularly peppy member of the club, a papillon who she says takes off for obstacles "like a rocket."
Even if a dog is slow, old or "a little bit chunky," Blakeley said, "they still love to do it."
Leslie Given is the leader of Anaconda's 4-H club, and she says the sport teaches her students resilience: how to handle competition, what to do when things don't go right and how to dust oneself off in the face of a loss.
The sport also instills discipline because teaching the dogs to run agility obstacles doesn't happen overnight. It takes practice, repetition and diligence.
"It teaches them really good life lessons," said Given, who also offers to her students dog obedience classes.
4-H students from Anaconda will be providing concessions during the weekend's competition. Tips and 10 percent of sales will go to Pintler Pets Humane Society in Anaconda and Butte's Albert's Angel Fund.