On a recent morning in the Butte Central elementary and middle school principal's office, Caden Piccin, 12, talked about flowers.
The young man, dressed in a plaid button-down shirt and tie, pointed at a large poster board covered in photos and typed-up descriptions placed under titles like "problem," "data," and "conclusion" as he talked.
"I wanted to show how flowers could move dyed water from their stems to their petals without roots," Piccin said.
This was the science project Piccin took second place with at his school-wide science fair. On Tuesday, Piccin will join hundreds of fifth- through eighth-graders set to present their science projects during the Montana Tech Science and Engineering Fair in Butte.
Although Piccin has competed in three school-wide science fairs before, he said he's a little nervous for Tuesday's fair at Tech. Piccin's mom, who is a petroleum engineering student there, has always helped him with his projects, he said, and he enjoys working on fun experiments with her.
"It's just fun doing science…there's always something new to discover. The trail never stops, it just keeps on going," Piccin said.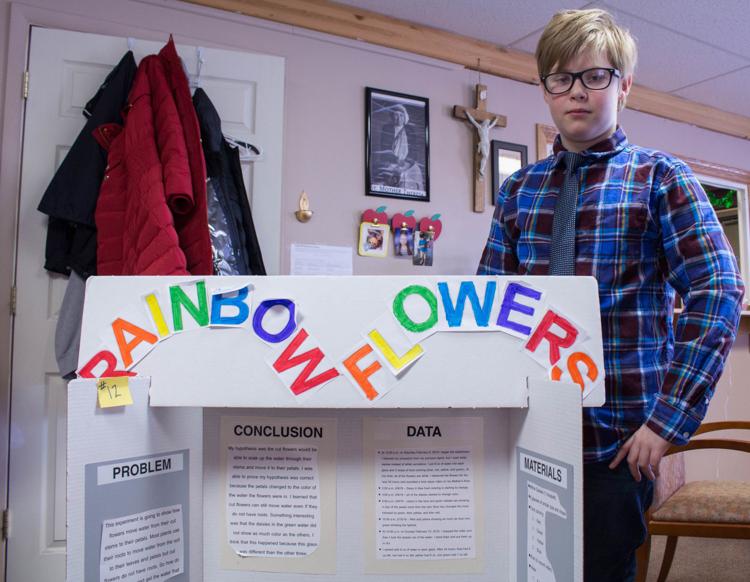 And that's exactly what the Tech science fair aims to do: inspire future scientists and engineers, said Thomas Reget, this year's fair director.
"Science fairs are where students generate interest in science and engineering, and if they continue in those areas, they're going to become future leaders," Reget said.
Reget said Tuesday's middle and elementary school competition marks the end of the annual Tech science and engineering fair. The high school competition took place last Thursday, and the high school Intermountain Junior Science and Humanities Symposium — where 18 students were selected to orally present their projects and compete for scholarships — took place on Friday. There was also the first-ever poster competition with cash awards for the top three projects in three different categories on Friday, Reget said.
But although Reget said the fair offers scholarships and good exposure to the STEM fields, the number of applicants has decreased over the past six years.
"We want to continue and expand the fair… We want to see the numbers go the other way," Reget said.
Reget explained that at one point in recent years, the fair had 95 high school participants and 524 middle and elementary school participants. This year, there were 40 high school and 400 middle and elementary school students competing.
There were no Butte High School, Butte Central High School, or Anaconda High School participants either day last week, Reget said. The closest ninth- through 12th-grade students who competed were from Ennis High School.
Despite the lack of local high school science fair participation, several Butte area middle and elementary school students like Piccin plan to compete on Tuesday.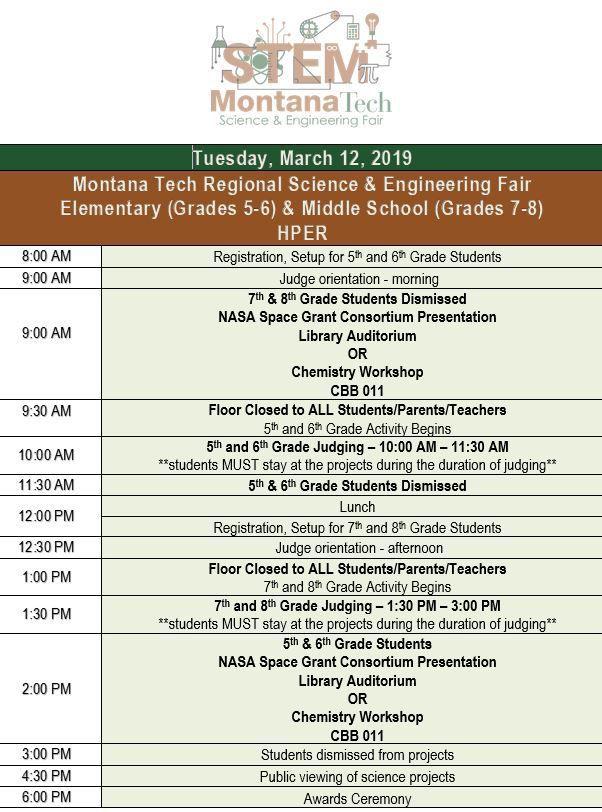 "If people have a chance to come up for the viewings, they should. It's amazing what the kids come up with," Reget said.
One of those kids is Butte Central student James Holmes, 12. Holmes said last year his project looked at which battery brand gave consumers the most bang for their buck, specifically weighing a battery's voltage and how long it lasted against how much it cost.
Soon after that project won Holmes a gold medal, blue ribbon, and a math award, he started thinking about how he could build on it for the next year.
"I liked my project last year and wanted to do a continuation," Holmes said. "I decided to figure out if rechargeable batteries were better for the environment."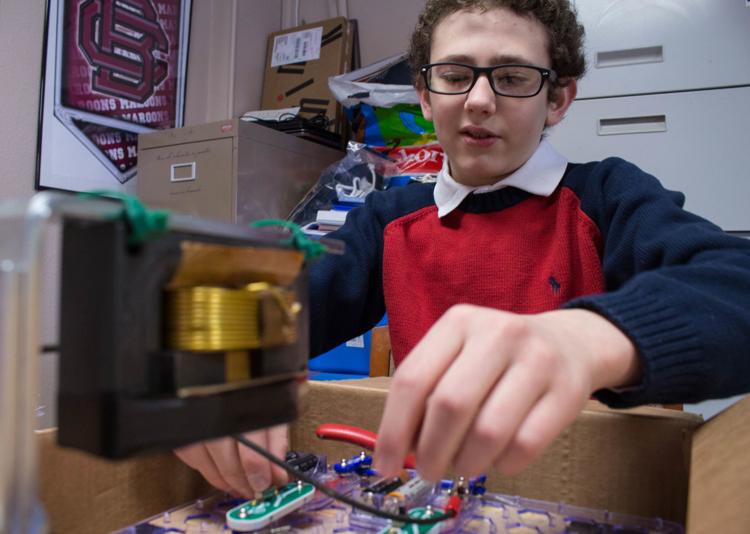 You have free articles remaining.
You're out of free articles
Sign in or create a FREE account to keep reading.
For several months, Holmes used an electromagnet he built using an industrial transformer and a chess clock to test his hypothesis with rechargeable and disposable batteries. On a recent morning, he explained his methods, results, and the math he used to conclude that yes, rechargeable batteries are better than single-use batteries for the environment.
"Rechargeable batteries are good and all, but recycling batteries is the best thing you can do for the environment. It helps, like, 100 times more," Holmes said.
Holmes said he likes science because it can "help the world and stuff" and that he hopes to be an inventor someday. He said he was nervous for the Tech fair last year but is more excited this time going into Tuesday's competition because he knows what to expect.
Like Holmes, a group of elementary students from Kennedy Elementary School are excited to compete at the Tech fair on Tuesday, too.
"You get to do cool stuff with science for the fair, and you only live once, so you might as well do it," said Zoiee Kovnesky, 12.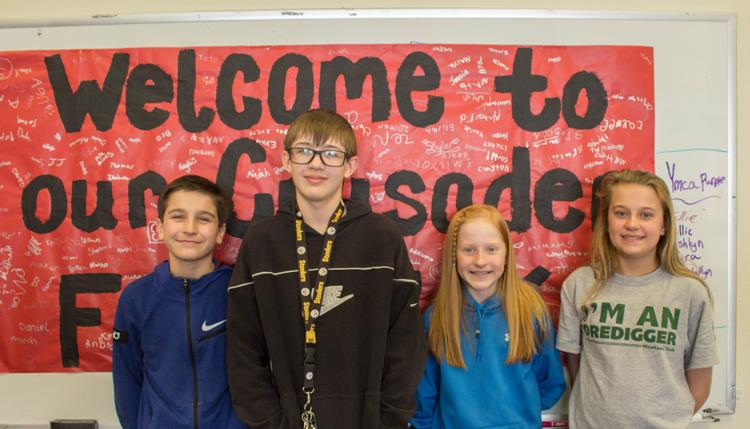 Kovensky's project looked at what cleans pennies the best. Dallas Richards-Doyle's project tested which metal was stronger, aluminum or steel. Brydger Armstrong, 11, experimented with four different brands of energy drink to see if they produced an electric current, like a battery. And Macy Seaholm, 12, compared Clorox wipes with cleaning wipes used in hospitals to see which killed the most bacteria.
All four of the students expressed excitement about their discoveries and felt science is an important subject. But while most of these public and private school students have competed in school-wide fairs or the Tech fair before, Divide School's Lily Kessler, 13, is easily the science fair veteran of the bunch.
Kessler has spent the past nine years competing in science fairs, both against other rural school students and against larger groups of her peers at the Tech fair. On a recent afternoon in one of the Divide School's two classrooms, Kessler flipped through her science notebook, pointing out some of her favorite experiments and science explorations she'd done since kindergarten, both for and outside of competition.
"Our science is different because we get to do it, not just read it from a book," Kessler said about learning science at the Divide School. "We have our own science notebooks where we write down our observations and get to be scientists."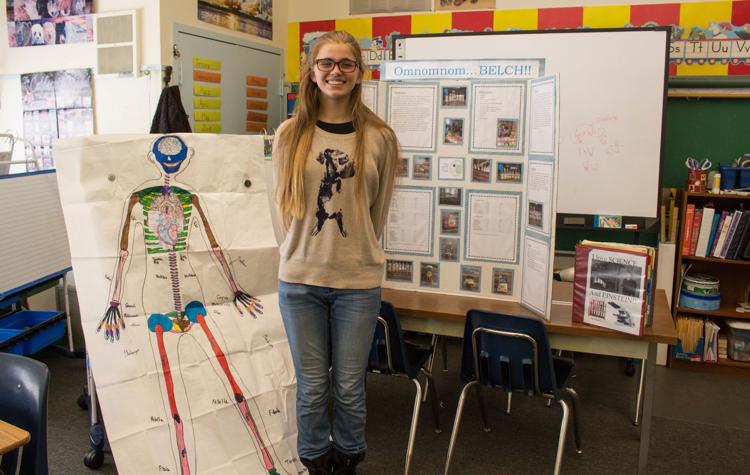 Kessler talked of all sorts of science that interests her, from biology to engineering, but said her science fair project this year centered on the fungus she first attempted to explore back in kindergarten: yeast.
As a kindergartner, Kessler looked at the difference between bread baked with and without yeast. She and Divide School teacher Judy Boyle admitted that it wasn't as successful as it could have been because Kessler didn't come up with the project idea — her parents did.
This year, the eighth-grader circled back to yeast on her own, exploring how it breaks down seven different types of sugar by capturing the released carbon dioxide in balloons.
As Kessler talked about her project, Boyle listened and added in details about Kessler's and the whole school's love for science.
"Almost every day she comes in with a new discovery or observation to share with the class. She's a great scientist without knowing it," Boyle said.
Boyle is passionate about teaching science to her students through exploration and experience. She talked about the various field trips the handful of students go on, their school garden, and the baby rainbow trout her students are raising, along with how intertwined science is with every other subject.
"The important thing about science is, science is our world," Boyle said.
Kessler expressed similar beliefs as she moved from talking about her science notebook discoveries to the different phenomena constantly explored by the Divide School students. The eighth-grader plans to attend Butte Central High School next year and is excited to take on her last Tech science fair as a Divide School student on Tuesday.
"I think science fairs are important because they help you learn how to do science and allow you to show others so they know how to do it, too," Kessler said. "It's a great way to learn new things."