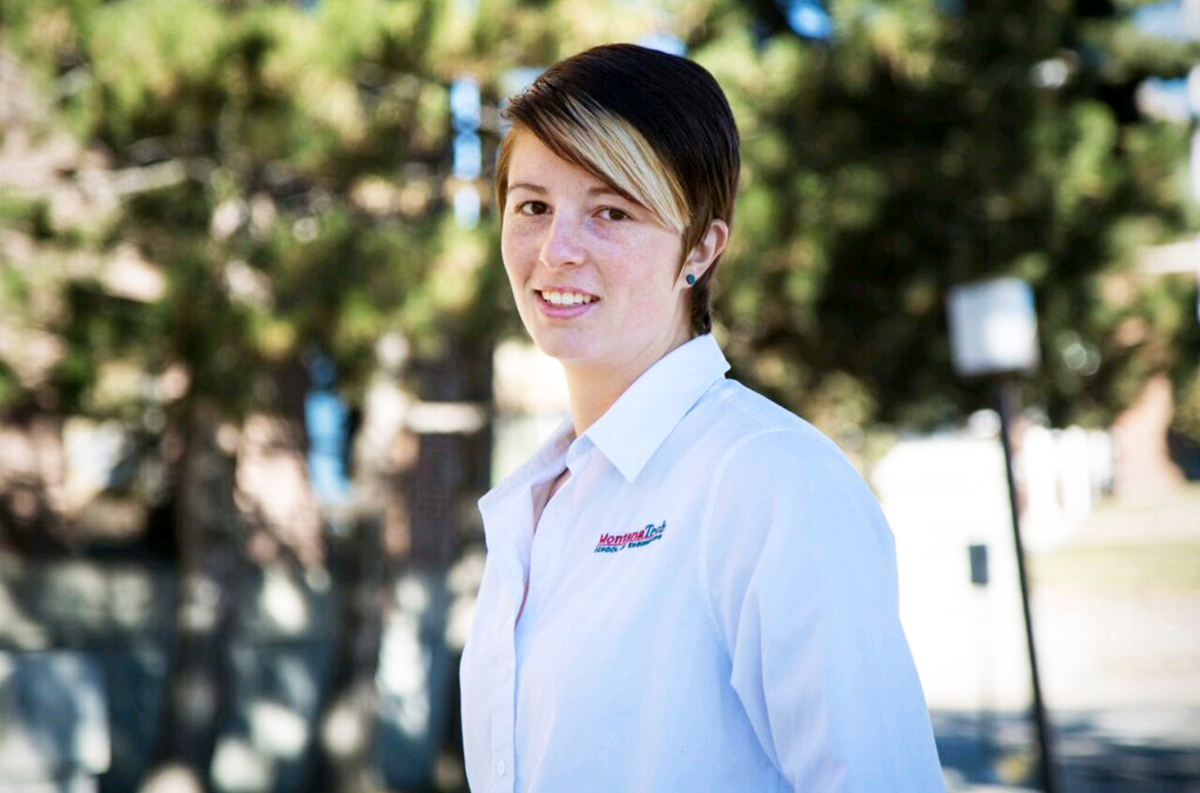 Keela Nedens knew early in high school she wanted to become an engineer.
"I chose my major when I was a freshman," said Nedens, the only woman to graduate with the new civil engineering degree on Friday in the December Graduate Recognition Ceremony at Montana Tech.
"My parents didn't really laugh at me, but they knew I would see it through. And here I've accomplished my goal."
Under the auspices of a degree change, mostly in name only, Tech graduates six in civil engineering and five in mechanical engineering. Altogether, 100 students will walk the stage on Friday in several other fields.
Nedens, who earned an associate's degree in science and played softball at Glendive Community College before transferring to Tech, stands out.
"Keela is a tremendous student, a very hard worker and very dedicated" said Professor Larry Hunter. "She's a very good self-starter. I wish I could have six more students like her."
Previously offered as a general engineering emphasis, civil engineering now has its own moniker for practical reasons — as does mechanical. For nearly all Tech graduates in those specialties, the future bodes well.
"I don't know anyone in mechanical engineering who's unemployed," said Professor Jack Skinner. "It's a solid degree program."
Both programs experienced name changes in the last year to highlight expertise, shy away from over-generalization, and boost marketability as students job hunt.
"Mechanical engineering is incredibly broad," added Skinner. "It's a great degree to get. You can go to work, get paid well, and go to graduate school. You can get a law or medical degree to specialize."
But finding work is not a problem at Tech, whose claim to fame is high placement — now called "career outcome rates" in higher education-speak.
Based on May 2015 data Tech compiled, 90 percent of graduates with a bachelor's degree in general engineering found employment quickly. For those earning a master's, placement was 100 percent in general engineering.
Three mechanical engineering grads have already landed good-paying jobs. Two are lined up to work in Montana and one in Kansas.
Butte native Michael Kallas, 32, will work for a Missoula refrigeration company developing equipment specifications, cost estimates, sales proposals, and bids.
He said the mechanical engineering name eliminates any ambiguity. Rather, the programs "actually meet or exceed that of other universities offering mechanical or civil degrees."
Classmate Dylan Smith, 24, a Cut Bank native, will work for a design firm in Laurel. He sports the advantage of having professors who worked in the industry and getting internships that "let you figure out which career path best suits you as a person and as an engineer."
Paul VanLandingham, 23, will return to Kansas City, Kansas, his hometown, to work for an automation controls company.
"Most of the professors worked hard to make sure that the things learned here can be applied to the working world," said VanLandingham.
At any rate, the degrees are a new twist on a traditional — and popular — degree.
"We've been offering essentially the same degree, I can guarantee you, for 20 years," said Skinner, a 2000 general mechanical engineering Tech graduate.
Mechanical engineering, he said, is one of the most popular engineering degrees in the nation. Civil engineering comes in second.
U.S. News and World Report reports that based on the Bureau of Labor Statistics, employment in mechanical engineering will grow by 5 percent between 2014 and 2024, translating to 14,600 new positions.
The degree allows for more flexible jobs in cross fields like petroleum, mining, automotive, aerospace, semi-conductor and nanotechnology, medical machining, air conditioning/heating, bioengineering, and civil engineering.
"If you have a mechanical engineering degree and you're applying to a job, companies come back because they like our students," added Skinner.
Civil engineers work on roads, bridges, water and sewer plants, and basic infrastructure.
"We have a very high interest at Tech in the construction end of it," added Hunter.
Nedens, 23, aims to specialize in design work and construction oversight.
She has two job offers: a public civil contractor in Phoenix, Arizona, and a construction firm in Great Falls. She wants to step into a job with leadership potential, specifically a project manager, to highlight her strengths.
"I've always prided myself on my leadership qualities," she said.
On Friday, she will host her parents, Jeff and Julia Nedens, and sister Remington of Billings at graduation.
"Tech is a great school, and I've had fun," Nedens added. "And even though on paper I'm the only girl, I've never felt alone or out of the ordinary; everybody always made me feel at home."