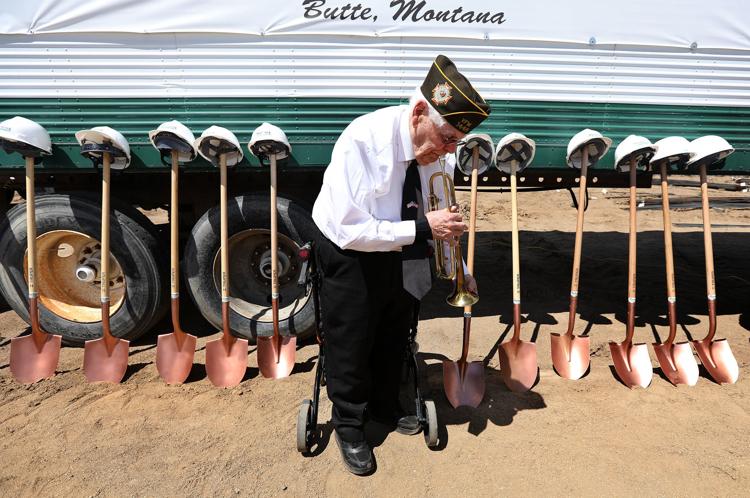 At the official groundbreaking ceremony Tuesday on the planned Southwest Montana Veterans Home in Butte that's been a quarter-century in the making, a who's who of federal, state and local politicians were on hand.
Some, including former Butte legislator Bob Pavlovich, state Sen. Jon Sesso, state Rep. Jim Keane and U.S. Sen. Jon Tester, spent years championing the project and cobbling together the money to fund it.
But more than anything or anyone else, Tuesday was about those from Montana who have donned military uniforms for America.
"All along the way, it has been about the veterans, for the veterans, and our piece is just a return for all the sacrifices they made for us," said Sesso, D-Butte.
Pavlovich, a veteran himself, echoed the sentiment. Twenty-six years have passed since he first introduced a bill in the 1993 Montana Legislature to have such a home built in southwest Montana.
"It's all about the veterans,'' Pavlovich said. "That's why we're here. It took us 26 years to get here, but we're finally here.''
About 200 people attended Tuesday's groundbreaking ceremony in an open field off of Mount Highland Drive on the eastern edge of Butte. The 10-acre tract, which is just southwest of Three Bears Alaska, was donated by the Don Harrington Family Trust.
The $20 million home will provide care for 60 elderly veterans in five 12-bedroom cottages and will include a community center and sidewalks and breezeways connecting them all. Veterans groups said a cottage design provides a more comfortable home setting than a single, large building.
The project was designed primarily to serve veterans from Butte-Silver Bow and five other counties in southwest Montana: Anaconda-Deer Lodge, Beaverhead, Jefferson, Madison and Powell.
There are two other veterans retirement homes in the state, one in Glendive, 435 miles from Butte in far eastern Montana, and one in Columbia Falls, 232 miles away in far northwestern Montana. Veterans have long sought a home to serve southwest Montana.
Gov. Steve Bullock said the center will fill a serious need in this part of the state.
"It's about all the hard work that veterans in Montana put into providing a welcoming home," he said. "It's about all the veterans and spouses who will one day be living here."
Markovich Construction is building the center and had already begun dirt work before Tuesday's ceremony. It could be completed by the fall of 2020.
It will be overseen by the Montana Department of Health and Human Services but operated by a private vendor that could be selected in a bid process later this year. The vendor will determine the precise number of employees, but it likely will be 50 or more. They will include people skilled in nursing care, managers and those who prepare meals.
The center will offer many services for its residents, including an activities program, spiritual resources, support groups, and social services, according to Tester's office. Rehab services will also be provided, including physical therapy, occupational therapy, respiratory therapy and dietitian services.
The state will soon hire a liaison to ensure the center is built as envisioned and designed and then operated according to standards and expectations, Sesso said.
Sesso helped secure an initial $5 million for the home a decade ago, but the federal government didn't come through with money until last year, when Tester helped secure $9.7 million in funding.
In the 2019 legislative session, Bullock agreed to make another $5 million available in a cash bill for various projects that lawmakers ultimately approved. The extra money will allow all five cottages to be built as envisioned.
Tester, a Democrat, said Butte lawmakers spent more than two decades working for the project and he had sought federal dollars for years before Congress finally came through last year. Republican Sen. Jerry Moran of Kansas helped get that done, he said.
He ended brief remarks Tuesday by thanking all the veterans who supported it.
Now, he said, it was time to get it built.
"As I sit here and look at that big CAT excavator out there, things are going to start happening and they're going to start happening very fast," he said. "All of Montana can be very, very proud of that."
U.S. Sen. Steve Daines, a Republican from Montana, also gave brief remarks, as did Dave Palmer, Butte-Silver Bow's chief executive, who noted that county crews finished hooking water and sewer lines to the site this past spring.
Sesso noted that it was a committee of veterans from six counties in southwest Montana that chose Butte as the site for the home, and veterans also chose the specific location in Butte that it would be built. The cottage concept came from veterans, too.
Throughout the years, through all the ups and downs in the Legislature and in Congress, veterans groups never gave up on the project, Sesso said. Some veterans died along the way.
"This is for all of you who have served," he said. "Thank you for letting us be a part of it."
Mike Lawson, a United Veterans Council commander in Butte, said the work was not over. Veterans groups in southwest Montana would try to provide any assistance to the center's residents that isn't covered by state and federal officials or the private vendor.
"We are going to available for that operation," he said. "We are not going to step on anyone's toes but we want to help."
Get local news delivered to your inbox!
Subscribe to our Daily Headlines newsletter.