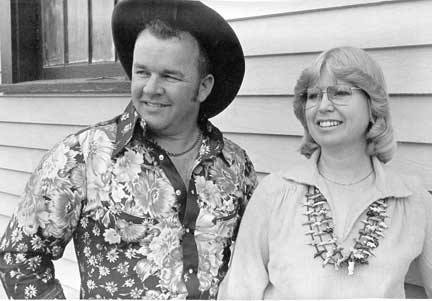 Bob Munden, known perhaps equally as a fierce Fast-Draw competitor who was recognized by Guinness World Records as The Fastest Man with a Gun Who Ever Lived, died Monday in a Butte hospital.
Munden, 70, a long-time Butte resident, was an entertainer as well as a master gun smith who developed groundbreaking methods of customizing to perfection the beloved .45 caliber single action revolver and other guns, died Monday of heart failure.
Munden's wife and performance partner, Becky, said Tuesday, she was driving home with Bob after treatment at a Missoula hospital for what doctors described as a mild heart attack.
At some point between Missoula and their home in Butte, Munden said he was experiencing chest pains, and later died.
The 70-year-old shooting sports superstar was pronounced dead at St. James Heathcare in Butte.
Born Feb. 8, 1942, in Kansas City, Mo., Munden began his professional shooting career at age 11 in Big Bear Lake, Calif. While still in high school, Bob placed second in a competition known as the Leatherslap.
After years of competing in fast draw, Bob and Becky performed together beginning in 1968, emphasizing the importance of gun safety when they went on tour in 1969 for the National School Assembly Program.
Depending on the venue, Bob and Becky continued to perform together shooting blanks or with live ammunition across the United States, in New Zealand and London, England.
As recently as 2011, the Mundens put on their live-ammunition exhibition at locations in California and Kansas.
Over the years Bob, often with Becky who is also a champion shooter, appeared on many television shows, most famously American Shooter, Ripley's Believe it or Not, Shooting USA, and Shooting USA's Impossible Shots. Munden can be found all over YouTube and appears in entertaining and instructional DVDs including Bob Munden: Outrageous Shooting and Bob Munden: The Collec tor's Edition.
At age 68 Munden appeared on Stan Lee's Superhumans on the History Channel. The episode shows a scientist reporting that Munden's hand withstands 10 Gs of force when he draws and fires his gun from the holster.
Viewers learn that as a comparison, jet pilots are trained to withstand 9 Gs, and that Bob is "faster than a rattlesnake."
In a demo during the same show, Munden draws and shoots two balloons six feet apart with two shots that sound virtually like one.
Just eight weeks ago, at the Butte Gun Club range for Midland Radio Corp., Munden did exhibition shooting with a .45 caliber single action and Colt 1911 semi-automatic pistol.