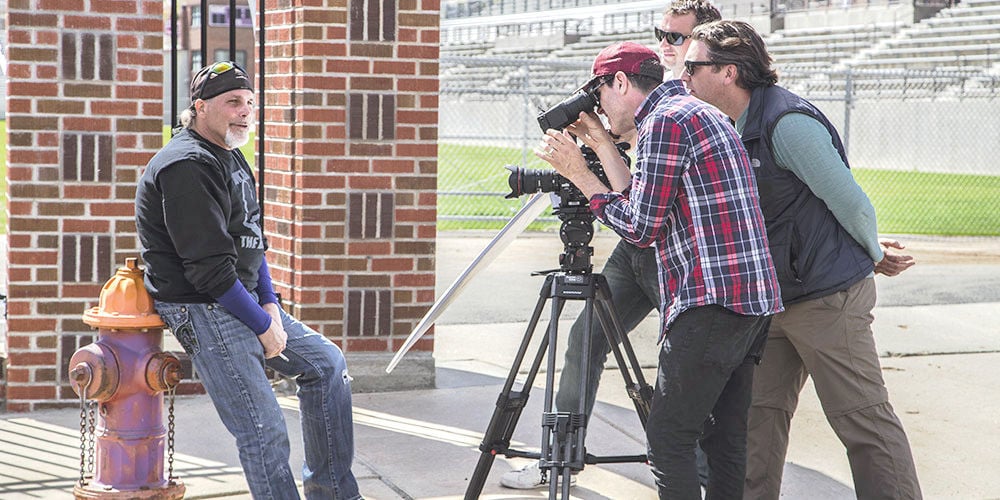 If you tune in to watch "Chasing Evel: The Robbie Knievel Story" during its U.S. TV debut, you won't see a montage of Knievel's greatest jumps — for that, said producer Adam Scorgie, you can tune into YouTube.
Instead, "Chasing Evel" is a story that draws on some pretty classic themes, namely the relationship between fathers and their sons, the producer said.
Director Jesse James Miller, producer Ken Johns and Scorgie created the documentary for Canada's television network Super Channel. The documentary will air in the U.S. on ReelzChannel at 7 p.m., Sunday, July 16, local time.
According to the film's synopsis, the feature-length documentary "explores Robbie Knievel's life through his personal pursuit of sobriety and the need of continuing his father's legacy by jumping once again."
Most Americans — and Canadians, for that matter — are already familiar with Knievel's father Evel Knievel and his famous daredevil stunts.
Update: The Nov. 11 jump with Robbie Knievel has been postponed, an official with Space Coast Harley-Davidson told the Montana Standard Friday…
Scorgie and Miller said that Evel was a master of marketing, a quality that enabled him to achieve an icon-like status. By comparison, Robbie Knievel achieved less acclaim in his lifetime despite having just as many accomplishments.
"He's still considered second to his father," Scorgie said by phone from Edmonton, Alberta, explaining that the Butte native accomplished a lot in his career, but never fully became an icon the way that Evel was, even though he made more jumps than his father (over 350, according to Scorgie, including at Caesars Palace in Las Vegas and the Grand Canyon) and successfully completed stunts his father crashed in.
Miller said it's difficult to tell what drove Knievel to follow in his father's footsteps, whether it was a need to continue his father's legacy or came from a sense of competition, or both.
Nonetheless, Scorgie and Miller explained that Knievel's ambition to follow in his father's footsteps created tension in their relationship, partly because they were so much alike.
"I think there was a lot of love between them … I think there was a lot of competition between them," said Miller by phone from Vancouver, British Columbia, noting that these qualities are partly what made them such great daredevils.
Scorgie added that when Robbie Knievel successfully jumped over the fountains of Caesars Palace in 1989, a stunt Evel unsuccessfully attempted in 1967, Evel decided to re-emerge into the public eye. Was it coincidence, or did he decide to re-emerge for another reason? And why did Robbie Knievel decide to jump over Caesars Palace in the first place? Was it to nab the title in honor of his father? The film poses these questions and more.
The film also depicts the impacts of alcoholism on the Knievel family and Knievel's own struggle with trying to reach sobriety. One of the film's climaxes takes place in October 2015 when Robbie jumps over 30 stacked golf carts in Palm Springs, Calif., his first sober jump in six months after having crashed his car and being arrested for driving under the influence months earlier in Butte. According to a 2015 Montana Standard article, the jump was a celebration of his sobriety and Knievel called the feat "the sober jump" in an interview with reporter Kathleen Bryan.
All-in-all, Miller and Scorgie said the film portrays a nuanced, three-dimensional version of Knievel, someone who was and perhaps still is "the greatest daredevil of all time," but also someone with very real, human struggles.
IN HIS OWN WORDS
Knievel said he has seen the film.
"I thought it was kind of dark," said Knievel, 55, in a phone interview from Las Vegas with The Montana Standard on Friday.
When asked whether sharing intimate details of his life in front of the camera was difficult, Knievel said he didn't have many qualms about it.
"It's the truth. It's simple," said Knievel. "We live in a world of flesh and blood."
He described his father as a compassionate man, but also someone who was tough.
"He was a good dad, even though he hit me with a stick sometimes," said Knievel.
He added that a lot of dads drank in the era in which he grew up, especially in a rough-and-tumble town like Butte.
The Montana Standard asked if his sobriety is something he's continuing to work on, to which Knievel replied simply, "yes."
As for his jumping career, Knievel said becoming a daredevil was something he wanted to do from an early age and that he accompanied his father to many events as a child and got a chance to see the daredevil lifestyle firsthand.
"It was something I was born into … but I had the eye of the tiger," said Knievel, noting that following in his father's footsteps was something more than just taking up the family trade. For him it's a passion, a way of life and a means of keeping his father's legacy and the Knievel name alive.
The Montana Standard asked which aspect of the craft he's most drawn to — the fans, the fame, the adrenaline rush — to which Knievel replied, "everything."
Knievel said he wished "Chasing Evel" would have featured more interviews with his children and grandchildren and spent more time discussing his jumps and crashes but said he understood there wasn't enough time and money to include everything. Overall, Knievel said "(Miller) did a good job" and that he was happy the filmmakers devoted a significant portion of the documentary to telling the history of Butte, adding that he is proud to be from the Mining City.
"Butte, Montana has a lot of characters," said Knievel, describing Butte as a place where a variety of nationalities once flourished.
"We had it all in Butte," said Knievel.
Including beautiful women, he said.
Scorgie and Miller, meanwhile, say Butte takes on a character-like status in the film.
Scorgie described Butte as "a perfect place for the daredevil and his son to be born," noting that miners were the daredevils of their day, especially given the risks they faced underground.
Miller pointed out that many Butte children grew up without fathers as a result of mining-related deaths, which he said could have taken a cultural toll over time. This history, he said, adds to the backdrop of a film that's about a relationship between Knievel and his father, who incidentally was raised by his grandparents. Having Butte take a prominent role in the documentary, Miller said, is what differentiates it from other Knievel films.
"Without having that in context, it's really hard to understand Robbie and his father," said Miller.
BEHIND THE SCENES
Scorgie said the film took over a year to shoot and that filmmakers visited multiple locations as they followed Knievel in his motorhome. Butte residents interviewed included members of the Knievel family, former Butte-Silver Bow Chief Executive Matt Vincent, director of the Butte-Silver Bow Public Archives Ellen Crain and Shorty's Saloon owner Kathy Faroni, daughter of Harry "Muzzy" Faroni of Freeway Tavern fame, among others.
Cumulatively the filmmakers spent about two months in Butte and shot scenes in mine yards, vacant Uptown buildings, Shorty's Saloon, the Knights of Columbus Hall and Butte High School, among other locations.
Scorgie said filmmakers also shot from the hills above Butte, where they were able to get dramatic views of the Mining City skyline. Some of those shots of Butte helped them earn a 2017 Leo Award for best cinematography, Scorgie said.
"It's a hell of an accomplishment," said Scorgie, noting that the Leo Awards represent some of the best films coming out of British Columbia.
This year the film was also an official selection for the Big Sky Film Festival, where it premiered in February, and the Nashville film festival.
When asked what they hope people will walk away with after having seen "Chasing Evel," both said they want audience members to recognize Knievel's accomplishments, understand what drove him and see him in a human light.
"I just really hope it honors his story," said Scorgie.
Miller agreed, noting that Knievel represents a brand of daredevil that's starting to fade, one centered on the motorcycle and the jump as viewers turn their attention to modern spectacles.
"Once he's gone, it's done, his legacy is over," said Miller. "He's the last of the Mohicans."
Get local news delivered to your inbox!
Subscribe to our Daily Headlines newsletter.