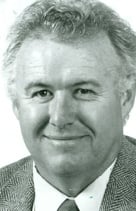 A former top executive with Montana Resources who was credited for helping rekindle mining in Butte died Friday.
Raymond V. Tilman, 69, of Wise River passed away in the morning at the Butte Care and Rehabilitation Center.
Tilman started with Montana Resources in 1984 and eventually become president of the mining company in Butte, resigning in 2000.
Tilman is credited with being part of the group that got mining going again after the Atlantic Richfield Corp. abandoned mining operations in 1982.
Former Butte Chief Executive Don Peoples Sr. told The Montana Standard Friday that Tilman was a dedicated person.
"He was a fine man. He was a gentleman who cared about the town and the company he worked for," Peoples said.
"He was on the team that brought mining back to Butte," Peoples continued. "He was very instrumental in that process."
Tilman's friend Frank Gardner of Wise River said Tilman had been battling cancer in recent years. He visited him less than a week ago at the rehabilitation center.
"His mind was very keen right up to the very end. I don't think he suffered much pain," Gardner said in a telephone interview Friday.
Gardner was president of Montana Resources when he hired Tilman. He described Tilman as a "key member" of the team that got mining back in Butte.
"He was very loyal and he supported the other team members in going forward in mining," Gardner said.
Tilman was hired as MR's human resources manager and helped start the company's profit-sharing program, which is still in use today.
But his service went beyond the mine.
He also served as president of the Butte-Silver Bow Chamber of Commerce and the Butte Local Development Corp. Connie Kenney, who ran the chamber for 13 years, said she remembers him as a dedicated man who stuck things out during difficult times in the mining industry.
She said Tilman also actively supported and coached youth hockey in Butte.
"Ray was right in the middle of everything," Kenney said.
According to information gathered from Montana Standard archives, Tilman was born in Boise and received a degree in metallurgical engineering from the University of Nevada-Reno in 1965. He came to Butte in 1968 as maintenance supervisor at Stauffer Chemical, where he was named production supervisor in 1973, and then manager in 1978.
He was hired by Anaconda Co. in March 1984 and by 1985, was human resource manager at Montana Resources. He would later be named vice president and then president. He was active in the George Grant Chapter of Trout Unlimited, including work on habitat improvement on Little Blacktail Creek. He served on the Montana Tech Foundation board of directors.
Montana Resources spokesman Tad Dale expressed the company's condolences to Tilman's family in their time of loss. Dale said he's known Tilman for more than three decades. He described Tilman as an articulate man with a gift for explaining the functions of the company.
"I remember his smile and how passionate he was about the issues he cared about," Dale said.
Services will be Friday, Aug. 2, at the Wise River Community Center in Wise River, according to Duggan Mortuary Mortuary.
His family will receive friends from noon to 2 p.m., at which time a Time of Remembrance will be conducted. A celebration of Ray's life will follow.
Private placement of ashes will take place at a later date. A complete obituary will appear in a later edition of The Montana Standard.
In lieu of flowers, memorials are preferred to the Cullen Barry Memorial Fund, c/o Butte Amateur Hockey Association, 3480 Hannibal, Butte, MT 59701.