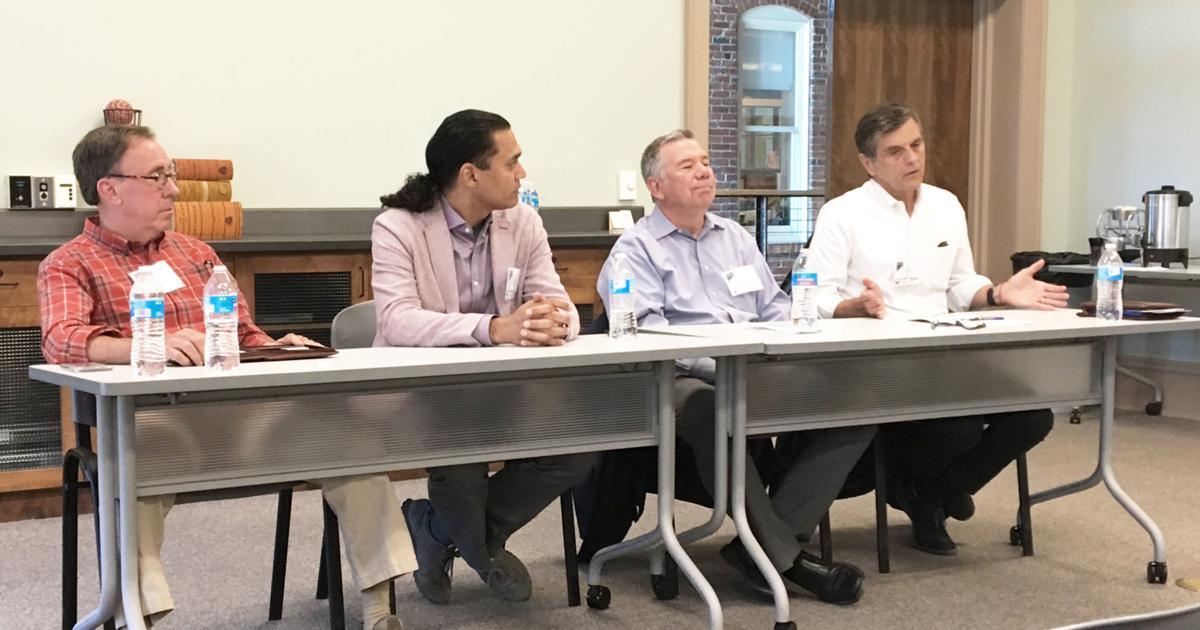 Butte's economic development advocates have unleashed a new strategy in their effort to attract new businesses to Butte.
Last week, an economic development team — consisting of Chief Executive Dave Palmer and officials from the county, the Butte Local Development Corp., Port of Montana, Butte Chamber of Commerce, Butte's Tourism Business Improvement District and NorthWestern Energy — gave a days-long tour of the Mining City to four professionals from the Site Selectors Guild, an association of consultants who help companies find locations for an expansion or to set up a new business.
The purpose behind the tour, said Kristen Rosa, administrator for Butte's Montana Connections Business Development Park, is to showcase the community and everything it has to offer to prospective businesses, whether it's access to things such as rail and potable water or recreational amenities.
In the United States, there are countless expansions and relocations every year, and communities everywhere are clamoring to get a piece of the pie.
It's a competitive world out there, Rosa said, and attracting attention can be difficult for any community.
"We need to keep getting our name out there," said Rosa.
Already economic development advocates have been getting the word out about the Mining City through the Butte Elevated social-media campaign and website — a joint effort between multiple entities in Butte that launched in 2016 — but the site selector tour is something new.
Rosa said its common for communities to host such tours. The state has done it, she said, along with Missoula and other Montana cities.
But since her tenure, this is the first time Butte has recruited site selectors to tour the Mining City.
The economic development group had to come up with $24,000 to put on the tour.
Some of that money came from allocations from the Montana Connections TIFID, Port of Montana and the TBID, along with a contribution from NorthWestern Energy, Rosa said.
The site selectors arrived Wednesday and departed over the weekend. During their time in the Mining City they gathered information about Butte, visiting with large employers such as NorthWestern Energy, Montana Precision Products, REC Silicon and more. They visited the business development park and nearby Port of Montana, along with Headframe Spirits' manufacturing facility in the Kelley mine yard. They also drove around Uptown to look at different revitalization projects, spoke with small business owners and took a tour of the CryptoWatt LLC mining facility in the old MSE complex south of Butte.
Friday the site selectors were on hand for a public information session at the Butte-Silver Bow Public Archives. They spoke on Butte's strengths as a community, but also gave a few pointers on where Butte could improve.
Jay Garner, president of Atlanta-based Garner Economics, has a motto: "no product no project."
He explained that every community is a product consisting of things such as "your business parks, your industrial parks, any kind of spec buildings you might have (and) incubators."
"From what we've observed, in most instances, especially on the industrial park side, you are product-rich," said Garner, adding that Butte also seems to have a strong entrepreneurial network.
But where Butte needs to improve is in its workforce, which Garner said only boasts about 17,000 individuals. If Butte wants to attract the attention of businesses, he said, it could do well by throwing out a "catch net" to draw workers living within 45 minutes of town.
One way to increase Butte's workforce could be to increase the quality of life.
Rajeev Thakur is senior managing director for the real-estate firm and consulting company Newmark Grubb Knight Frank.
He told audience members Friday that millennials are choosing to prioritize experiences, noting that some choose to locate in a particular city because of the lifestyle it offers and then look for a job later.
He also noted that the service sector in Butte is small and that one way to attract more people could be to nurture growth in this area — in the realms of culture, retail, dining, health care and more.
"We know you're focusing on logistics and manufacturing … and you want to diversify," said Thakur. "But you need to increase your services sector as well."
The Montana Standard asked Garner what Butte can do to increase its workforce.
One way, Garner said, is "talent attraction."
In other words, getting new people to move to Butte.
Garner said Butte only had 1.2 percent population growth in the last ten years "but it's better than a loss, and I've been to places (that have had a loss)."
The other way is to train people who already live in the community, focusing education on the skills that local companies need. He also noted that one company, Montana Precision Products, has been utilizing the existing Butte workforce through its in-house welder training program.  
Meanwhile, Garner said Uptown is a blessing because of its historical importance and existing infrastructure but is also a challenge because it was built for a much larger population.
"How you take that property and redevelop it… is a key to your future success," he said. "Because the downtown is the living room of any community."