A kindergarten student sits cross-legged on the floor of a classroom like the rest of her peers. Each day, she learns things like the letters of the alphabet and different nursery rhymes along with the beginnings of how to read, write, and interact with others.
This student is bright and creative. She has a larger-than-typical vocabulary, enjoys solving puzzles, and is very imaginative. But sometimes this student mispronounces familiar words, doesn't recognize rhyming patterns, or has trouble remembering the letters in the alphabet like the rest of her classmates. 
The school years pass, and these difficulties seem to persist. The student has a hard time sounding out words when she reads aloud or often can't connect sounds to letters at all. Reading becomes slow and sometimes awkward. It takes longer to find the right words to say and even longer to answer questions out loud or on paper. 
But despite these decoding and comprehension difficulties, this student is not dumb — far from it.
Some of the smartest people who have ever lived, including Albert Einstein, are like this hypothetical dyslexic student, and roughly 15 to 20 percent of the population has some form of dyslexia.
According to the International Dyslexia Association, dyslexia is a specific, neurobiological learning disability that inhibits a person's decoding abilities, like recognizing words, matching letters to sounds, spelling, comprehending reading, and more. Like many learning disabilities, there is a spectrum of dyslexia severity and symptoms, meaning one dyslexic person may face very different challenges and have different abilities from another. 
Olivia Hawley, 12, has a mild form of dyslexia. In a meeting room at the Dillon Middle School, she talked about the struggles she's faced over her school years and what it feels like to have this often misunderstood condition. 
"I was always the last one to finish my work. I couldn't sit still, and I got headaches," Hawley said, looking back on second grade, the year she first noticed her dyslexia symptoms. "I remember on one of our reading tests, my partner could read over 100 words, and I could only read 45."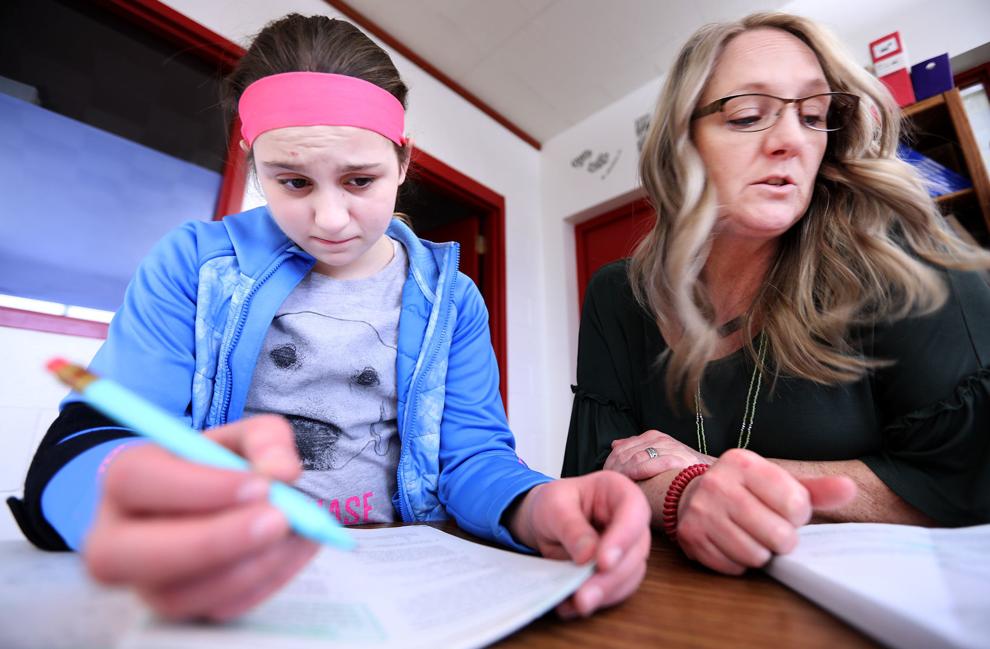 When the Hawleys started noticing Olivia's comprehensive difficulties, her mom Kim's first thought was dyslexia. 
"The school didn't specifically screen for dyslexia, so I took her to a dyslexia specialist in Billings," Kim Hawley recalled.
Olivia was diagnosed with mild dyslexia and dysgraphia, an associated condition where students often have unclear or inconsistent handwriting and struggle to copy things down. 
Over the next four years, Kim Hawley says she struggled to convince Dillon School District No. 10 to support her daughter. At first, the district refused to give Olivia special education accommodations and told the Hawleys dyslexia was not recognized by the state, so they couldn't help her.
The family filed a complaint against the school district with the U.S. Department of Education and the Office for Civil Rights, eventually worked out a 504 plan that they say the Dillon school district refused to follow, spent countless hours at home teaching Olivia and correcting her school work so she wouldn't fall behind, and then decided to let her fail fourth grade to prove to school administrators she wasn't getting the dyslexia-specific education she needed. 
"She was sobbing every night, saying she didn't want to go to school," Kim Hawley said. "The teachers thought she had given up. They didn't understand all of the work we were putting in at home … so we pulled her out and started homeschooling." 
Olivia spent her fourth- and fifth-grade school years in school for "specials" like art, music, and physical education and at home for math and reading. But this year, Olivia is back in school full time as a sixth-grader, as the Dillon district's new administration and superintendent are more dedicated to ensuring she has the help she needs. 
"This year has been so much better," Kim Hawley said. 
In fact, the Dillon School District No. 10 has made support for dyslexic students their focus, especially over the past three years. 
This shift started when one of the district's paraprofessionals, Dawn Kindberg, received the extra training she needed to become a dyslexia specialist. This six-day training, led by the creator of one of the Orton-Gillingham programs, which use multi-sensory teaching strategies, taught Kindberg how to screen for dyslexia. 
"I am not a medical professional, but I can screen for dyslexia with 99 percent accuracy," Kindberg said. 
Kindberg doesn't have dyslexia, but she said she grew up with two very dyslexic brothers. The increase in dyslexia awareness and the opportunity to help students through early screenings was very appealing to Kindberg, she said. She had been teaching Orton-Gillingham programs one on one with students in school but felt it was important to do more to help them. Kindberg is one of the only dyslexia specialists in the Dillon region and said she's had families travel from as far as Nevada to come work with her. 
With this training and the inclusion of small, group-based Orton-Gillingham programs into Dillon schools, Kindberg says she is doing a variety of things throughout the district to help dyslexic students. She has trained Dillon teachers on the signs of dyslexia, and if teachers feel a student is struggling, they can talk with Kindberg and the students' parents about conducting a dyslexia-specific screening and creating a different learning plan, if necessary.
"I don't know of any other schools that have so many dyslexia-friendly programs available for students," Kindberg said. "It's kind of exciting to think we are way ahead of the curve." 
The principal of Dillon's Parkview Elementary School, Greg Fitzgerald, echoed similar thoughts. 
"We recognize dyslexia is a huge issue in our schools and are making sure we are ahead of the game," Fitzgerald said. "We're determined to provide the best education at whatever level our students need."
But although the Dillon School District No. 10 is supportive of dyslexic students and things at school are getting better for Olivia, the Hawleys aren't just concerned with dyslexia-specific support in Dillon — they want to see that support in every school district across the state.
Kim Hawley is the Dillon-area's regional representative for Decoding Dyslexia, a national grassroots organization that aims to help local dyslexic communities.
Two summers ago, the Hawleys testified in front of the state's education interim committee about Olivia's struggles with dyslexia. On Feb. 6, they'll testify again in support of a bill that would require dyslexia-specific screenings and support for students statewide. 
"Most people with dyslexia aren't diagnosed because they just think they're stupid or dumb," Hawley said. "This bill is for all of the kids with parents who can't fight for them or don't know how to."
"We (Smith and his wife) have been working with kids for a long time to read, but when we worked with her (their granddaughter), it was different," Smith said in a phone interview with The Montana Standard.
Smith said although his granddaughter struggled with reading, she was very bright. She didn't have any behavioral issues, so even when she started to fall behind her first-grade classmates, her school didn't feel she needed extra help.
After he and his family discovered she has dyslexia, Smith started to do some research. He didn't know much about dyslexia, he said, and checked with the Montana Office of Public Instruction and federal legislation to see how the law recognizes the condition. 
"What I discovered is, schools are required to do this," Smith said of an existing mandate that schools provide dyslexia-specific educational opportunities. "But a large number of schools don't want to talk about it." 
Smith explained that while Montana is a state without dyslexia-specific laws, the state's public schools are still required to support students with the condition because dyslexia is recognized as a disability under the Individuals with Disabilities Education Act. This means that if a student is diagnosed with dyslexia and a parent informs the public school district, that district must see whether the student qualifies for special education or extra resources. 
But as Smith talked with his constituents and other Montana residents, he said he found a mixed picture. While some schools, like those in Dillon School District No. 10, are supporting students with dyslexia, others claim they aren't required to do anything because there are no state dyslexia laws.
Smith also talked to parents who have paid thousands of dollars in outside tutoring for their child and to parents who can't afford to pay such extra costs.  
"The bill says schools should be doing this now; there is no additional funding required," Smith said. "It's not only a matter of the law, it's a matter of priorities. … People with dyslexia are very valuable to society. They add diversity."
Smith's proposed act would define dyslexia and require school districts across the state to screen students for it as early as possible, ensure dyslexic students receive appropriate educational services, and better train teachers on how to both recognize and serve dyslexic students. 
As of last January, Smith said SB 140 had 110 cosponsors, including every member of the education interim committee the bill will be presented to on Feb. 6. Smith hopes to have at least 110 people at the hearing to testify in support of the bill, he said. If it makes it past this committee, it will head to the Senate floor for a vote then on to the House. If it clears those hurdles and is signed by Gov. Steve Bullock, it will become law.
Along with parents and children like the Hawleys, the Montana Office of Public Instruction's legislative liaison John Perkins also plans to be at the Feb. 6 hearing. Perkins said OPI has worked closely with Smith on SB 140 and will set standards or guidelines for statewide public school districts to follow. 
"The bill offers a lot of flexibility for local control," Perkins said. "Dyslexia is a very unique disability in that there is no universal way to screen for it, which is part of the problem. There's no 'one size fits all.'" 
This means the screening tests and educational programs may vary from school district to school district as costs and budgets vary across the state, but the bill and OPI will ensure public schools are doing something to screen for dyslexia and support dyslexic students. 
OPI's special education director, Frank Podobnik, elaborated on this oversight. 
"Over the years, there's been a lack of recognition of dyslexia. Schools have worked to identify reading problems, but the term 'dyslexia' is not favored in the school system," Podobnik said. 
Podobnik isn't sure why schools have reacted this way to dyslexia other than that there is misinformation about what the condition is and how schools should address it. To tackle these misconceptions, he said OPI published a set of dyslexia guidelines for parents and teachers and recently established a dyslexia task force that is working parallel to SB 140.
"We recognize there needs to be more knowledge and attention paid to the issues kids with dyslexia have," Podobnik said. "Should the bill (SB 140) be enacted, our work will fit in with what it intends to do." 
Those intentions are to continue to provide guidelines that teachers and parents statewide can follow as well as correct information about dyslexia and how there is a diagnosis spectrum. Just because a student has dyslexia to some degree does not mean they need to be put in special education. Instead, it could mean they need to learn via different strategies or curricula.
"Because Montana is a local-control state, school districts have control over the curriculum they use. But we can say, 'Here are the kinds of things that need to be done, and here are some learning strategies that work,'" Podobnik said.  
Closer to home, a young Butte teen has struggled with dyslexia for years. Ryan Tomich, an eighth-grader at East Middle School, has been diagnosed with the condition and spends extra hours studying every week to keep up with his classmates. 
"I have to work really, really hard in reading, spelling, and with memorization," Tomich explained. "I see things the same way as everyone else, it's just harder for me to process."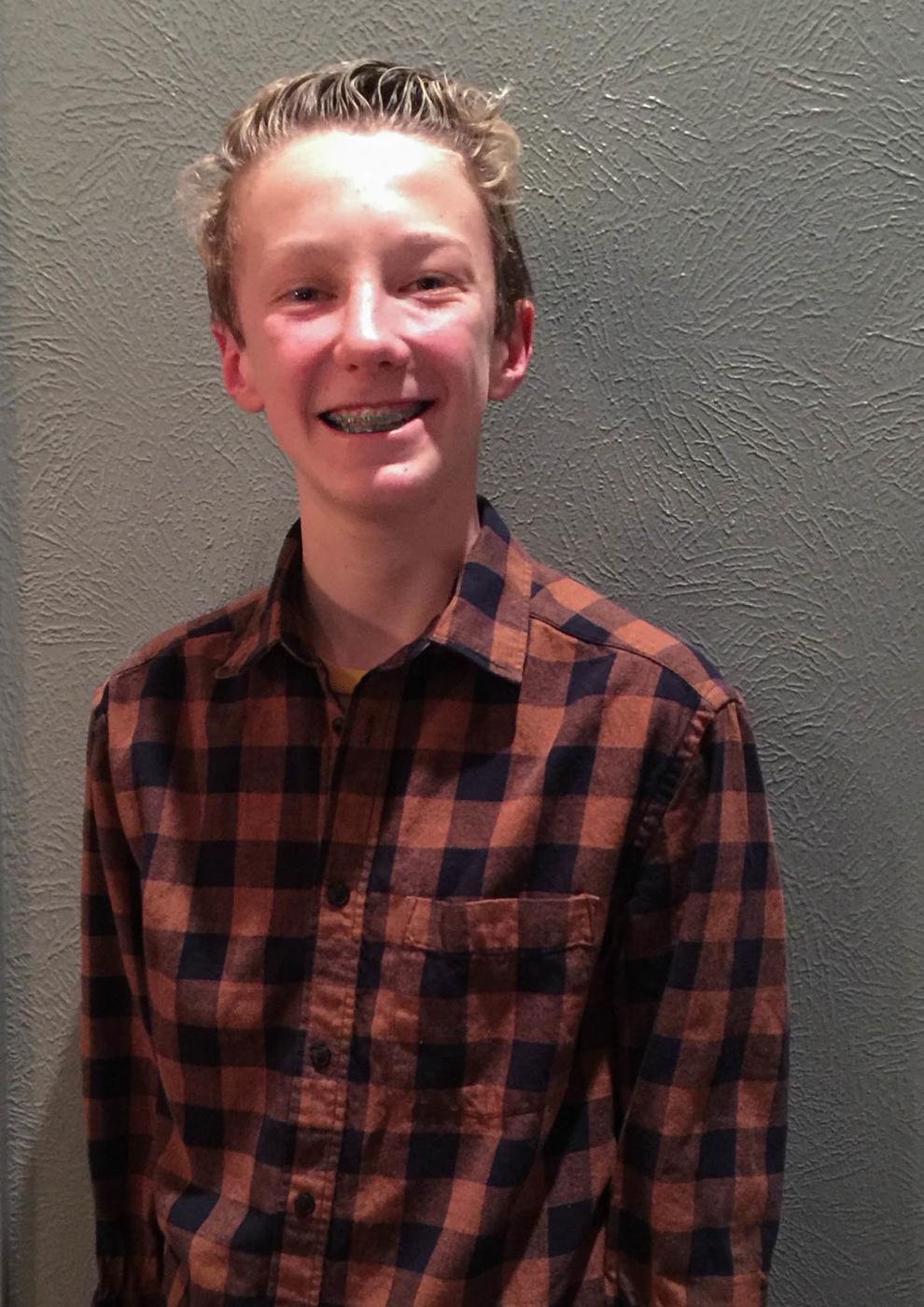 Tomich's mom Maureen said their family took it upon themselves to help Ryan by hiring a private teacher to tutor him through the Orton-Gillingham programs. Between fourth and fifth grades, Maureen said this tutoring helped Ryan catch up to grade level and his ambition to succeed. 
"He wants to get good grades, and he wants to go to college, so he needs challenging material but more time to process it," Maureen Tomich said. 
At East Middle School, Ryan does have an individualized education plan that gives him time and spelling accommodations. As he moves into high school, that plan will probably include more technology accommodations, like talk-to-text apps, audio textbooks, and taking pictures of notes instead of copying them down by hand, Maureen said. 
"Ryan wants to stay in school, so we find ways to make that happen," Maureen said. "We have no reason to give up, because he said we weren't going to." 
According to Ryan, his dream is to go to the Massachusetts Institute of Technology and become a computer scientist. He doesn't see his dyslexia as a barrier but rather as something he has to work around. 
Olivia Hawley expressed a similarly positive outlook. She said she sees her dyslexia as something that makes her unique. As she played on her iPad and squeezed a small turtle fidget toy, or stress ball, on a recent day in Dillon Middle School, Olivia talked about the poster of famous people with dyslexia hanging on a wall in her room and her dreams of becoming a surgeon someday. 
"I don't believe in failure," Hawley said.