The U.S. Forest Service issued a draft approval of an oil and gas exploration project in the Tendoy Mountains in southwest Montana near Lima in May, stamping the project's Environmental Assessment with a Finding of No Significant Impact.
The Tendoy Project would be the only active oil well in a remote area known by many as hallowed hunting and fishing ground, and has drawn strong concern from conservation groups like Trout Unlimited. It would also be the only industrial development near a herd of bighorn sheep reintroduced in the Tendoys this past February.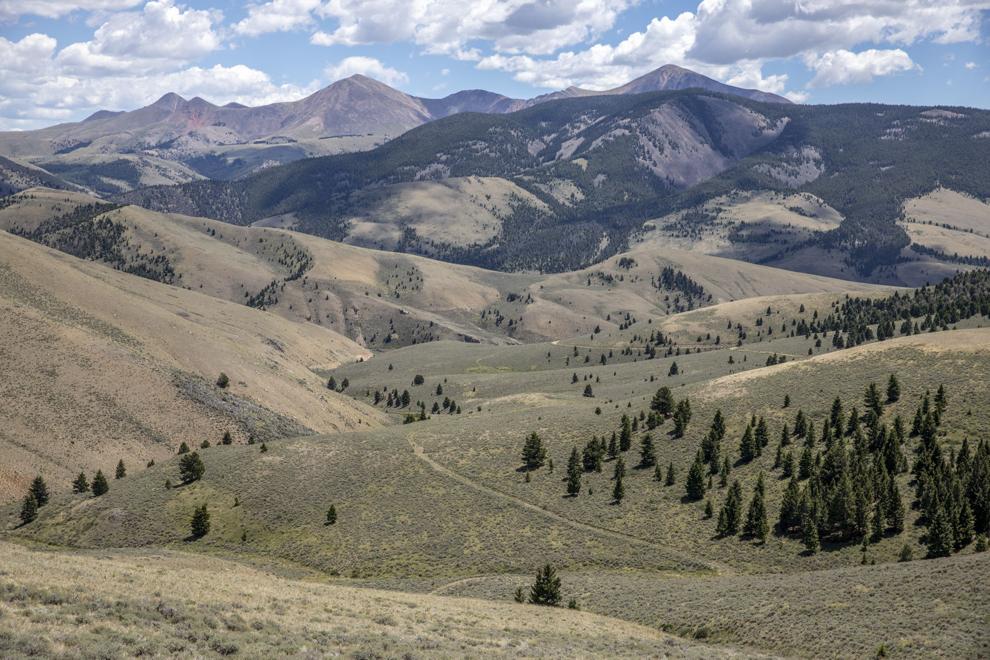 To see it for themselves, Trout Unlimited personnel visited the area last week.
The steep, winding, narrow dirt road up to White Pine Ridge is adequate for a hunter on a four-wheeler or in a pickup — or snowmobile in winter — but will need to be widened for oil transport trucks.
Standing in the wind at the top of its curves, a 16-mile drive from Lima, Tasha Sorensen, western energy lead for Trout Unlimited, marveled at the solitude.
Lined by sagebrush, framed by the Lima Peaks and Beaverhead Mountains, and atop the rolling Tendoys, there wasn't a speck of development in sight or a single motor's whir in the air.
"This isn't the right place," Sorensen said. "There's a lot at stake here in this location. There's other places that have higher potential for oil and gas. They could concentrate responsible development there."
The period to file objections ended June 28.
Once the Forest Service records written responses to objections, and if the Bureau of Land Management approves the Application for Permit to Drill, Lima Exploration Company will be cleared to drill a well.
A horizontal drill technique will target a sandstone formation between 4,800 and 10,800 feet deep, according to the EA. If resources are found, the company will be free to produce oil and gas, keeping the well pumping for an estimated one to 20 years.
An additional EA is not necessary for the production phase, said Licette Hammer, project lead for the Beaverhead-Deerlodge National Forest.
The construction phase is estimated to take 3-4 months, during which time there would be a flurry of activity. Roads would be improved for several miles to accommodate big trucks, and an 85-foot access road would be constructed.
If the well reached production, an estimated one or two oil transport trucks and one or two pickups would make round trips daily, and another truck every two days would haul produced water.
The EA estimates a surface disturbance of 12 total acres, 9.2 of them permanent.
In 2015, when the permitting process first kicked off in earnest, Scot Donato, then the manager of regulatory affairs and environmental health and safety for Great Western Oil and Gas Co., which owned Lima Exploration at the time, said the future could bring 10 to 20 wells in the area.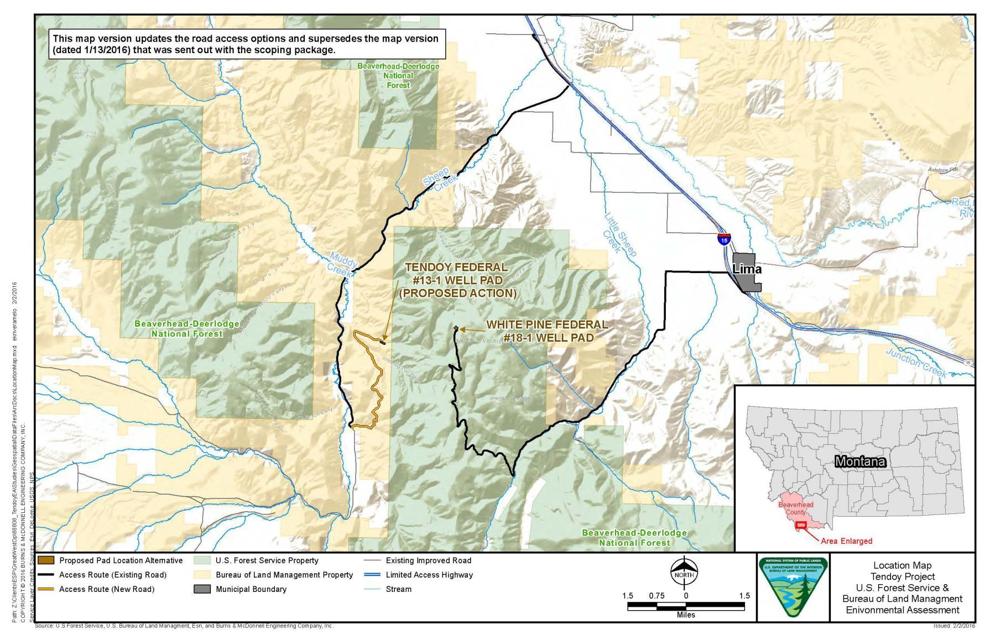 Conservation and hunting groups like Trout Unlimited and the Montana Wildlife Federation have challenged the development on grounds it may cause long-term damage to game habitat, trout streams and beyond.
It's not just conservation groups who find the area sensitive. Montana Fish, Wildlife and Parks recently issued comments stressing the importance of the habitat and concern for a recently released herd of bighorn sheep and other game.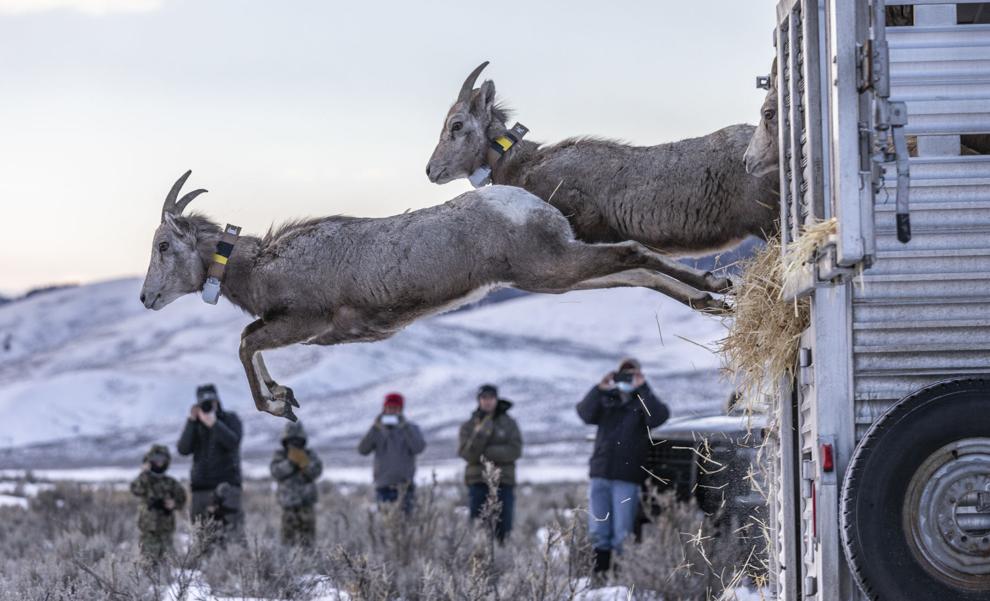 Dillon-area FWP wildlife biologist Jesse Newby closely tracks those sheep, and said several have taken forays near the site at White Pine Ridge since release. Historic herds roamed the ridge as well.
Following approval of the draft EA in May, FWP Region 3 supervisor Marina Yoshioka sent additional comments to the Forest Service on behalf of her agency. In no uncertain terms, she said the project represents a substantial threat to wildlife and recreation — starting with bighorns.
Bighorn sheep, she pointed out, were introduced to the area after the EA was first written.
The Forest Service and BLM worked through the EA process together as two site alternatives were considered, one on Forest Service land and one on BLM land.
During the comment period for the EA, FWP expressed preference for the White Pine Ridge site on Beaverhead-Deerlodge National Forest out of concern for sage grouse and aquatic resources of Big Sheep Creek — an exceptional fishery containing native westslope cutthroat trout and closer in proximity to the BLM site.
White Pine Ridge was selected, and stipulations were added concerning big game — including prohibiting surface disturbance activities anywhere in the project area from Dec. 1 to July 1 to decrease impact to game using the area for winter range, calving and lambing season.
But that may not prevent all problems. Trucks will still be able to traverse the grounds regardless of the stipulations.
"If that well is productive, that truck traffic would be going every day, year-round," Newby said.
The EA contains speed limits and other mitigation measures, but Yoshioka stressed the vulnerability of the small bighorn herd, which was reintroduced in February. FWP and hunters eradicated the previous herd due to disease in 2015.
"While the EA states this will be addressed through speed limits, an average of two trucks per day year-round is a potential source of mortality. This and other sources of direct mortality can be particularly concerning during low population levels, as the Tendoy herd currently comprises only 22-24 sheep," Yoshioka said.
At least two of the original 26 animals from the new herd have died since release. One was killed by a mountain lion. The other was killed by major blunt force, Newby said, likely from a vehicle strike, and possibly from a fall.
The EA concluded: "The project may impact individuals and habitat without contributing to a loss of viability to bighorn sheep populations or species using the project area."
In the May letter Yoshioka also suggested a series of additional conditions, including that at least 12-month pre- and post-construction monitoring be conducted for breeding birds, grouse, raptors, bats, big game, and water resources including seeps and springs.
These comments are being considered by the federal agencies.
"Consultation with the surface management agency, in this case the Forest Service, could result in specific conditions of approval being included before the BLM approves an Application for Permit to Drill," said Al Nash, chief of communications for the state BLM office.
Yoshioka said the risk remains even if the measures in the letter are met.
"Even with these mitigation measures, it may not be feasible to fully mitigate the disturbance associated with the exploratory well. If productive, additional wells and associated activities would likely mean further impacts to wildlife and recreational resources," she said.
During their tour of the area last week, the Trout Unlimited crowd was surprised by a cinnamon black bear bolting up the mountain, headed in the direction of the drill site.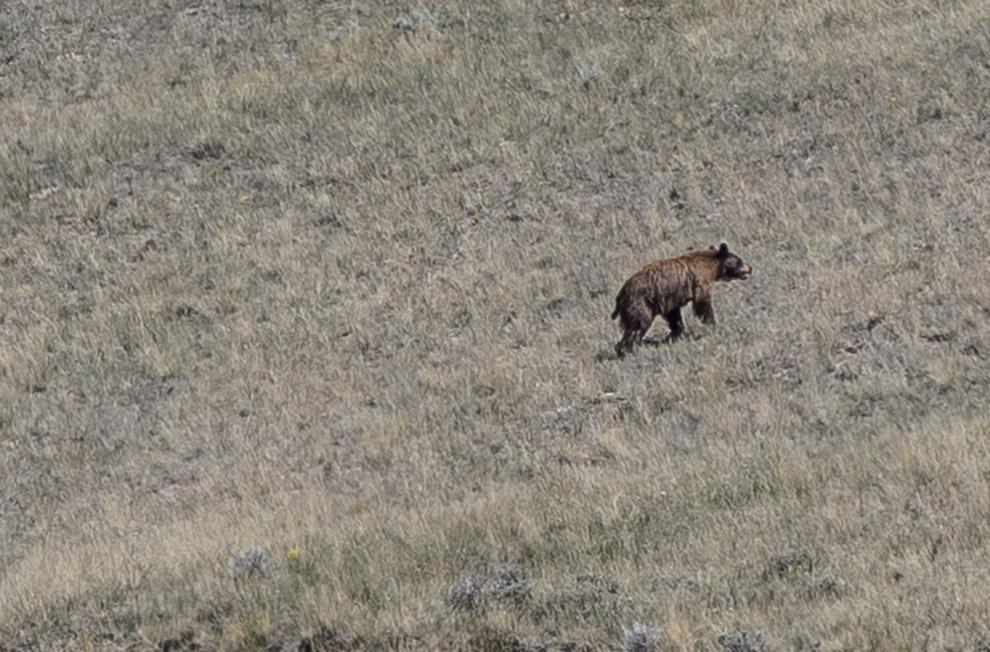 Corey Fisher, a Missoula-based public policy director for Trout Unlimited, listed his concerns.
The site at White Pine Ridge is equidistant from Little Sheep Creek and Big Sheep Creek, about two miles from each as the crow flies. Both streams contain westslope cutthroat trout, which only occupy 6% of their historic range east of the continental divide.
"So there are no sacrifice populations left," Fisher said.
Earlier in the day he spotted a westslope in Little Sheep Creek next to one of the roads to be improved for oil trucks.
Fisher questioned the EA's analysis, which said road improvement will actually reduce the amount of sediment ending up in the creek.
Then there's the chance of a spill. He pictured trucks making the journey in winter.
"Bringing tractor trailers all the way up Little Sheep Creek, there's a potential for a spill. And frack fluid, produced water. Having a spill – that's going to impact Little Sheep Creek," he said.
Another conservation group, the Upper Missouri Waterkeeper, also filed objections to the decision. The group called the project "wildly speculative," risking the watershed while "offering little, if any, recoverable oil resources."
Fisher too called the project speculative, referring to comments on the EA by University of Montana Western professor and geologist Dr. Rob Thomas.
"The potential of finding oil or natural gas that is economical at this location is so remote as to be negligible. The structure in that region is a complex web of thrust faults and folds all cut by normal faults. The micro-scale of most of this structure is such that the probability to have a stratigraphic or structural trap (e.g. fault trap) of any size and with any volume of oil or natural gas is essentially zero. There may be some small plays, but the structure prohibits anything economical," Thomas said in his comments.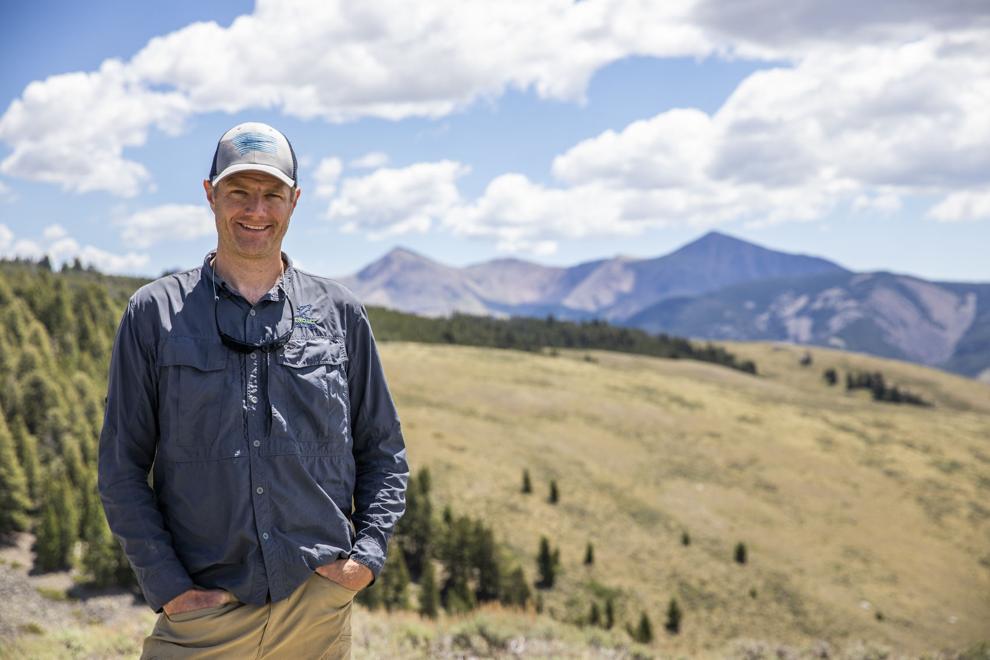 Fisher stressed that Trout Unlimited supports responsible energy exploration, but he's far from convinced the Tendoy project fits the bill.
"That's the other concern," he said. "If they don't hit oil, we want to make sure there is an adequate bond so that it is reclaimed and the taxpayers aren't left holding the bag like we've seen."
In objections, Trout Unlimited, Montana Wildlife Federation, and other hunting and conservation groups said the EA failed to fully account for the recreational impacts.
Hunting District 300 in the Tendoys is fabled hunting territory.
The EA recognized hunter activity, saying FWP data showed hunters in 2015 spent 15,539 days in the field to harvest 820 elk in the two elk management units encompassed by the project, and another 3,739 days in the field to harvest 184 mule deer. Additionally, there were 1,138 angler days on Big Sheep Creek in 2013.
Yoshioka added that the area is home to one of Montana's few trophy mule deer districts, and highly valuable to both local and destination tourists for elk, sage grouse and moose.
Newby said White Pine Ridge holds various springs, a draw to the animals during the drought. He took a trip up there this past December.
"And the whole place was just crawling with mule deer. I'm not sure if that's typical of every year. If we were having a harder winter, they might have been pushed out of there already, but at least this past December they were in there thick," he said.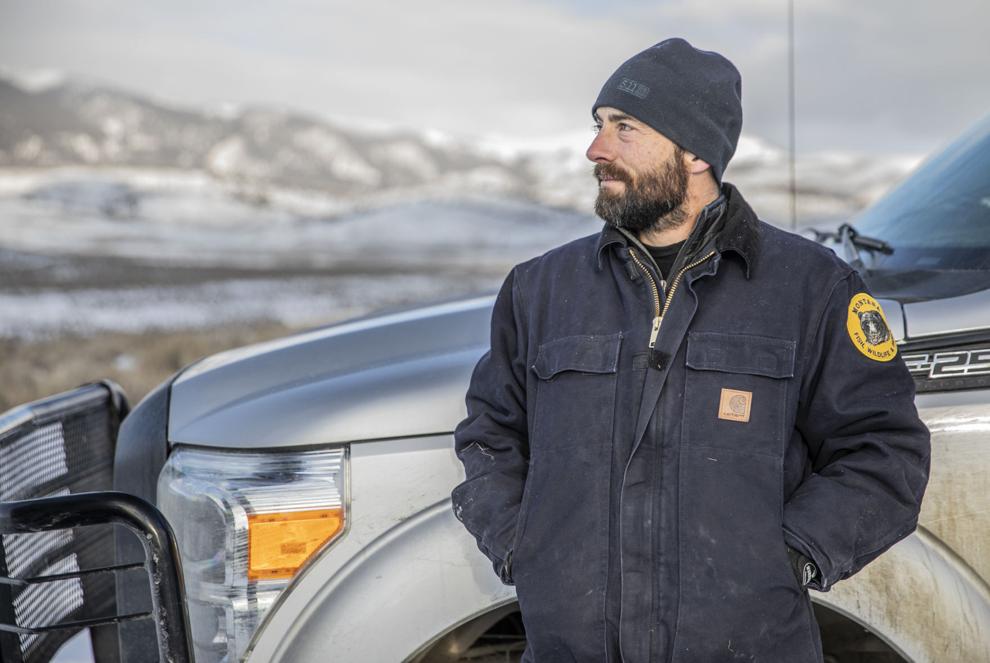 Using FWP data for the percentage of Species of Economic and Recreational Importance, the EA said the drill site and its access roads lay in third class territory (out of four). However, a swath of first class territory sits only a few miles away, representing economic and recreational value found in only a very small percentage of Montana. The White Pine Ridge site is also only a stone's throw away from second class territory.
Jack Atcheson Jr., a renowned big game hunter, knows the area as well as anyone. He's a believer in multi-use of the land, but also believes in prolonging that use.
"I burn gasoline in my vehicles all the time, so I understand that dependence, but I'm worried about the long-term impact of that area for wildlife," he said. "That's real."
He flies all over the world in pursuit of game, and is qualified to call the Tendoys world-class. White Pine Ridge and the roads to get there are significant in the big picture, he said.
"It would be a game changer, because it is right in the migratory path of elk that move from the Lima Peaks and the snowline area. This is not a small deal. This is a big deal," he said, adding that elk started using the area in far greater numbers in the last few years.
Displacing the animals stands to push them into agricultural lands — an increasing concern in the state, he said.
Atcheson Jr., Trout Unlimited and others have therefore recommended a thorough baseline study of game animals in the area before the project gets final approval.
It's a matter of economics," Trout Unlimited wrote in its comments, "with elk hunters in Hunting District 300 spending over $1.8 million in 2018."
Two public scoping meetings were held in 2015 as the permitting attempt got off the ground. Legal notices have been published in The Montana Standard to alert the public to comment periods.
Lima Mayor David Olsen said he figured the project was dead.
"There was so much controversy from this area that they just kind of walked away. But I didn't know they were at it again," he said.
He hadn't heard anything else about it before he was contacted by The Montana Standard last week.
The Application for a Permit to Drill, which the BLM has jurisdiction over, said the company would get the 5,000 barrels of water needed for the project from municipal sources — Lima, Dell or the Clark Canyon Reservoir, according to Nash with the BLM.
Meanwhile, a drought is underway, and for the first time in at least 20 years, Lima is limiting the hours and days residents can use water on their lawns, Olsen said.
"They would not take any of our water — no," Olsen said.
Colin Cooney, Montana field coordinator for Trout Unlimited, said he was concerned about the three-year gap in the permitting process since scoping.
"Even in the conservation community this proposal has kind of flown under the radar," Cooney said.
Nash said the hiatus was justified.
"The delay was warranted, and was due to the need for full and complete analysis of the two proposed locations," Nash said.
Beaverhead County Commissioner Mike McGinley hadn't heard the EA had received approval, but said he and the other commissioners support the project. His reasons are economic.
"Diversification. Tax base. We've got two gigantic solar farms hitting Beaverhead County. We're going through that process on them. People ask me the same thing — why are you promoting solar? We're not. We're promoting energy. Anything to diversify Beaverhead County's economy would be great," he said.
He said he has faith the environment is being protected by the agencies in charge.
"That's what the whole process is for," he said.
He doesn't know what they'll find if the project goes forward, but quipped that there's only one way to find out.
"If they're gonna drill oil, it would be neat to know if it's there," he said.
The Forest Service and BLM are required by law to process oil and gas leases on public land. By achieving EA approval from the Forest Service, the project passed a major hurdle.
As the process goes forward, objections from the public will be taken into account, and possibly manifest themselves in the conditions of approval if the well is given the go-ahead.
"If objections were found to be substantive, approval could be withheld," Nash said.
Litigation is always possible over controversial energy developments as well.
Lima Exploration Company was a subsidiary of Denver-based Great Western Oil and Gas Co. during the scoping period at the end of 2015. The company since changed hands to Denver-based Southwestern Production Corporation, and was recently acquired by another new owner, a representative at Southwestern Production told The Montana Standard.
At press time, the company's current owners had not been identified by The Montana Standard, and therefore could not be contacted directly for comment. This was due to the fact The Montana Standard didn't become aware of the change in ownership until Friday afternoon.
The Montana Standard has found no evidence Lima Exploration Company has ever drilled a well.