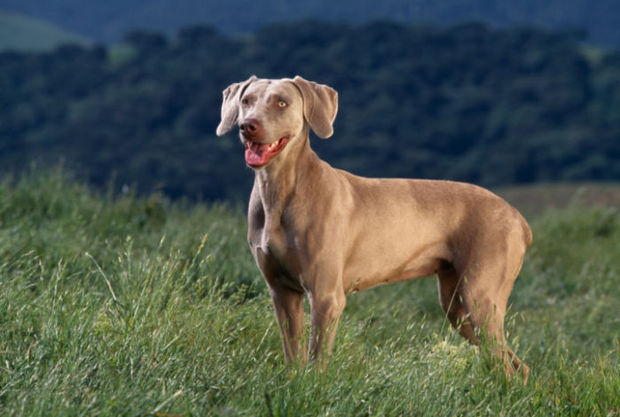 Leslie Soderquist is lucky.
"I am grateful today because it could have been so much worse," she said. "We could have lost her."
On Dec. 28, the Idaho Falls woman was running four dogs on her property east of Iona when a 5-year-old Weimaraner named Maggie went missing. The Soderquists have 35 acres of alfalfa and willows on the northern side of the Sand Creek Canal. The canal makes up the southern border of the property they've owned for 28 years.
"My boys were home from Moscow for Christmas and I was helping by taking the dogs for a run twice a day," Soderquist said. "At one point, we had seven dogs in the house."
During that night's walk, "the dogs were doing what dogs do" when Soderquist noticed Maggie was gone.
"I was hollering and heard some yips," she said. "I was probably 100 yards away."
The yips led Soderquist and the other dogs directly to Maggie, who was caught in a snare trap that had been set on the canal bank to catch coyotes.
The cable was tight around Maggie's head just behind her ears.
Normally, a snare trap is a death sentence for a dog because they struggle to get loose and pull the snare tighter and tighter, eventually choking themselves out.
Maggie, however, was largely calm, which saved her life.
"She is a very well-trained hunting dog," said Soderquist, a lifelong hunter.
Dan Kelsey, the Idaho Department of Fish and Game conservation officer who responded to the incident, said leash training may have saved the dog's life.
"Other dogs might have panicked and killed themselves," he said.
Soderquist tried to loosen the snare to no avail and called her husband for help.
"I was so scared," she said.
Before her husband could arrive, Soderquist broke the snare's anchor to a willow and relieved the tension around Maggie's neck.
"I was really upset because we almost lost her," she said.
Soderquist called Kelsey and they walked the canal, finding four more snares, one about 75 yards from her house.
The trapper had received permission to trap the canal from another landowner, and Kelsey said the nature of the willows along the canal bank made the area look more public than private. "This fellow who was the trapper felt it was public land," Kelsey said. "I don't think he had any bad intent to sneak on the property."
The trapper hasn't been charged with a crime and won't be.
"I am not after this guy," Soderquist said. "But I think there are some ethical issues setting traps so close to where people run their dogs."
Soderquist is telling her story so that others can be aware of the potential danger of running dogs along the canal. She said she now carries cable cutters and a wary attitude.
"I do feel violated," she said.
Kelsey said in the past 10 years he has worked on three cases of dogs caught in snare traps. Although it is a rare event, he said trapping is an accepted way to kill coyotes and there is always going to be an overlap of trappers and pet owners.
"My goal right now is to make sure that people are aware and prepared if their dogs are caught in a trap," Soderquist said.
Kelsey agrees and said trappers also need to be aware of potential conflicts.
"(Being smart) works both ways," he said.
He said landowners should know if their neighbors are allowing trapping near their land, and that trappers should alert all landowners near where they set traps.
Todd Smith, the chairman of the Upper Snake River Trappers of Idaho, also urged education. In an email to Soderquist, he said his organization is working with Fish and Game to create a mandatory trapping class before people can buy a trapping license.
"I believe this would really help new trappers to understand the rights and wrongs of trapping," Smith said in the email.
Get local news delivered to your inbox!
Subscribe to our Daily Headlines newsletter.