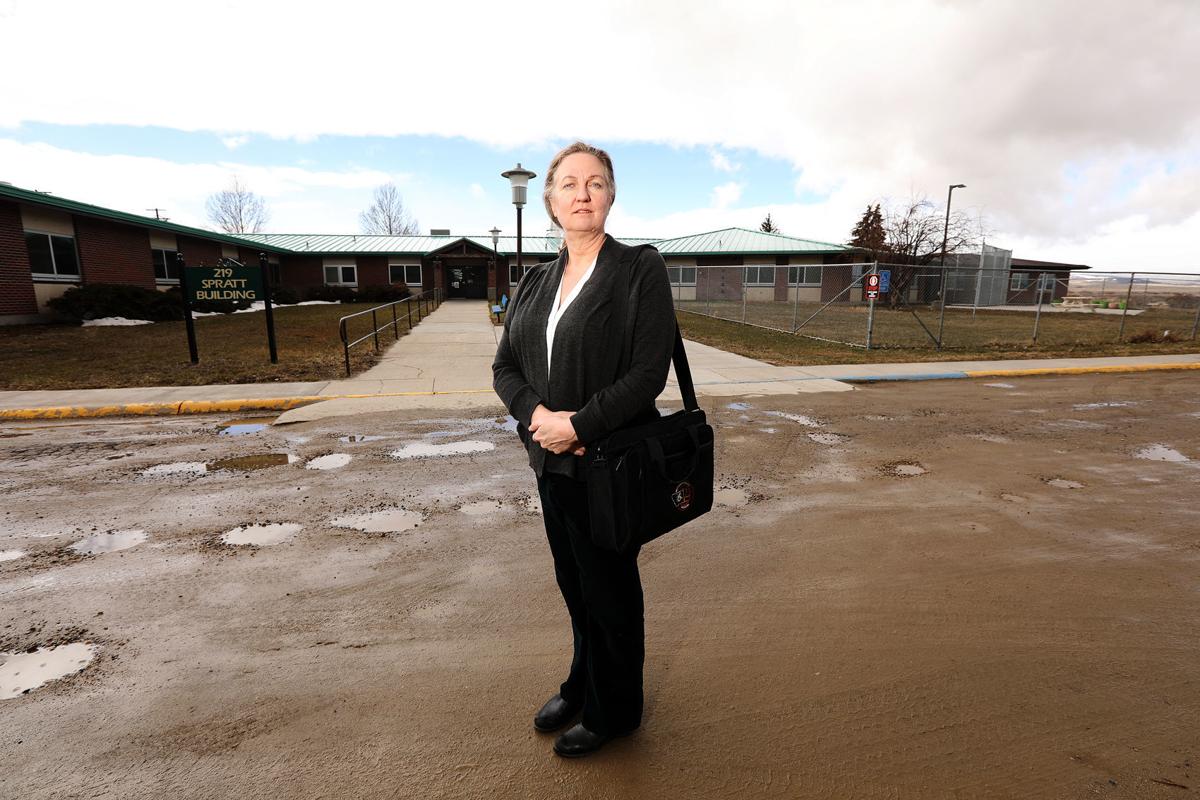 Editor's note: This is the first story in a two-part series. 
Some two-thirds of the patients on the Montana State Hospital's Spratt Unit are receiving end-of-life care that means they receive treatment only for comfort and not to be cured, according to the Montana Department of Public Health and Human Services, which runs the state hospital.
But DPHHS officials are adamant that Spratt's patients, who are mostly elderly and have a mix of complex medical and mental health issues, do not receive hospice care.
The revelation that the state mental hospital, whose self-described mission is to provide "psychiatric evaluation, treatment and rehabilitation services for adults with severe mental illness," is placing most Spratt patients on comfort care measures that call for doctors "to relieve pain and suffering" rather than actively treat medical issues, has advocates from Disability Right Montana, which works to protect the rights of Montanans with disabilities, deeply concerned.
"This is a hospital," said DRM Director Bernadette Franks-Ongoy of the Montana State Hospital, which includes Spratt. "They (patients) are there under commitment orders, or they're there because of a psychiatric condition. If people there are at the point in their lives where they need comfort care, why aren't they being discharged to an appropriate setting for that purpose instead of taking a bed at a hospital that is supposed to be providing active treatment for people who need psychiatric care?"
The distinction between a hospital, which is what the Montana State Hospital is licensed to serve as, and a hospice facility, which is a distinct kind of facility for patients who are terminally ill, is significant, according to Frank-Ongoy and her colleague Bridgitt Erickson, a DRM staff attorney.
"A distinction that I would make that I think is very important between a hospital and a hospice is treatment," Erickson said. "That's the key right there: treatment. When you're in a hospital, a hospital's goal is to provide treatment. A hospice's goal is just the opposite: it's a lack of treatment. You're not treating the patient anymore; you're preparing the patient to die. You're winding down, literally."
Asked whether DPHHS or the hospital administration have any qualms about caring for patients who are on end-of-life care, are receiving comfort measures, and are on do-not-resuscitate status in a facility that is not a hospice, Jon Ebelt, a spokesperson for the agency, said no. And DPHHS Director Sheila Hogan defended the overall quality of care provided at the state hospital in a written statement.
"The safety and care of patients at the Montana State Hospital is always our top priority and guiding principle," Hogan wrote. "MSH patient care protocols are developed using federal requirements and guidelines, and are consistent with Montana law. The implementation of this work is under constant review year-round to ensure the safety of all MSH patients."
But Erickson, Franks-Ongoy, and a pair of psychiatrists who worked at the unit late last year are questioning whether Spratt is providing appropriate and sufficient care to its population of patients, many of whom are elderly, have co-occurring medical issues, and have been diagnosed with a mix of mental health issues, including some with psychiatric disorders and others with dementia disorders.
Their concerns are wide-ranging, but at their core is the question of whether — and if so, why — the state is housing patients who are at the end of their lives without giving them access to what these critics say is the proper care outside of a psychiatric facility and with the full gamut of end-of-life amenities found in hospice.
"If two-thirds  — or whatever the number is  — of people that are at the point in their life that they could be receiving hospice care, it sounds like the state is not going down that road, because you would have to put all the provisions of the ARMs (administrative rules of Montana) in place in order to be doing that," Franks-Ongoy said. "So they're falling short of that. So it's almost like they're trying to balance this in this fine area that's a very gray area. Where it should be, either you provide treatment or you put them in hospice and you follow the right rules."
The administrative rules of Montana define hospice care as "palliative and supportive care to meet the needs of a terminally ill patient and the patient's family arising out of physical, psychological, spiritual, social, and economic stresses experienced during the final stages of illness and dying." The state's rules for hospice require that such care includes various elements, such as "an interdisciplinary team responsible for the provision of hospice care" and a "formal bereavement component."
"If you're going to do it (provide end-of-life care), do it right, so that the appropriate checks and balances are in there and so that they're delivering the right quality of care," Franks-Ongoy continued. "But right now it just sounds to me like they're trying to dangle in this middle ground, which isn't appropriate."
Officials with DPHHS, though, say Spratt's patients are indeed getting appropriate care.
And the kind of care they get is a result of the medical and psychiatric states they are in, DPHHS Addictive and Mental Disorders Division Administrator Zoe Barnard recently told The Montana Standard.
"Obviously, everyone on Spratt has a severe and disabling mental illness," Barnard said. "That's pretty much the definition of any patient at Warm Springs (the Montana State Hospital). But frequently the patients on Spratt are admitted well into the advanced stages of their illness. So we see very serious co-occurring medical issues on Spratt."
Those serious co-occurring medical issues include everything from "end-stage dementia" to conjunctive heart failure to spinal cord injury and paraplegia, Barnard said. In many cases, patients are dealing with these kinds of "end-stage illnesses at the time of admission," according to Barnard.
With their often advanced age and complex medical and mental health issues, it's not always easy to care for the patients on a unit that is licensed to accommodate up to 60 people at a time.
Despite those challenges, DPHHS says Spratt's team of medical doctors, nurses, administrators and other staff are providing the care the unit's population demands.
"I'm reassured by the care that I see the patients receiving at Montana State Hospital," said Dr. Donna Smith, a doctor of osteopathy who has worked at the hospital in a temporary capacity since August of last year.
But two psychiatrists who worked alongside Smith on Spratt for brief temporary stints of their own late last year — Dr. Christina Quijano and Dr. Christine Daly — said they had wide-ranging concerns about the appropriateness of the care offered on Spratt.
Quijano alleges staffing levels were "inadequate," the unit was "overcrowded," and that "medically compromised patients" were sometimes denied the opportunity go to a hospital and were "not adequately cared for." In a written statement she provided to The Montana Standard, Quijano alleged that "we were in essence warehousing people without any path for discharge, and no treatment."
These are charges DPHHS denies.
Ebelt, the department's spokesperson, responded to a number of questions about Spratt and said that Spratt "has not experienced an 'overcrowding' condition," that about four patients are discharged per month from a unit that has had an average of 37 patients for the past year or so, and that hospital staff "develop a holistic, individualized care plan for each patient."
But Quijano alleges that Montana State Hospital administrators have used the unit as a place where elderly patients who are often without "a legitimate psychiatric diagnosis" and who have complex medical issues are "bullied" into being placed on do-not-resuscitate status and provided end-of-life measures without the appropriate treatment in place for such a population and in ways that reduce the amount of medical care they receive.
Daly echoed many of these claims.
"They weren't doing aggressive medical treatment for medical problems that came up," Daly said. "And there was an uncomfortable push for people to be on DNR status. And I've never seen that before."
Quijano said the push for doctors to minimize medical interventions "wasn't just an oversight."
"This was systemic," Quijano said.
And both doctors said the unit did not have the necessary specialized medical staff for its population of elderly, ill, and end-of-life patients.
Daly says she cared for as many 46 patients at a time — "very sick patients, psychiatrically and medically."
"They (the patients) had a ton of medical issues, and there really wasn't medical support for that," Daly said. "We (the psychiatrists assigned to the unit) were pretty much day-to-day taking care of their medical problems. There was a family practice person that came in twice a week, but that person wasn't there every day. But medical problems became acute every day, and it was left to psychiatrists to handle that."
You have free articles remaining.
On Dec. 19, two weeks after Quijano left Spratt and while Daly was still there, DPHHS surveyors working on behalf of the federal Centers for Medicare and Medicaid Services, which provides oversight of facilities like the state hospital that receive Medicare and Medicaid funding, found deficiencies in the treatment of geriatric patients on Spratt.
According to that survey, some patients' rights "to receive care in a safe setting" and "to be free from all forms of abuse or harassment" were not met. The survey also found that standards for staffing and delivery of care were inadequate in some cases, that failure to meet standards for sanitary practices put patients at risk of infection, and that hospital policy granting patients the right "to have staff assist you as needed" was not followed.
While surveyors did not require administrators to complete a formal plan of correction to address the issues, DPHHS officials said in February that the department had taken the necessary steps to correct the deficiencies and would work to prevent them from recurring.
Dr. Smith reiterated that the hospital corrected "any deficiencies" CMS surveyors found then and that the state is in compliance with CMS guidelines.
Smith, who has worked at several private skilled nursing facilities in the state, is one of the doctors who provides medical treatment on Spratt. She says she spends about 12 hours a week seeing patients, going over issues with nurses, writing orders, and attending daily morning meetings. And she said she has no concerns about the medical care offered to patients there.
Smith said that she and the unit's team of medical professionals "painstakingly seek the input of the patients, family members, skilled nursing to identify areas of need, and also, each aspect of the team's input is valued in terms of making a decision. And from there, we'll talk to the patient about that and see if they are in agreement, and then we'll write orders to that effect."
Ebelt also said patients are getting that kind of humane and personalized end-of-life care at Spratt.
"Each individual patient is evaluated and treated according to established medical standards," Ebelt said. "Beginning at the time of admission, stabilization is sought, and discharge plans and options are identified and explored."
While discharge planning is offered at Spratt and some do leave the facility, Smith said most patients are receiving care that offers them comfort as they near death rather than treatment for prolonging their life.
"Two thirds, about 66 percent — I would say that's probably about right," Smith said of the number of patients in that status. "Over the last couple of weeks, we've had quite a few admissions. All but one are end-of-life."
According to Barnard, such comfort or palliative care for patients at the end of life is exactly what Spratt should and does provide many of its patients.
"When we're talking about palliative care — palliative care is a medical intervention that would be appropriate for addressing end-stage illnesses or other illnesses," Barnard said. "So to say that we have a certain percentage of people needing palliative care, I would certainly hope that we're providing palliative care for people that have end-stage illness. That is just good medical care."
"Comfort care measures can be one element of what is often referred to as hospice care," Ebelt said. "However, hospice care is a coordinated team care model aimed at addressing more than just the comfort needs of those with less than six months to live but also seeks to provide for fullness of life during remaining time through care such as addressing emotional and spiritual support of a patient's family, caregivers, and friends. MSH does not provide hospice care."
DRM's Erickson and Franks-Ongoy, though, question whether the hospital is abiding by the laws that govern how people with end-stage illnesses are cared for.
They point in particular to the Montana Rights of the Terminally Ill Act, which was passed in 2007 and governs the treatment of people with terminal illness.
According to Franks-Ongoy, Montana's Terminally Ill Act says that a "terminal condition (must be) diagnosed prior to — prior to — (a patient) being offered comfort or hospice care." 
And Erickson notes that the act "also requires that, if there's a terminal diagnosis made, it has to be documented in the patient's record. It's not just the doctor comes and looks and says, 'Yeah, I think he's terminal, let's begin comfort care only.' It has to be a documented diagnosis in the record. And that's key."
Ebelt noted that the Terminally Ill Act applies to Spratt and all healthcare facilities in the state but also said that not all patients who are receiving comfort care or are on do-not-resuscitate status have a diagnosis of a terminal illness.
Erickson said the hospital's use of comfort care rather than hospice care and its failure to require that all patients who receive such comfort care have a terminal diagnosis seems like a deliberate effort to navigate around the laws.
"There's sort of this middle range between treatment and hospice that they're calling comfort measures," Erickson said. "It's not really treatment. It's not really hospice. I think they've found a crack and they're taking advantage of it, frankly."
Asked whether such maneuvering is legal, Erickson said, "I don't know that it's illegal. I would say that it's not in compliance with the letter of the law, I don't think. They might argue that it is. I certainly don't think it's in compliance with the spirit of the law, which contemplates either active treatment or end of treatment in preparation for death as a result of a terminal illness.
"And in fairness, I would acknowledge that there are people who the hospital probably believes are someplace between treatment and hospice," Erickson added. "But they (administrators) don't get to make that choice. A hospital is a treatment facility, and they need to provide treatment. If they're going to provide hospice services, they need to get licensed to provide hospice services. And the key here is to let people know that."
But do patients, their families, and those involved in committing them to the state hospital know that most patients at Spratt are receiving end-of-life care?
Erickson, who has visited the unit periodically over a five-year period to advocate for clients who reside there, says she doesn't believe so.
"I would bet you if you would go and talk to anybody on Spratt who's able to have a conversation, probably not a one of them would say, 'I think I'm here for hospice care,'" Erickson said. "I don't think anybody has that perception among the patient population, just because I've talked with them for five years now and visited with them and I've never heard anybody discuss hospice in any context."
She said she hasn't heard them discuss comfort care either.
"They think they're there to be treated, and they complain that they're not being treated and that they're not being attended to," Erickson said. "And I think the families are expecting them to receive treatment there too. I would be very surprised if you've got very many families at all thinking, 'Oh yeah, my loved one on Spratt is on comfort care only or on do-not-resuscitate.'"
But Erickson said she has seen hospital staff attempt to "pressure" a patient's family to put the patient on do-not-resuscitate status.
Craig Fitch, acting director of the Montana Mental Disabilities Board of Visitors, which is housed in the Office of the Governor and aims to provide outside oversight of mental health programs in the state, said he was "shocked" when he found out that approximately two-thirds of Spratt's population was on this status.
"I had no idea that so many individuals were put on hospice or palliative care (status), despite the fact that I was there almost every day, so this wasn't done officially or transparently," Fitch said. "I don't mean to say there wasn't a piece of paper in peoples' charts if I had known what to look for and where to look. But people like me, we would not have known it."
In addition, interviews with several attorneys who have been involved in committing patients to the state hospital suggest they were unaware that at least some of these patients have apparently been receiving end-of-life care at Spratt.
And the two psychiatrists who worked on Spratt late last year — Quijano and Daly — say they felt hospital administrators inappropriately tried to pressure them into providing end-of-life care instead of active treatment for patients. (See related story.)
While DPHHS officials adamantly deny that such pressure is or has been applied, Quijano said in a recent interview with The Montana Standard that she and other doctors were "bullied" into placing patients on do-not-resuscitate status, giving them comfort measures, and reducing the amount of medical care they received.
"They weren't doing aggressive medical treatment for medical problems that came up," Daly told the Standard. "And there was an uncomfortable push for people to be on DNR status. And I've never seen that before."
Monday: Should dementia patients even be admitted to the Montana State Hospital?