In the University of Montana Western athletic center on Saturday, dozens of teens in navy graduation robes lined up in a locker room.
As the minutes ticked down, some cadets voiced their anxiety and wiped away tears. "Lock it up, lock it up," another man whispered to a few of the young women. They were about to walk out onto the gym floor to finish their roughly five-month residential challenge academy program in Dillon, earn their diplomas, and head home.
Clearly for most of these teens, this was more than just a ceremony.
"They have changed, but where they came from hasn't," said Marcia Vrbka, a science teacher with MYCA, of the graduates. "There's a lot of anxiety and nervousness on this day but also a lot of hope."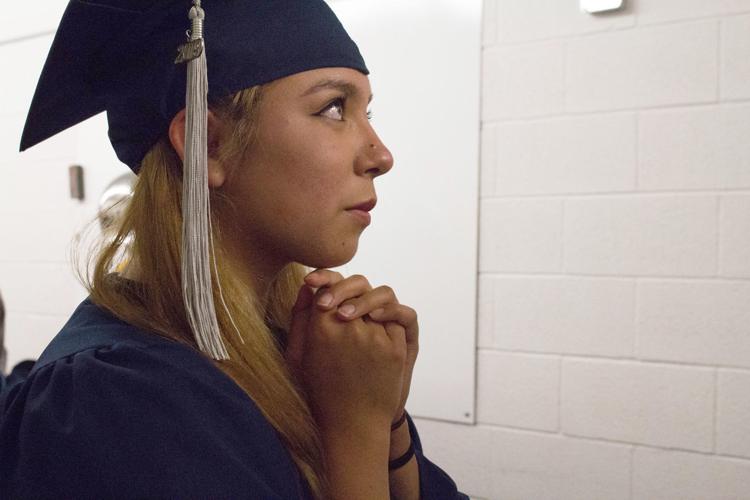 Vrbka said she's been teaching various science classes at MYCA for nearly four years and has seen the subject help cadets realize their potential.
"For me, teaching science here helps build confidence," Vrbka said. "It shows them (cadets) they have skills and potential."
Vrbka stressed that the academy has a strong academic staff and curriculum — it's not just a boot camp — and that MYCA has received letters about the successes of graduates from years past.
But what stands out to her about this 40th graduating class is their dedication to each other.
"They are a very caring group of people and very concerned with the welfare of each other," Vrbka said.
One of these people is Brandon DuBois, 18. About an hour before he received his MYCA diploma and headed back to Butte with his family, he talked about his experience at the challenge academy.
DuBois explained that he first heard about MYCA after one of his good friends went through the academy and his former school, Anaconda High School, recommended he apply to join.
"I had mixed emotions about coming here. I was excited for a new experience but sad to leave my family," DuBois said.
Over five months later, DuBois talked mostly positive about his MYCA experience, which he said introduced him to new friends and enemies, taught him virtues like patience and tranquility, and showed him his potential.
"Before, I just thought I was a low-life, but I came to find out I have potential in a lot of areas," DuBois said. "Every night before I went to bed, I would have good conscious thoughts about what I could do. It was inspiring."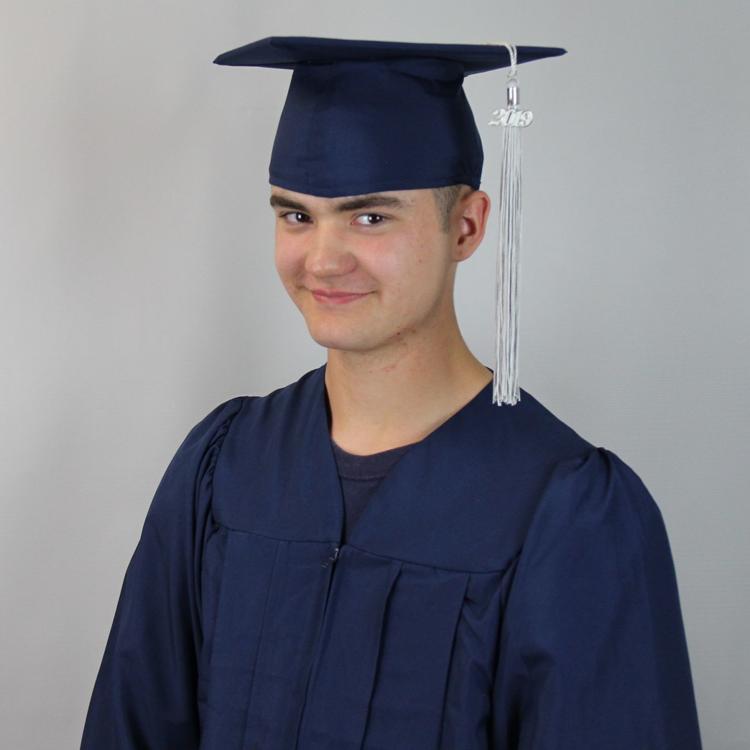 DuBois said he plans to use this inspiration right after he returns to Butte. He plans to start a job at a local restaurant and pursue a career in metal fabrication. 
But although he's happy to move forward with the rest of his life, DuBois said he will miss the people he met through MYCA.
"If you're having trouble finding what you're looking for, you should join this program," DuBois said. "You find yourself through it."
Michael Kamps, 18, another recent graduate headed back to Butte, expressed similar sentiments about his MYCA experience.
Like Dubois, Kamps had a friend go through MYCA and saw the benefits he came out with. Kamps said at that time he was living in Three Forks and struggled with his attitude.
"I had no respect for my parents. I treated them like garbage, which sucked when you see the ones who raised you can't stand to be around you," Kamps said.
But MYCA helped Kamps adopt a more positive attitude and taught him how to handle himself when he got angry. He said after a short time at the challenge academy, he wrote a letter to his parents telling them he was sorry for all that he did wrong.
Overall, Kamps said Saturday felt like ecstasy and that he almost couldn't believe he was really graduating from MYCA. He plans to work with his dad once he heads home to Butte and wants to attend Highlands College to study mechanics.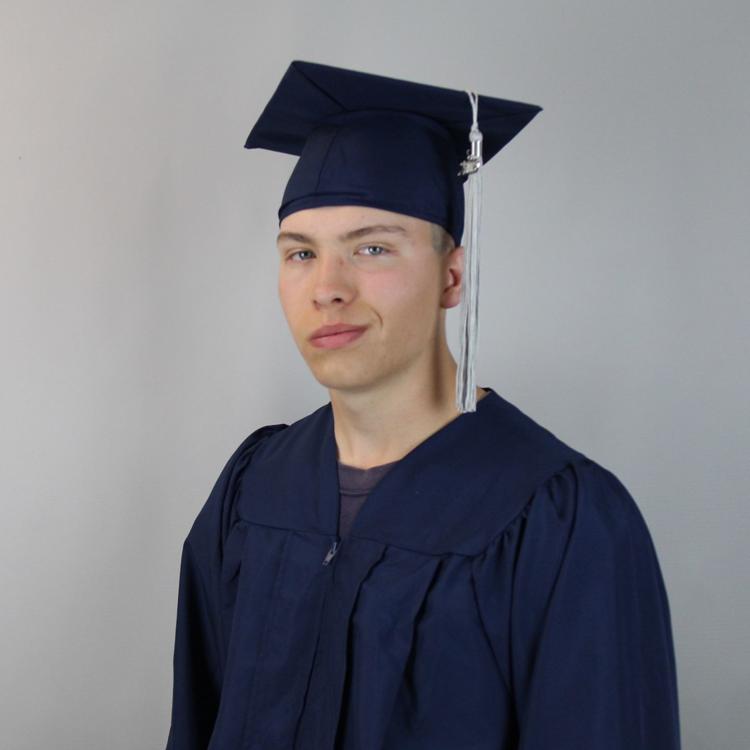 Kamps said if he could give advice to other teens in a headspace similar to his when he first started the challenge academy, it would be to stay positive.
"You can't live your life being angry with the world, otherwise you'll never be happy, and I realized that," Kamps said. "Stick to yourself, and don't get stuck in all of life's problems."
As various awards were presented to the 40th MYCA class of graduates on Saturday, some of the cadets were visibly emotional — but they weren't the only ones. Many challenge staff were emotional, too, as they said goodbye to the cadets and recognized their academy's 20th anniversary.
"This is an emotional day for a lot of people," said Trent Gibson, MYCA director. "20 years is a big deal … raising teens is hard work, but raising 3,000 of them is a heck of an accomplishment."
At the Saturday ceremony, Gibson acknowledged the success MYCA has achieved in helping over 3,000 teens realize their potentials, along with some of the adults who have made that success possible since 1999.
"We couldn't do this without a lot of hard work from a lot of dedicated people," Gibson said.
Many of those people stood on the stage near Gibson at Saturday's ceremony and included founding staff members, University of Montana Western officials, Montana Legislature senators and representatives, and the ceremony's keynote speaker, Lt. Gov. Mike Cooney.
During Cooney's speech, he congratulated the MYCA cadets and urged them to use the strength and determination they learned through the academy for the rest of their lives. 
"I hope as you face life's challenges you'll bring the same courage, tenacity, and resolve you brought to reach this day," Cooney said to the MYCA graduates.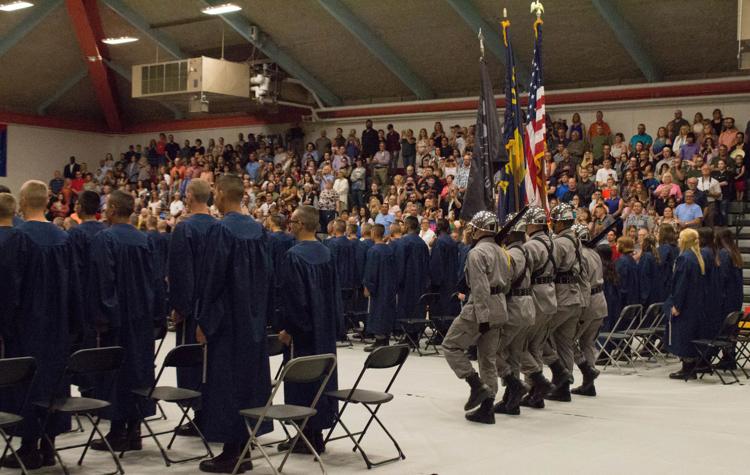 But outside of Cooney and the other people recognized for their support of MYCA, an active officer with the Montana National Guard and member of the first-ever MYCA graduating class also shared words of wisdom with the cadets.
First, Anthony Mazzucola read the speech he wrote 20 years ago for his own MYCA commencement ceremony. Mazzucola read about getting kicked out of his home as a teen, his dream to fly, and how MYCA was a way for him to start over.
"Challenge was the best choice I ever made," Mazzucola read.
Now 20 years later, Mazzucola told the cadets that feeling hasn't changed. He said he joined the military right after a ceremony similar to Saturday's, learned how to fix helicopters, and now flies them for the Montana National Guard.
And Mazzucola told the graduates they can use their MYCA experience to help them achieve their own dreams, too. 
"Picture yourself in my shoes... It's not an easy road, but always take a step forward, move forward," Mazzucola said to the cadets. "You will find this (MYCA) is one of the best things you have ever done and do in your life."