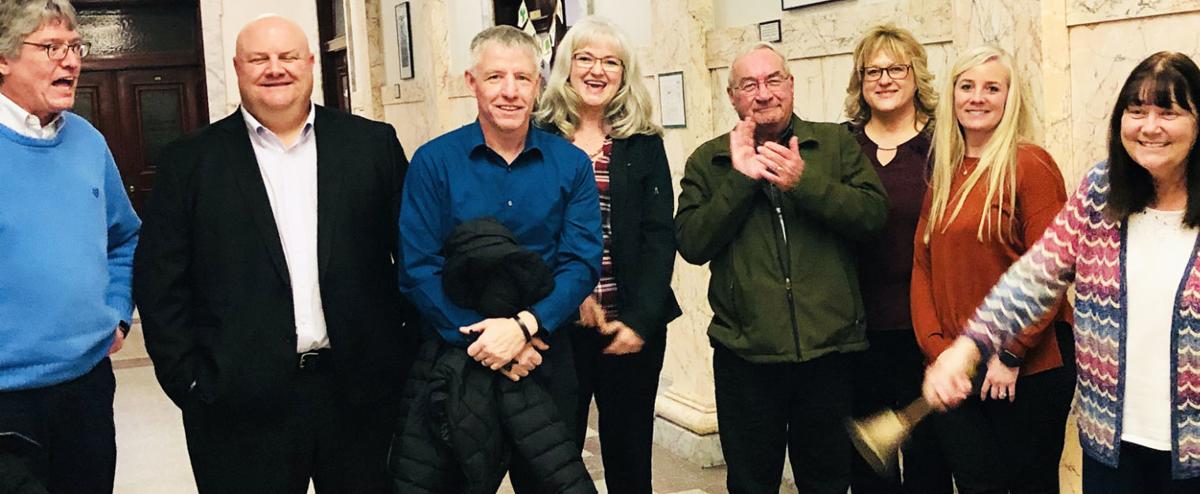 Ted Deshner, who owns the Party Palace bar and three other establishments in Butte, joined four others in the race for chief executive of Butte-Silver Bow on Monday, the last day to get a name on the ballot in Montana this election year.
"For many years, I have been involved in the community, whether it be through town events or fundraisers," said Deshner, 48, who also owns a second bar, a pool hall and a casino and eatery in Butte. "I believe in this town, but right now Butte is at flat-line level. "We're not seeing huge growth right now and we need it."
There are now five candidates running for chief executive, just one fewer than the six who sought the county's top political post in 2016.
Current Chief Executive Dave Palmer is seeking a second, four-year term and three others had also filed previous to Monday — District 8 Commissioner Brendan McDonough, Parks Director J.P. Gallagher and Tom Cronnelly, who owns the OMG! Mongolian Grill restaurant on Main Street.
All five will be on the June 2 primary ballot but only the top two vote-getters will advance to the November general election.
But Monday came and went with several incumbent officials in Butte-Silver Bow drawing no opponents. They include Sheriff Ed Lester, County Attorney Eileen Joyce, Treasurer Lori Baker-Patrick, School Superintendent Cathy Maloney, Clerk of District Courts Tom Powers, Coroner Lori Durkin, Assessor Dan Fisher, Auditor Wendy Allen McGrath, Justice of the Peace Jimm Kilmer and City Court Judge Jerome McCarthy and Public Administrator Janice Cassarato.
Three people are seeking to replace Clerk and Recorder Sally Hollis, who is not seeking a fourth term: They are Linda Sajor-Joyce, Keith Sayffarth and Rachel Roberts Boyd.
Four of six incumbents on the Council of Commissioners are seeking re-election, and all but one — Dan Callahan in District 12 — faces at least one challenger. The council has 12 seats but only six are on the ballot this year.
In area legislative races, Democratic state Sen. Edie McClafferty of Butte faces two GOP challengers in her bid to represent District 38 for another four years. Only one of the two Republicans — Jim Buterbaugh of Whitehall or Jane Hamman of Clancy — will advance in June.
Two Democrat state representatives, Gordon Pierson Jr. of Deer Lodge and Mark Sweeney of Philipsburg, are seeking an open Senate District 39 seat and one will face Republican Suzzann Nordwick of Butte in the fall.
Deshner is a 1989 graduate of Butte High School and has been a business owner the past 18 years. He says he's seen a lot of ups and downs through the years and believes his business expertise would be a major plus if he's elected chief executive.
His priorities include drawing more businesses here, updating marketing tools and improving infrastructure, and he says people know they can trust him because of his long-term involvement in Butte.
"If I say I'm going to get things done, I get it done," he said.
In other races, longtime commissioner and current Council Chairman John Morgan is not seeking re-election in District 3. Hattie Thatcher and Mike Maesar will be on the primary ballot but voters won't decide the race until November.
Morgan said Monday that December will mark 12 years on the council and he thanked everyone for allowing him to represent the district.
"I feel we have done great things and it is time to pass the torch and start working on the next chapter of my life," he said. "I understand that we might not always agree but we need to continue to work together and get things done for Butte."
Maesar, 40, was born and raised in Silver Bow County and is an accountant at NorthWestern Energy and an adjunct instructor at Montana Tech.
Thatcher, 25, was born and raised in Butte and is the daughter of Bill "Chunky" Thatcher and Leah Francisco. She is currently marketing and communications coordinator at MarCom LLC and sits on a Marketing Committee at Montana Tech.
"I look forward to speaking with the people of District 3, listening to their ideas and working extremely hard to impact not only the district, but the entire community in a positive manner," she said.
McDonough, who has represented District 8 for eight years, is running for chief executive now and Norma Duffy and John Riordan are seeking to replace him.
John Sorich is seeking re-election in District 4 and is being challenged by Terry Schultz, a former commissioner who also ran in 2016, and Matt Moore, a professional engineer who used to oversee Butte's wastewater system.
Commissioner Dan Olsen is seeking a full, four-year term in District 5 and faces two challengers: Justin Fortune, who is project manager and lead estimator for his family owned construction company, Jay Fortune Construction, and co-owner/operator of JFC Builders; and Brian Wilkins, a professional engineer for NorthWestern Energy who used to oversee the county's Water Division.
District 6 Commissioner Jim Fisher filed for re-election last week and faces Mary Booth. Fisher had considered another bid for chief executive but decided against it. He was one of six who sought the post in 2016, which Palmer won.
In area legislative races, Democratic Rep. Ryan Lynch of Butte is the lone candidate in Senate District 37. Republican Jeff Welborn of Dillon is seeking a second term in Senate District 36 and faces Libertarian John Lamb of Bozeman.
Butte Democrat Derek Harvey is seeking re-election in House District 74 and faces Republican Jim Kephart of Butte. Longtime Butte lawmaker Jim Keane is unopposed in House District 73, as is Republican state Rep. Tom Welch of Dillon in District 72.
Republicans Kenneth Walsh of Twin Bridges and Cindy Younkin of McAllister are running in House District 71 to replace Republican Rep. Ray Shaw of Sheridan, who is termed out. The winner in the June primary will face Democrat Ian Root of Ennis.
Democrat Donavon Hawk of Butte is unopposed in his bid to replace Lynch in House District 76. In House District 75, incumbent Republican Greg DeVries of Jefferson City faces GOP challenger Marta Bertoglio of Clancy in the primary, with the winner taking on Democrat Bryher Herak of Basin in November.
Sweeney's decision to run for the state Senate leaves his District 77 House seat open. Democrat Sara Novak of Anaconda is running against Republican Heather Blom of Missoula. Democrat Cindy Hiner of Deer Lodge is the lone candidate seeking to replace Pierson in House District 78.