One hundred years ago, in June and again in November, Éamon de Valera visited Butte in search of the recognition of Irish Americans for his fledgling would-be government, and for funds to operate it. He found both.
On Thursday, his grandson, Éamon Ó Cuív, retraced the steps of the man who would lead Ireland in one capacity or another for more than half a century, coming to Butte on a soft September day and basking in the warmest of welcomes.
Ó Cuív, a member of the Fianna Fáil Party his grandfather founded and himself a member of the Irish Parliament since 1992, was clearly moved by the green-bedecked audience at a reception at the Butte Archives Thursday. With him was Robert O'Driscoll, the newly appointed Consul-General of Ireland.
Traolach Ó Ríordáin, The University of Montana's director of Irish Studies, spoke briefly to open the event at the Archives, pointing out that "visiting Montana is very personal for Éamon Ó Cuív, because it was with the support of Irish America that ensured the future of the Ireland we have today." He said the visit of Ó Cuív and O'Driscoll heralded "the new chapter we begin to write together, the Irish and the Irish of America, with our shared heritage."
Father Patrick Beretta gave a brief but eloquent and emotion-filled account of the historical forces that brought "a tall, distinguished man of 35" to Butte a century ago.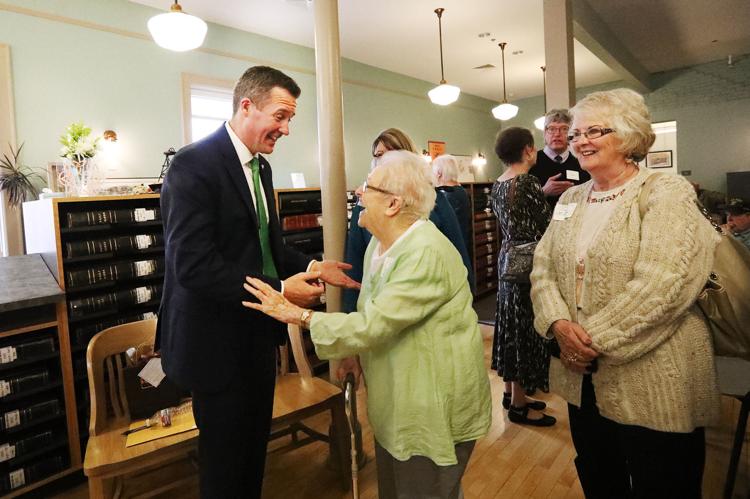 "To understand the significance of de Valera's visit to Butte in 1919, you have to understand 1919 itself," he said. "It was a pivotal year for a world badly bruised and slowly healing" from World War I and the 1918 influenza pandemic.
He spoke of the Jan. 18, 1919 meeting of world leaders at Versailles, followed three days later by the upstart Irish Republic's assertion of independence.
De Valera dispatched Seán T. O'Kelly to that conclave of leaders in France, but when it became clear that he would not win the backing of many of the countries in attendance, de Valera decamped to the United States, where from June 1919 to December 1920, including the two visits to Butte, he managed to raise some $5.5 million for the Republican cause.
On his second visit to Butte, de Valera declared that returning to the Mining City was "like getting back home."
"I have studied the speeches de Valera made in America," Beretta said. "They are magnificent. They have a dignified quality. … He speaks as a uniquely gifted statesman, with self-assurance and a powerful sense of destiny."
Beretta said that in Butte, de Valera told those gathered, "The men who established your Republic sought the aid of France. We seek the aid of America. It is because of that I am here and I am confident I will not be disappointed."
De Valera "was a hero, a monumental speaker of history," Beretta said – "the only one who could bring together the resilient prosperous peaceful Ireland and the holy, noble poetic Ireland of the ages that Butte will never stop loving."
You have free articles remaining.
Keep reading for FREE!
Enjoy more articles by signing up or logging in. No credit card required.
Tom Powers, Clerk of the District Court, representing absent Chief Executive Dave Palmer, read a proclamation signed by Palmer honoring the visit of Ó Cuív and O'Driscoll.
"I cannot believe the number of people who turned out here today," said Ó Cuív. "It is fantastic to come here to the Archives — a place that houses a precise account of the events of my grandfather's time."
He said, "What great perseverance this community has had to build what is, and what was, here.
"And they never have forgotten their roots. It is the two-way connection we have that has always fascinated me."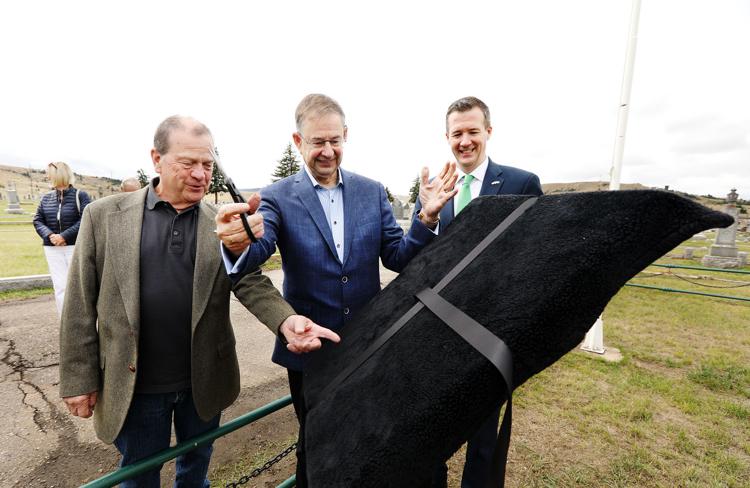 Indeed, de Valera was born in New York City. His father was summoned back to Ireland when de Valera was two years old. "He got an education, against the odds, and became a University professor of mathematics," Ó Cuív said.
His involvement in the Easter Rising, where he commanded the force at Boland's Bakery, led him to imprisonment in England.
"On the 15th of August 1918, with my grandfather in prison, my mother was born," said Ó Cuív. "We had her birth certificate framed and on the wall until her death. It showed my grandfather's place of residence as Lincoln Prison, England.
"My mother thought that something to boast about."
O'Driscoll spoke briefly, celebrating the bonds between Irish people in Ireland and America. "We have 180,000 people in Ireland employed by U.S. corporations, and 100,000 Americans employed here by Irish companies," he said. "And 10 percent of all Americans who visit Europe come to Ireland.
"We like that very much."
Earlier in the day, Ó Cuív and O'Driscoll, along with Butte's Ancient Order of Hibernians, dedicated a plaque at St. Patrick's Cemetery with the names of 38 early-day Butte Irishmen who "dedicated their lives to the cause in Ireland."
"One of the reasons the tiny country of Ireland is able to punch above its weight is the strength of your community here," O'Driscoll said.
"We are so proud to stand with you, and proud that you stand with us."