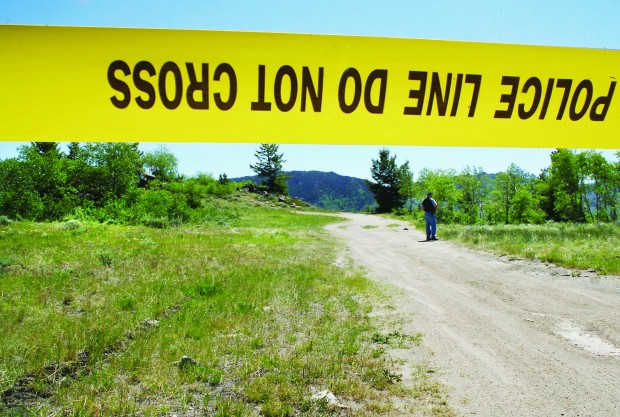 It was on a bright, warm day last summer when two hikers made a dark and chilling discovery off of a rural road north of Butte – a pair of severed legs.
The human legs were found in a bag just off a dirt trail a few miles up Moulton Reservoir Road. It's the kind of macabre scenario that would more likely be conjured up in the imagination of Edgar Allen Poe or Stephen King.
But this is grim reality.
And what makes the situation even grimmer is that the case of the severed legs is as much of a mystery today as it was when the legs were first found more than a year ago.
Who put them there? Where's the rest of the body? Whose legs are they, anyway? These are all questions investigators in Butte have been trying to answer since the disturbing find was made on June 26, 2012.
There have been no answers, according to Butte police Capt. Jerome McCarthy.
"We've had no leads, no tips and no DNA matches," McCarthy said.
Police are truly baffled.
Investigators never would have thought that there would be such little information about this case after an entire year. It's inconceivable that the discovery of two human legs — a clear case of foul play — would yield so little clues and information.
Undersheriff George Skuletich said the case is still actively being investigated. The lack of new information isn't due to lack of effort.
The legs have been examined by the Montana Crime Lab in Missoula. No match. Police have tried to connect the legs to any recent missing person cases. No dice. Search dogs combed the area for the rest of the body. No luck. DNA samples from the legs have been put on a national data base in an effort to find a match with millions of other DNA samples. Nada. Zero. Nothing.
"It's an oddity," the undersheriff said. "It's an odd case for any department."
What investigators do know about the legs is frustratingly little.
The legs appear to belong to a white, adult male. McCarthy says they were severed with a clean cut just below the groin area. Part of the pants was still on the legs, as well as footwear and socks, McCarthy said.
McCarthy didn't release any further details since the investigation is still open.
Information has been listed with the FBI's National Crime Information Center, or NCIC. McCarthy is hopeful that if investigators from other jurisdictions discover body parts or a missing person, they could match it with the severed legs here.
Police are also hoping someone may come forward with information. McCarthy says a case like this, which obviously involves some sort of violent crime, can't remain a mystery.
"There's somebody missing from somewhere," McCarthy said. "This is definitely a bizarre case."