Some might say painter Mike Hamblin is a master of illusion.
Butte artist Hamblin is well-known in the Mining City for his portraits that are so lifelike one could almost reach out and touch the faces that grace his canvases.
Across his career, Hamblin has painted famous figures and everyday folk alike and done countless commissioned works, including a mural in the Butte-Silver Bow County Courthouse and portraits of athletes for fundraisers for Montana Tech's athletic program.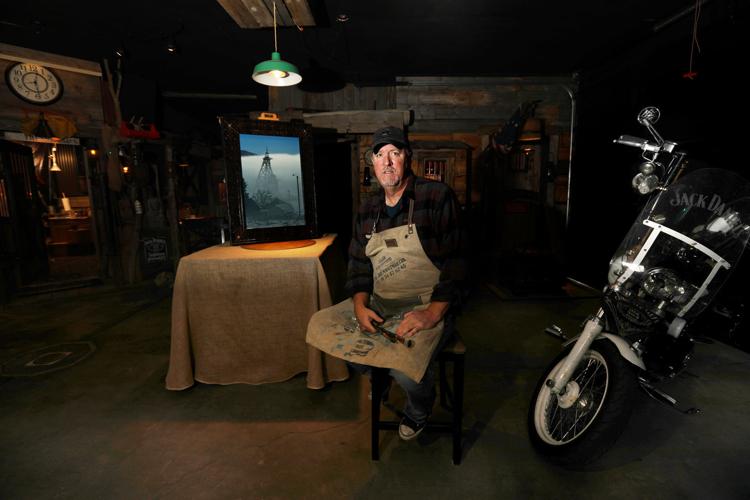 Ranging from figureheads like Irish playwright Samuel Beckett to local first responders, Hamblin's subjects are often rendered with the same intent: to fool the eye into thinking it's encountering something real.
But perhaps it isn't illusion that defines Hamblin's work but rather authenticity.
Hamblin says the point is not to create photograph-like images rendered in paint. Otherwise, what would be the point?
Instead, he says, he makes the facial expressions of his subjects as real as possible and paints more loosely as he moves away from the face. The "reality" he creates lies in capturing an individual's likeness – whether that comes from a sideways glance of the eyes or the way a subject tends to put his hands in his pockets.
"When people see Mike's paintings, they're always in awe of how he captures their personality or their thought," said Hamblin's partner Colette Holstine in the artist's Walkerville studio on a warm day in November.
"It's the eyes that tell the story," said Hamblin. "From that idea, any kind of portrait I do, I pay close attention to the eyes. And most of the time, I won't go any further until I've got that nailed down, because that's the most important part."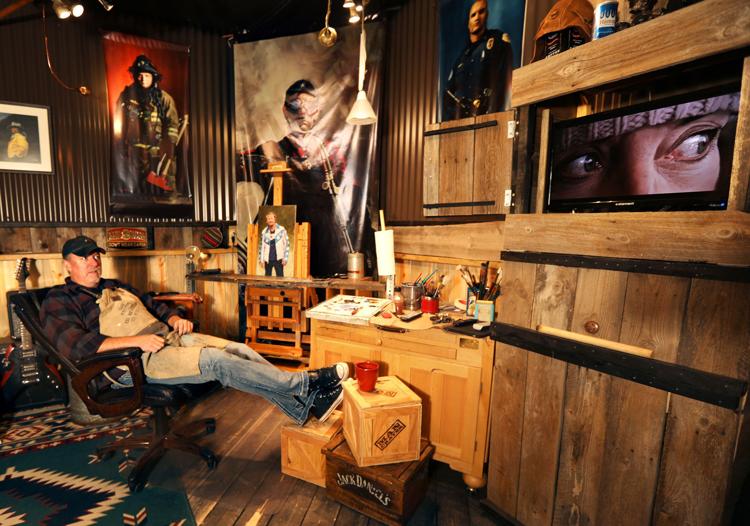 Hamblin recently completed a portrait of Copper King William A. Clark. After researching the Butte Copper King, he began to feel that there was a divide between Clark and the masses he employed. In the eyes, he said, he tried to capture something a little bit sinister.
For his portrait of Beckett, Hamblin gave special attention to the playwright's wrinkles.
"His face was literally a road map of his life," said Hamblin.
Located in a garage on the property of his Walkerville home, Hamblin's studio is like a Hamblin painting rendered in three dimensions. Hamblin said he created the studio space to give the illusion of being outside.
Walking into the garage, one is greeted by a scene reminiscent of nighttime in Virginia City. Rustic wooden structures dot the studio, where one encounters, among other things, a guest suite for visitors, a bar that Hamblin built himself, and a display of a folded American flag that once flew in Afghanistan.
You have free articles remaining.
Keep reading for FREE!
Enjoy more articles by signing up or logging in. No credit card required.
The room is dark, and a humidifier gives one the impression of cool, nighttime air, while a soundtrack of woodland animals further creates the illusion of being outdoors on a road somewhere in the Old West.
Meanwhile, in a corner of the scene is a door, and beyond the door there is a lighted room – a reprieve from the loneliness of the cool night.
When the door is opened, Hamblin appears inside the lighted room, busy at work before one of his paintings.
"I learned a long time ago that it's not too difficult to be fooled, and if you can control the lighting and control the elements that the senses are exposed to… it really gives you a feeling that you're somewhere else," said Hamblin.
On the day The Montana Standard visited Hamblin in his studio, the artist was in the midst of a commissioned work – a painting of man's best friend. With Rottweiler-like coloring, the dog is in a seated position and looks toward the viewer slightly over its shoulder.
Not surprisingly, the focal point is in the eyes: an expression a dog gives when he wants either love or food.
Hamblin said he has been an artist for almost as long as he's been alive. He remembers drawing a five-pointed star when he was three or four years old, and ever since then he knew what he wanted to be.
"It's not like I chose it. I always felt like it sort of picked me," said Hamblin.
In middle and high school, he took pleasure in being able to draw people and, without telling his friends who the people were, having his friends know straight away the subjects of his drawings.
On one occasion, he was in class and drew a caricature of his teacher – a rendition, he said, that wasn't very flattering. He showed the drawing to his friend, who immediately started to laugh, and when the teacher began to walk over, threatening to confiscate the paper, the friend ate the drawing, saving everyone a whole lot of embarrassment.
In middle school and high school, Hamblin didn't know what he wanted to do after graduating. Becoming a career artist never crossed his mind. Instead, he had ambitions of becoming an illustrator for TV Guide, creating images for the magazine's cover.
"I thought, 'aw man that would be the coolest thing ever.'"
By the time Hamblin attended art school in college, he already had a distinct point of view as an artist. That point of view has served him well. In addition to his personal artistic pursuits, he creates commissioned works and works full time as an artist.
Hamblin said he knows his work isn't for everyone, but he never set out to emulate any particular aesthetic. He knows what he likes, he said, and if he likes realism with a painterly edge, there's bound to be other people that like it too.
"I'm the one I set out to impress first and foremost. And if I'm happy with it, other people can tear it down all day long and it doesn't shatter my confidence. It wasn't always that way, but there are like-minded people that will gravitate to this as well. And if that happens, that's great. But I didn't get into this for any other reason than just to satisfy myself, and then it sort of turned into this over the years. And it was really the love of it that kept me going."