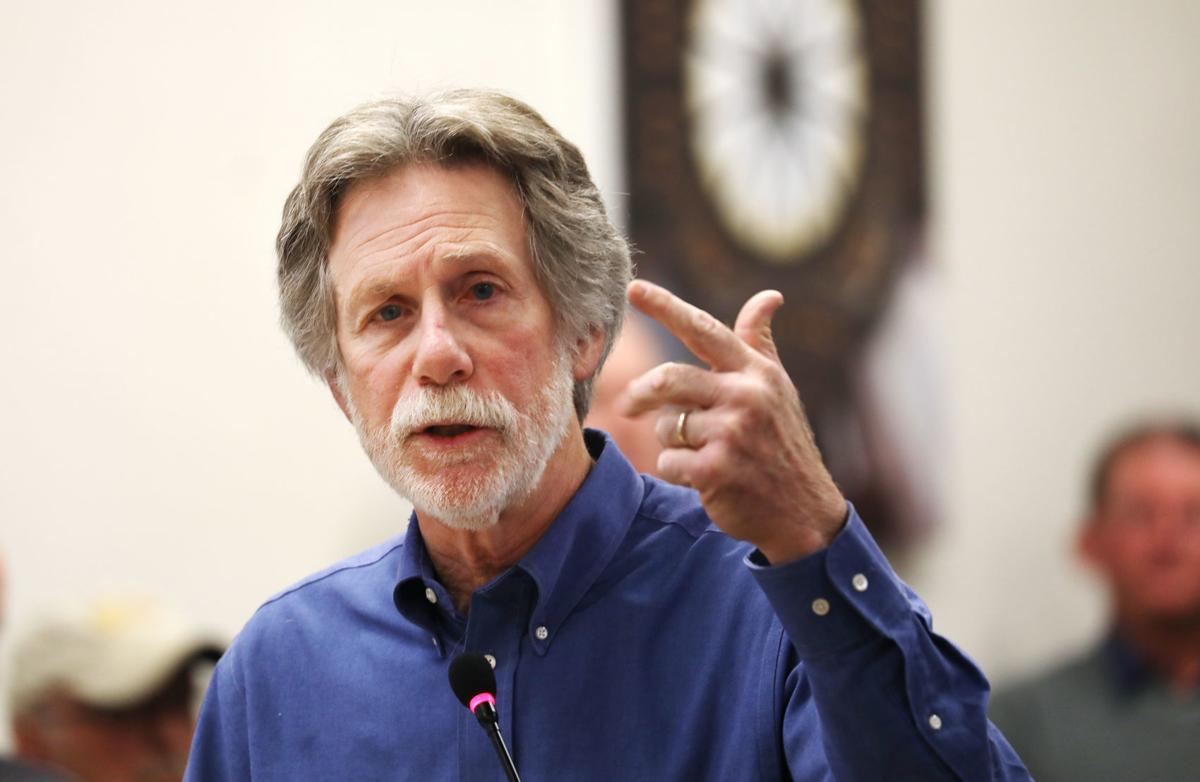 Butte-Silver Bow officials will ask commissioners to sign off on a sweeping mine-pollution cleanup plan next week, and Superfund coordinator and longtime legislative leader Jon Sesso believes there's ample council support for it.
He's confident that after months of consideration and listening to the public, a majority of the 12 commissioners will agree to let Chief Executive Dave Palmer sign the 1,100-page consent decree and send it to federal officials and a federal judge for final review.
"Folks want to get it going and move forward," said Sesso, who was the county's planning director for 26 years, the state Senate Minority Leader the past eight years and knows how to count votes.
Commissioner Jim Fisher said Wednesday that he plans to vote against the long-negotiated cleanup plan but agrees with Sesso's bottom-line assessment.
"I think they have the votes," he said.
Although the council is under no deadline to act, and a group backing a restored Silver Bow Creek has unsuccessfully sought changes or guarantees that their wishes will be addressed, several commissioners have increasingly signaled a desire to move on.
In two recent council meetings, letters from more than 80 members of the public were read into the record and several people called in. The vast majority were in favor of a council OK so Palmer can sign the pact.
Sesso said public input was significant.
"I have high confidence that we did good in informing the public and giving them time to comment," he told The Montana Standard on Tuesday. "One thing about the solution we put forward is that we really listened to the public comment and so it's a product of a lot of folks' paying attention in town."
The legal document spells out work needed to address mine pollution in Uptown, Walkerville, parts of Blacktail and Silver Bow Creeks and other areas. It includes some work that needs to be done forever.
The plan took years of negotiation between the U.S. Environmental Protection Agency, the state of Montana, Atlantic Richfield Co. and Butte-Silver Bow. It must be approved by all parties, but Palmer needs the council's OK to sign it.
Palmer has said if the county delays action too long, the pact could unravel and the EPA would issue a unilateral order. He and many others say it's unlikely that plan would include many of the protections and amenities the county was able to get into the current document.
The consent decree includes 120 acres of green space along the major creek corridors in the heart of Butte. The Silver Bow Creek and Blacktail Creek corridor would be turned into a bucolic greenway featuring eight different sites with interconnected trails, wetlands, an amphitheater, a fishing pond, a community space and playgrounds.
Sesso said the decree also addresses and corrects some deficiencies in a previous cleanup plan called the Record of Decision in 2006. That plan did not include the removal of hundreds and thousands of cubic yards of mine waste in the Silver Bow Creek floodplain, he said.
Fisher says commissioners did not fully consider a 2015 court ruling declaring that a waterway from Texas Avenue to George Street was historically "Upper Silver Bow Creek" and a natural waterway in Montana requiring protections from the state.
Brad Newman, who issued the ruling when he was a Montana District Court Judge in Butte, has told commissioners that some provisions in the decree are inconsistent with his and previous court rulings and could lead to future lawsuits against the county.
County Attorney Eileen Joyce, on her own and through an analysis from a Helena law firm her office is paying for, disagrees and says the county is on a solid legal footing to OK the decree.
Fisher says the council did not "vent that out fully" so he will be voting against the pact next week.
Council Chairman John Morgan said on Tuesday that it was up to Sesso and Palmer to seek a council vote, but if they did, "I think I'm ready to vote in favor of it."
"I feel pretty comfortable with all the comments we have received," Morgan said, noting that most were in favor of advancing the plan.
Once Palmer signs the decree, Gov. Steve Bullock will review the document and send it to the U.S. Department of Justice to enter in federal court. The court will initiate a 30-day public comment period, the DOJ and EPA will respond to those comments and the federal judge decides whether to sign it.
If he does, the plan will go into effect.
"And then the work starts, and the dirt gets moving," Sesso said. "We are so much looking forward to actually accomplishing the cleanup projects."
Get local news delivered to your inbox!
Subscribe to our Daily Headlines newsletter.