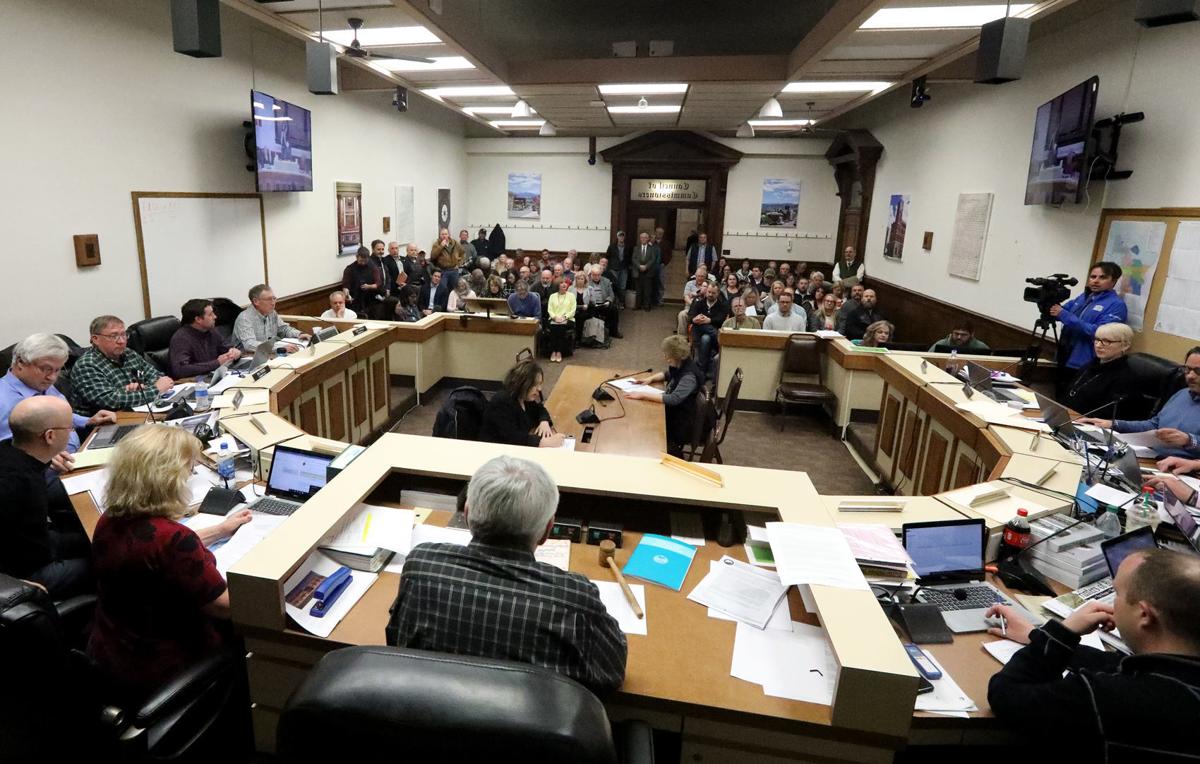 After years of private negotiations and recent months of public discussion and debate, Butte-Silver Bow commissioners strongly endorsed a sweeping plan Wednesday night that dictates future mine-pollution cleanup efforts and responsibilities for much of Butte.
In a 10-2 vote, the council authorized Chief Executive Dave Palmer to sign the consent decree and send it to U.S. Department of Justice officials and a federal judge for review, with an intervening 30-day period for more public comment. Palmer plans to sign it.
Voting for the plan were Shawn Fredrickson, Michele Shea, John Morgan, John Sorich, Dan Olsen, Josh O'Neill, Brendan McDonough, Cindi Shaw, Dan Callahan and Eric Mankins. Voting no were Jim Fisher and Bill Andersen.
"It is time to move forward and get this cleanup started," Shea said before the vote, a sentiment several commissioners shared.
Butte has been the centerpiece of one of America's largest industrial cleanup efforts since it was placed on the federal Superfund list in the 1980s, and the proud mining town has suffered stigma from it and the Berkeley Pit it includes ever since.
County officials and several commissioners say once the decree takes effect, new cleanup and enhancement efforts will get underway that should ultimately get the Butte Hill delisted as a Superfund site and start eroding perceptions that many say cost Butte growth and jobs.
"We have listened to many sides of the debate...It is a good deal," Sorich said. "I accept that not everyone sees this as a perfect agreement… but I believe we are all on the same team and that we all want the best for our community."
Superfund Coordinator Jon Sesso said the community has had a "robust public information process" despite restrictions posed by the coronavirus pandemic.
"This product that's in front of you that the chief should sign is the product of this community's due diligence," Sesso said. "Staff has worked their butts off to make sure it's representative of input… This consent decree lays forward to make sure rest of the job gets done and done right."
Shea said she had approached the consent decree with a "great deal of skepticism" and at times it was "difficult to separate the emotional from technical."
"The very nature of negotiation is that everyone gets something and no one gets everything," Shea said. "We are at a crucial turning point where butte's existence is at stake... It's our time to rise to the occasion and honor our past. Butte has waited long enough, and it's time to move dirt."
Palmer has been eager to sign the 1,100-page plan, saying it could unravel under a prolonged delay and leave Butte without protections and amenities the county fought for in negotiations.
"Your authorization for me to sign the CD represents a major milestone and puts our community on a clear path to move past the stigma of Superfund and on to a prosperous future," Palmer said in a letter to commissioners preceding their vote.
The legal document spells out work — in very specific detail — needed to address mine pollution in Uptown, Walkerville, parts of Blacktail and Silver Bow Creeks and other areas. It includes some work that needs to be done forever.
The plan took years of negotiations between the U.S. Environmental Protection Agency, the state of Montana, Butte-Silver Bow and oil company Atlantic Richfield Co., now a subsidiary of energy giant BP.
It commits Atlantic Richfield to spend more than $150 million to remove tons of mine waste along the Blacktail and Silver Bow Creeks corridor, capture and treat more dirty stormwater and groundwater, and maintain environmental protections for Butte's soil and water forever.
It also promises to transform Butte's major creek corridors into a 120-acre park and bucolic greenway featuring eight different sites with interconnected trails, wetlands, an amphitheater, a fishing pond, a community space and playgrounds.
A group backing a restored Silver Bow Creek through the middle of town was critical of the terms of the decree during the public input and community engagement process. Its members wanted guarantees and funding for that effort included in the decree, though backers now say they can live with assurances in an outside agreement.
The decree is now headed to a federal review process that includes a 30-day public comment period. The EPA and the U.S. Department of Justice will then respond to the comments, and a federal judge will decide whether to approve it and put it into action.
Get local news delivered to your inbox!
Subscribe to our Daily Headlines newsletter.