Butte School District No. 1 students celebrated their last day of the 2018-19 school year on Friday.
Some of the students will return to the public schools for years to come, while others were close to their last day before embarking on the rest of their lives.
But for 12 Butte public school teachers, Friday was that last day. The longtime instructors are set to retire this month, and most are closing the teaching chapter of their lives to pursue more time with children and grandchildren, or more time just to themselves.
"Like every year when teachers retire, it's sad because these people have spent their entire careers building programs in this district," said Superintendent Judy Jonart. "Each teacher brings a special, individual approach and uniqueness to their classrooms. That will be gone, but their legacy will continue."
Jonart said losing this group of 12 Butte elementary, middle and high school teachers is especially hard because she taught alongside some of them before she became superintendent. She said she feels all of these retirees have been extremely hard working and engaged in the district's extracurricular activities.
"They've been really committed beyond the school bell and that's hard to replace," Jonart said. "I feel really privileged to have worked with them and celebrate their ability to go and do something different that fulfills them."
Jonart said the district has already selected a pool of impressive candidates to interview for the open teaching positions. But before these new teachers fill the shoes of the dozen retirees next fall, learn about some of the longtime teachers, their experiences with the Butte public school district, and the advice they have for those just starting their education careers.
"Respect is a two-way street": Dale Burgman, Butte High School social studies, over 39 years of teaching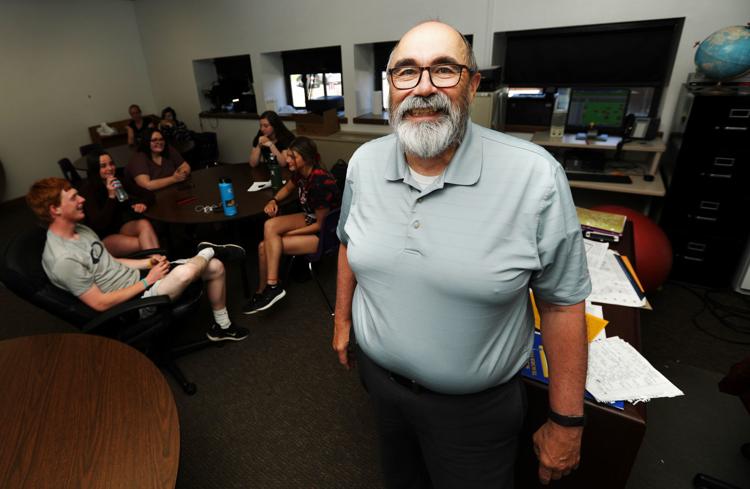 At first, Dale Burgman thought he wanted to be an archaeologist.
But one day out in the field during a University of Montana Western archaeology course on his hands in knees with what he referred to as an "umpire's brush" changed his career trajectory.
Instead, the Butte native decided to pursue teaching. As he reminisced of his nearly four decaded as an English and social studies teacher from behind the desk of his Butte High classroom, Burgman reflected on one key lesson he'd learned along the way.
"Respect is a two-way street," Burgman said. "Once the kids know you care about them, that you're in this for them, it makes teaching a whole lot easier."
But Burgman hasn't been just a teacher. At every school he's taught from Granite County High School to Butte High, Burgman also coached nearly all of the sports available to Montana students.
In the 25 years he's been at Butte High, he's coached track and field, boys' and girls' basketball, volleyball and softball. This past spring, he trained the track team's distance runners.
As Burgman shared coaching and teaching stories, he said he felt bittersweet about leaving his post at Butte High School. He's not really retiring from teaching altogether — this fall, he'll be the freshman and sophomore English teacher at Watford City High School in North Dakota — but Burgman said he is going to miss the people within Butte public schools.
"It's weird I won't have the same group of people every morning to talk to, and I'll really miss the kids … I've worked with some of the best and brightest kids the school puts out," Burgman said. "But on the bright side, the same puns and jokes I've used for years will be new to Watford City. It's going to be interesting, we'll see what happens."
When asked what advice he'd give to teachers just starting their career, Burgman emphasized the importance of getting to know students and showing them you care.
"It's more than just dispersing information, it's a social thing and there's a caring aspect you have to keep in mind," Burgman said of teaching. "Persevere and god, enjoy it … remember why you chose this profession."
"Every child can learn, regardless of their background": Terri Daily, West Elementary School fifth grade, over 35 years of teaching
Friday may have been the last day of teaching fifth grade for West Elementary School teacher Terri Daily, but she's not leaving the Butte School District quite yet.
This summer and hopefully for summers to come, Daily plans to continue teaching driver's education. She said summer driving with middle school students has been really fun, and that it's a course the kids look forward to.
"I love the students, there's a story a day," Daily said, smiling.
Daily said her 35 years as an elementary school teacher have come and gone in a blur. She started out in the two-room schoolhouse down in Wise River, taught several grades at Kennedy Elementary for 22 years, and is finishing her career at West Elementary.
What will Daily miss the most? Her students' love of learning and the supportive elementary faculty, she said.
"There's a lot I'm going to miss, but I guess the passion kids have for learning is at the top," Daily said. "Some kids just love to learn and I'll really miss that part."
Daily said what's kept her teaching with Butte public schools for so long is the positive school atmospheres and her own love for learning. She encouraged teachers starting their careers in Butte to learn from their students, be flexible and to teach to their classrooms — not at them.
"Education is constantly changing, so teachers need to stay on top of those changes," Daily said. "Butte is a unique school district because it's very diverse, and I've liked the challenges of that diverse community."
Daily said that when she first started with the Butte public school district, she wasn't prepared for some of her students' social and personal needs — she didn't realize students may need more than just school, Daily explained.
But over the years, she's seen all students thrive, regardless of their socioeconomic status, which Daily said has been rewarding and inspiring.
"Every child can learn regardless of their background," Daily said. "This is a great district to teach in and there are a lot of positive pieces to this building (West Elementary) … it's a great way to end my career."
"Teaching never stops, you're a teacher for life": Theo Davis, East Middle School English, over 29 years of teaching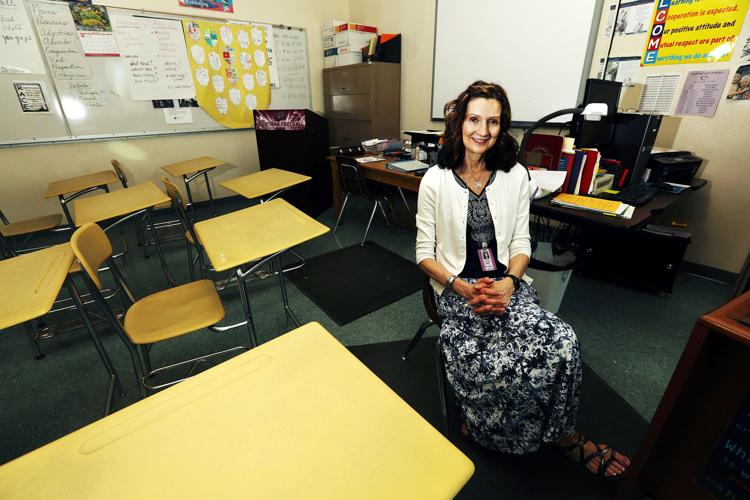 For Theo Davis, teaching was the career she felt would help her make a difference.
Her love for kids and the desire to help them is what's kept Davis teaching English at East Middle School for 25 years — and is why choosing to retire was particularly difficult.
"It's a hard thing to decide … Teaching has been my whole purpose for a long time," Davis said. "But teaching never stops, you're a teacher for life."
Davis started her teaching career in family and consumer science in St. Ignatius on the Flathead Indian Reservation. After a year there, she moved to Butte with her family, started subbing for the school district, and then quickly realized she needed a second education focus.
"Most home economics teachers stay in their jobs forever, so there aren't a lot of opportunities," Davis said. She decided to pursue an English focus, and has been teaching the subject in Butte ever since.
Over the quarter-century Davis has been at East, she said the biggest changes she's seen is with the technology available to both students and teachers. English curriculum has also shifted focus from more literature based to writing focused and back again, and Davis said she's developed a lot of positive relationships with students along the way.
"Seventh and eighth graders act like they're grown up, but they still buy in to what you're saying, listen and like you for the most part," Davis said, laughing. "I just like to help them and guide them through, if they let me."
Just a few days before the end of the school year, Davis said she felt she'd done the best she could to help her students. She encouraged younger teachers starting out to stay positive and to always work hard, because what you put in is what you get out of your career, Davis said.
"I'm really going to miss my colleagues and seeing the kids' faces every day, but I'm not going to miss grading homework," Davis said, laughing. "It's been a good run and a good career, but I'm glad to be taking the next step."
"Your years change and you change": Patricia Hill, Kennedy Elementary School second grade, over 39 years of teaching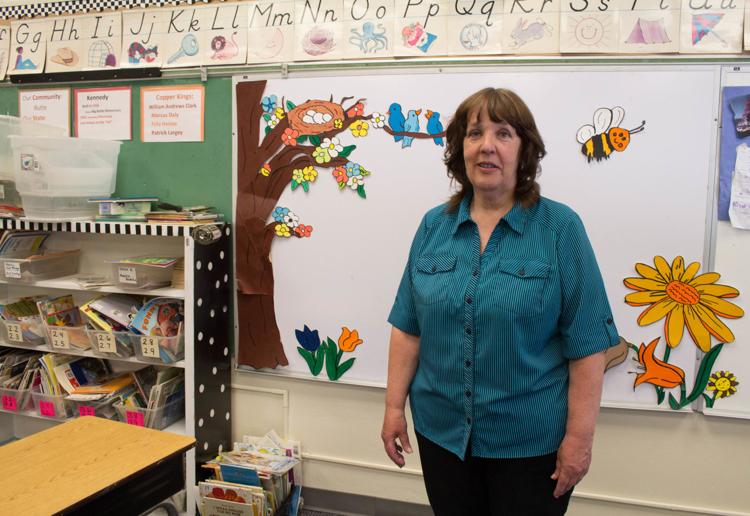 "I told myself no matter where I go, I have to retire in the second grade at Kennedy," said longtime Butte teacher Patty Hill, reflecting on her student teaching experience at the Uptown school in the early 1980's.
Nearly 40 years of teaching later, Hill met her goal and finished her career as a second grade teacher at Kennedy Elementary. She's taught in the Alaskan bush, Colstrip and at West Elementary in Butte, but spent roughly half of her teaching years in her favorite grade at her favorite school.
"I wanted to stay in second because the students are still kids but they can do more," Hill said. "They love learning and love everything you do."
And for Hill, this positive, enthusiastic learning environment has been hard for her to leave. She's especially loved teaching her students about Butte history and has always considered Kennedy Elementary a diamond in the rough.
"I think Kennedy is overlooked sometimes, but it's a great school with really great staff and families," Hill said. "The families, kids and staff that have come and gone will always have that Crusader connection."
Hill hopes to hold onto that connection, too. She said she may come back to the school as a substitute teacher, but is excited to help in her daughter's gift shop and try new things outside of the school environment.
When asked what advice she would give to younger teachers just starting their careers, Hill said learning patience is extremely important, as well as understanding the whole child and their needs beyond the classroom. She also feels teachers should establish a good support network within and outside of the school.
"Your years change and you change," Hill said of teaching. "I've felt really sad going into this last week …it's almost like a whole part of you is going to be gone, but that's just what happens when you retire I guess."
"Do the extra things, that's where you get the most reward": James Konen, East Middle School social studies, over 37 years of teaching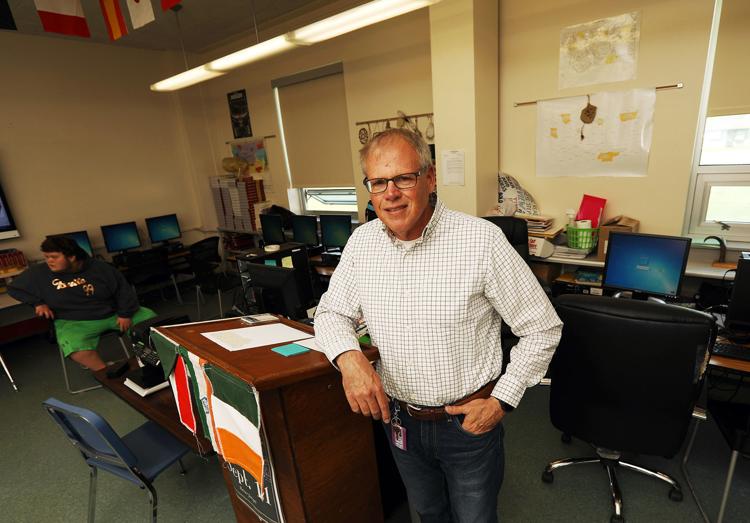 Coaching high school football in Missoula is what inspired James Konen to be a teacher.
As a sophomore in college at the University of Montana, the Butte native switched his classes from the journalism school to the education building and never looked back.
You have free articles remaining.
You're out of free articles
Sign in or create a FREE account to keep reading.
Konen has been at East Middle School for the majority of his teaching career, 28 years, but started out at Butte High School. He coached football at Montana Tech during while working as a social studies and history teacher at East, helped with  football, basketball and track, and then transitioned to spending his after school hours with the district's homebound program students.
He said he's stuck with the middle schoolers so long because he enjoys seeing how much they can grow in such a short period of time.
"They balance the biggest changes of their life in a three to four year time span," Konen said. "They can surprise themselves with what they're capable of doing."
Konen said he's not sure what he'll miss the most about East Middle School because there are so many good things to choose from. He enjoyed seeing his students' knowledge and creativity expand through technology, and said at this time last year he wasn't ready to retire because he still enjoyed coming into work every day.
"But this profession needs young people to spend time with students through activities, to be involved," Konen said. "I've approached this year just as any other. It (retirement) probably won't hit me until summer vacation ends."
Konen's advice for younger teachers is to learn every day from their students, adapt with whatever changes may come, get involved in extracurricular activities outside of the classroom structure, and to not go into teaching if they think it's an 8 a.m. to 3 p.m. job.
"Do the extra things, that's where you get the most reward," Konen said.
"You have to keep your expectations high": Cynthia McCarthy, elementary school physical education, over 36 years of teaching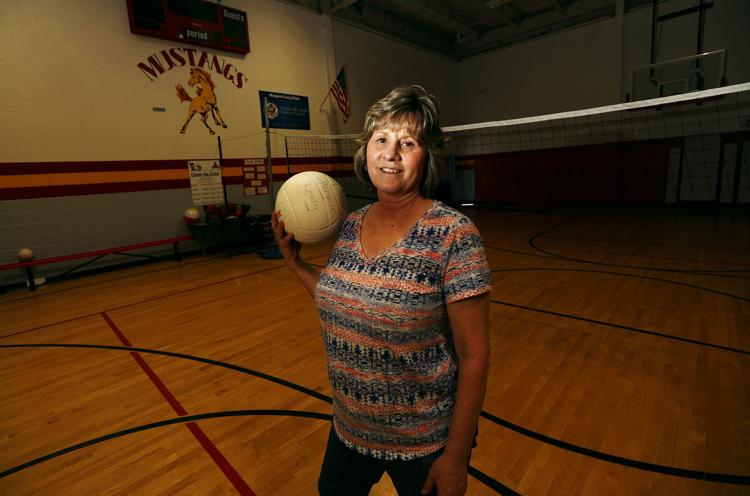 Cynthia McCarthy subbed for Butte public schools for 10 years before she was hired on as a full-time teacher.
And once she was hired on as a full-time district employee, McCarthy spent over two decades determined to keep her position.
"I went to school for education, and when you work so hard to get a full time job, you hold onto it," McCarthy said.
McCarthy has spent her career teaching at a variety of Butte elementary schools and grade levels. She said second grade was her favorite because she got to see the growth students made from first grade, and was able to do more with them because of their increased skill levels.
"I probably would have stayed there until I retired," McCarthy said of second grade.
But when the elementary physical education position opened up about 4 years ago, McCarthy jumped on transferring into it. At the time, she said she wasn't ready to give up teaching yet but knew she was close to retirement, and felt the active classroom would be an easier transition out of teaching for her.
As the West, Emerson and Margaret Leary PE teacher, McCarthy said she sees well over 400 third through sixth graders each week. She said she quickly realized the huge need district-wide for shoes that her students could workout in, so she started the monthly "Shoes for the Sole" donation program to get athletic shoes to the kids who needed them.
"I can't leave things at school, I worry … if kids need jackets or shoes, I get them," McCarthy said.
McCarthy believes this above and beyond mentality is an important part of being a successful teacher. She said she feels you have to put the time in, over plan and constantly encourage students to be better to be as effective as possible.
"For new teachers, you have to keep your expectations high because a child will only work as hard as you ask them to," McCarthy said. "If you don't go home dog tired every day, you're not doing your job."
"Enjoy the kids and pick your battles": Kristina Mengon, Butte High School math, over 34 years of teaching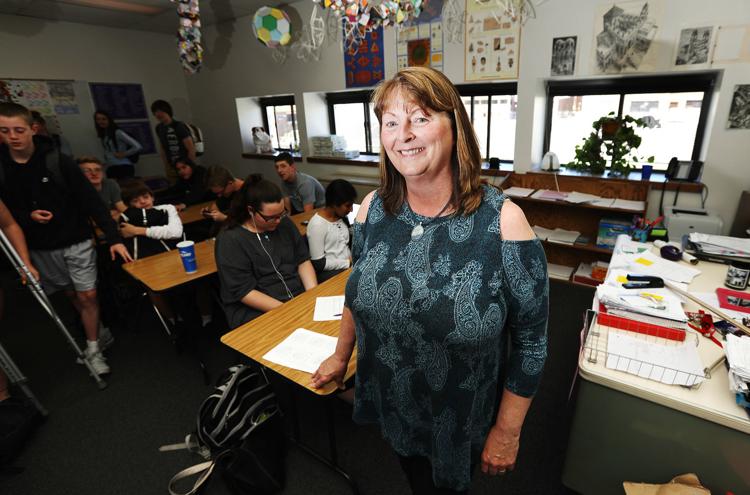 Majoring in math at the University of Montana Western was the best thing that ever happened to Kristina Mengon.
At first, Mengon thought she'd minor in the core subject and major in physical education because her favorite teacher in high school taught PE and coached track. But an adviser convinced her otherwise.
"I always enjoyed math and found it easy. If I had any places to fill in my schedule, I'd choose a math class," Mengon said of her college experience. "Deciding to major in math was the best thing that's ever happened to me."
Mengon started her math teaching career in a small eastern Montana school where she was the math department, she said. After a year there, she moved to Butte and taught at Butte Central High School, then started working for Butte public schools in 1992.
Five years later, Mengon moved from East Middle School to Butte High, where she's been a math teacher for over 22 years. Mengon said her favorite type of math to teach is geometry, which has been her sort of expertise for over a decade.
"There are places you can always apply geometry, it's everywhere," Mengon said, pointing out the geometric art projects hung around her room. "I have the freedom to do other things with geometry than with other types of math."
And Mengon said she's had a lot of freedom in general with her teaching at Butte High. She said the administrators allow teachers to stretch, expand and try different techniques or ideas, which she's appreciated.
Her retirement will not only be a milestone for her but also for her husband, who is retiring from the Ramsay School District and has been teaching just as long as she has.
"I still enjoy what I'm doing, but I'll also be happy to do whatever I want," Mengon said of retiring.
When asked what advice she'd give to younger teachers, Mengon said she feels it's important to not take things too seriously and to talk with students — not just teach them.
"Enjoy it, enjoy the kids and pick your battles," Mengon said. "If you take things too seriously, you won't have an enjoyable career … laugh every day."
"Enjoy every day of it": Sheila Richardson, East Middle School family and consumer science, over 20 years of teaching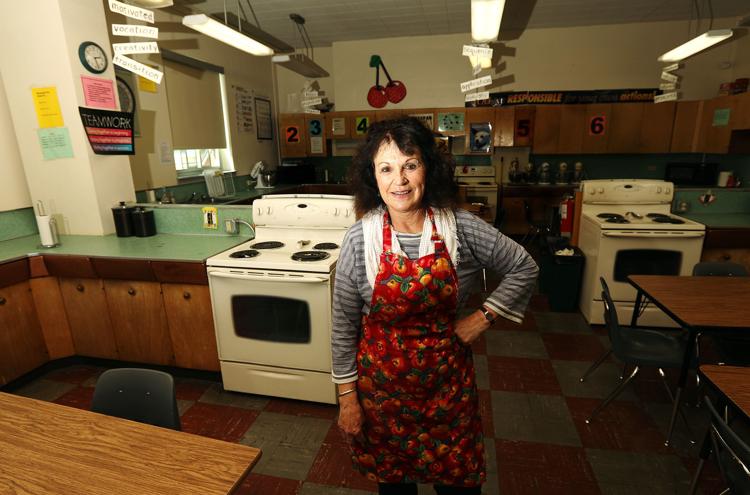 "If kids don't find success in the core classes, they can find success here. It's fun and they learn about good nutrition, too," said Sheila Richardson, East Middle School's family and consumer sciences teacher.
That's why she loves teaching the non-traditional core subject — because she has the opportunity to reach a broad spectrum of students and teach them about how to live a healthy lifestyle.
Richardson started teaching FACS at Jefferson High School in Boulder. After a year there, she married her husband and raised 5 kids, subbing for Butte public schools in between parenting.
After she had her last daughter, Richardson said she decided she wanted to pursue a career in teaching, so she went back to school to add special education onto her FACS focus. She's been teaching at East Middle School for the past 19 years, first as a special education teacher, then as a Title I reading teacher, and finally as the school's only FACS teacher.
Richardson said she's loved teaching at East because the teens are old enough to understand directions but are still kids. She felt this year was her year to retire, but said she is emotional about her decision.
"I'm excited but a little emotional because a big part of my life is coming to an end," Richardson said. "The time has gone by so fast."
Richardson feels it's important for the younger teachers at East and throughout the district to be patient and to communicate with their colleagues.
"Communicate with each other and let each other know things," Richardson said, noting that this communication makes teaching and understanding students easier. "With every job you find, you have good days and bad days … but try to enjoy every day of it."
"I hope whoever is doing this next does a good job because the kids need it": Dave Susanj, East Middle School physical education, over 30 years of teaching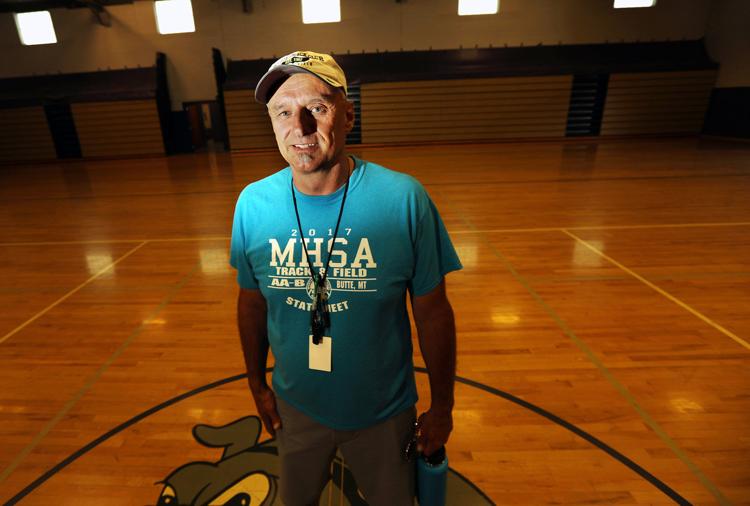 Dave Susanj's love of teaching stems back to his freshman Montana History class at Butte High School.
After competing as a decathlete for the University of Montana, earning his education degree with a focus in physical education and social studies, and bouncing around from job to job for a few years, Susanj pursued this love for teaching and coaching at a small school in Denton.
From there, he taught up on the Flathead Indian Reservation for a few years, then moved back to Butte to teach P.E. for the district's Head Start preschoolers and alternative school students.
"Then when there was an opening here, I put in and I've been here ever since," Susanj said of his 17-year teaching and coaching stint at East Middle School.
Over the years he's taught P.E. and coached track, along with a few other sports at East, Susanj said he's witnessed a lot of changes. He feels East has a good P.E. program, but has noticed the middle school students haven't been as interested in gym class as in years past.
"There's been a little bit of frustration with teaching P.E., but it's a cultural thing. Across the board it's been harder to keep kids active," Susanj said.
But although there have been struggles, Susanj said he's also worked with a lot of skilled and hardworking students in class and on the track team, and that he's really enjoyed teaching the health component of P.E.
"I really enjoy teaching health, I think it's a really important part of the curriculum with drugs, alcohol, suicide and all of the other stuff that's going on in our world today," Susanj said. "I really felt like that was a critical thing to teach."
Susanj said he is looking forward to focusing on coaching middle school track, which he plans to do for at least a few more years. He also said he'll miss his supportive colleagues and the feeling that he's giving students the important information they need about health and wellness.
Susanj wishes whoever fills his position the best of luck and hopes they can give East Middle School students the support they need, as he feels many of the teens struggle outside of school.
"I don't feel bad about retiring but I'm not too optimistic about how things are going for kids," Susanj said. "I hope whoever is doing this next does a good job because the kids need it."
Bonnie Thompson, Dave Henrich, and Laura Hartwig are also longtime district staff and retirees but did not wish to be interviewed for this story.