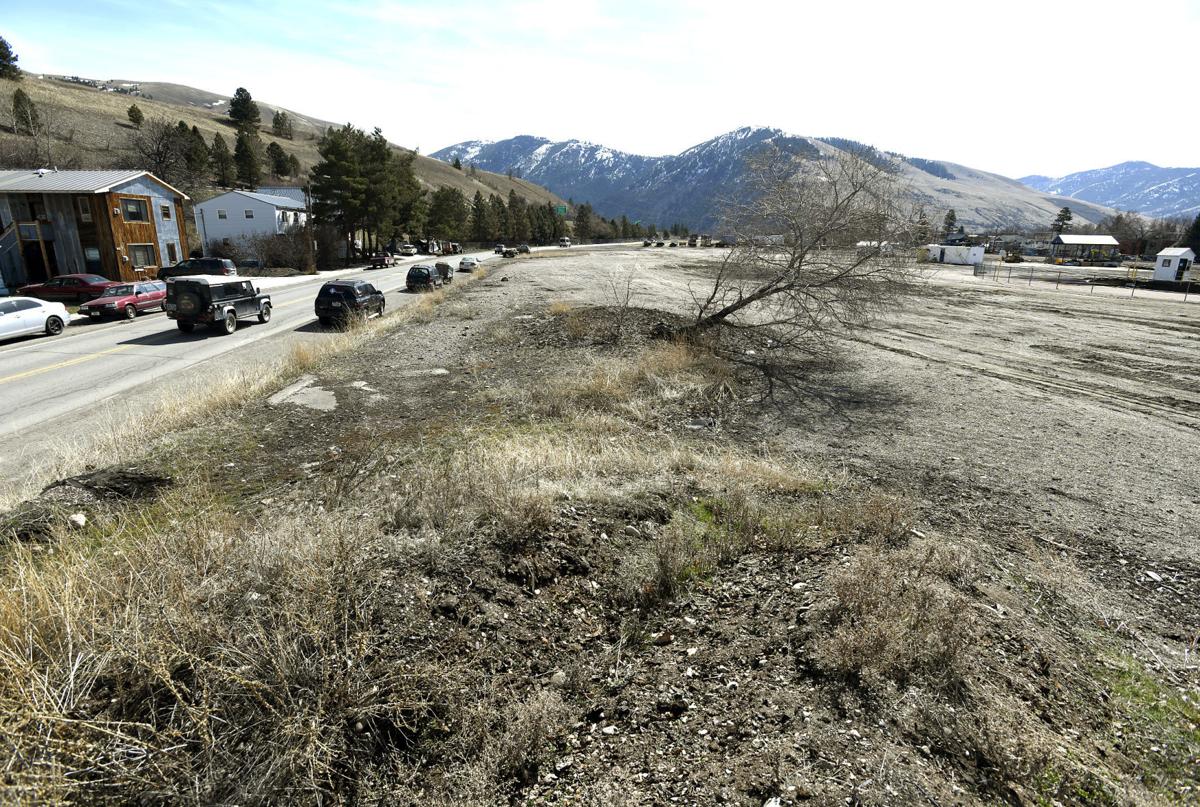 The Montana Department of Environmental Quality is proposing to clean up a polluted 42-acre area just north of downtown Missoula to standards that would allow future industrial uses.
However, Missoula housing advocates and elected officials are pushing hard to get the state to clean it to residential standards.
A deadline is coming up on May 2 for public comments to be submitted about the plan.
The Burlington Northern Missoula Facility lies a half-mile north of the Clark Fork River and west of Rattlesnake Creek. It consists of an active rail yard that's owned by Burlington Northern Inc. and used by Montana Rail Link. Other portions of the property include commercial businesses and residential homes.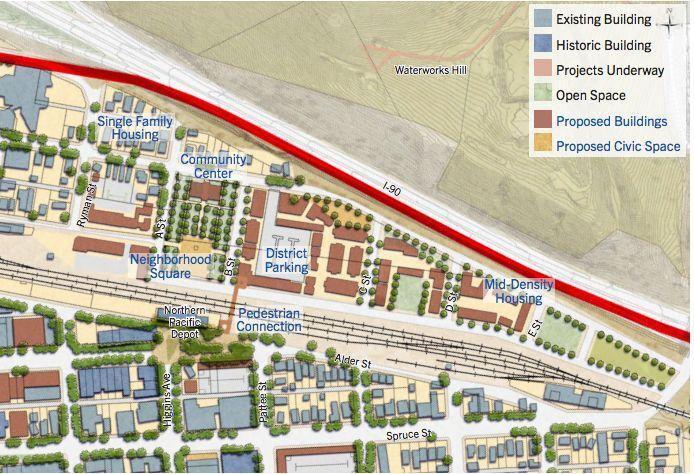 Industrial liquids like diesel fuel and oil have been spilled at the site for many decades. Groundwater and soil sampling has uncovered many compounds hazardous to humans, such as cancer-causing benzene and arsenic. The site is a state Superfund area under the Comprehensive Environmental Cleanup and Responsibility Act.
The Burlington Northern Missoula Facility has operated as a rail yard since the 1880s, according to Kevin Stone, a public information specialist with the Montana DEQ.
"Over time, spills and leaks from fueling activities, maintenance, lubrication activities, and underground storage tank leaks have resulted in contamination of soils and groundwater with petroleum hydrocarbons, volatile organic compounds (VOCs), polycyclic aromatic hydrocarbons (PAHs), and metals," Stone told the Missoulian.
"Specific contaminants of concern were identified based on the Feasibility Study and Risk Assessment and are consistent with what we would expect based on historic activity at this site."
The DEQ has determined that the past and most likely future uses of the site include industrial uses, so it has proposed a $3.5-million cleanup. Burlington Northern Santa Fe railroad would be responsible for the cost of cleanup. That cleanup would require covenants on the site that would preclude future housing unless someone else cleans the site to standards that would be safe for families to live there.
Missoula's Downtown Master Plan, which took input from more than 3,000 individuals and was adopted by the City Council in 2019, calls for high-density residential housing and neighborhood businesses in the area.
"This is our one opportunity as a neighborhood to have this site cleaned up," explained Heidi West, a Missoula City Council member who represents the Northside neighborhood. "That's the way the Superfund process works. You hold a party accountable, which in this case is BNSF. Then it's done and you can't ever really go back and get it cleaned up by the responsible party. This is our one chance to push for something better and we should get something better."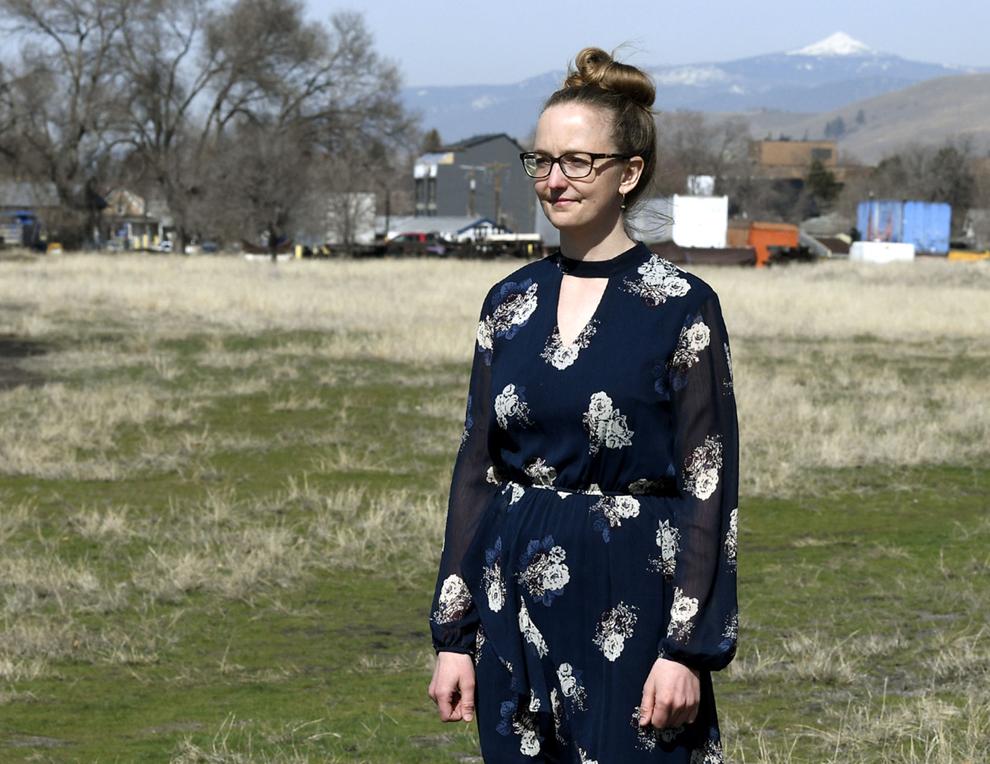 The Missoula Downtown Master Plan had lots of public involvement and the consensus was clear that people envision a "railyard district" with medium-density residential housing, walkable open green spaces and neighborhood businesses to hang out, West said.
Years ago, West and other Missoula officials were involved in pushing the DEQ to clean up a huge portion of another state Superfund site in Missoula to residential standards. The former White Pine Sash site west of Scott Street was originally slated to only be cleaned up to industrial standards, but Missoula officials succeeded in convincing the DEQ to initiate a more expensive cleanup.
"This is the perfect example of how these cleanup plans are kind of like that movie 'Field of Dreams,' where if you build it they will come," West said. "It really is a self-fulfilling prophecy. By determining what cleanup is, it really sets the stage for what's going to happen. Those 10 acres on Scott Street were cleaned up to residential standards. Now it's going to have lots of housing. The (rail yard) site will never have housing unless a private developer spends a whole lot of money bringing the whole site to residential cleanup levels."
What's not in question is how polluted the site still remains to this day.
"Primary (compounds of concern) remaining in soil and groundwater include polycyclic aromatic hydrocarbons; metals, specifically arsenic; and petroleum hydrocarbon fractions," reads a DEQ memo about the site. "Prolonged human exposure to some polycyclic aromatic hydrocarbons can lead to respiratory issues, including but not limited to breathing problems, lung abnormalities, chest pain and irritation, throat irritation, and increased coughing​."
The DEQ has been monitoring the site for decades, and now is seeking public comment on its plan, which must be submitted by May 2.
"Based upon this evaluation, DEQ identified compounds of concern at concentrations in surface soil and groundwater at the BN Missoula Facility that represent unacceptable risks to human health and the environment and concluded that further remedial action is necessary," the DEQ memo states. "Unacceptable risks were identified for the Facility groundwater in the perched zone and regional aquifer and for surface soils associated with offsite residential exposure and onsite residential exposure​."
Missoula County commissioner Dave Strohmaier said the county is going to formally send the DEQ a letter requesting it be cleaned to higher standards than what is proposed.
"It would be a tragedy if the cleanup was only minimal or only cleaned up to a standard that only partially allows the vision of the Master Plan and by extension the vision of our community to be realized," Strohmaier said. "And then what you're saddled with in a future time is doing additional cleanup to get the projects you actually want to see on the ground. So, far from taking a minimalistic approach, I would hope whatever cleanup approach occurs would be robust and set us up for success​."
West and Strohmaier agree that even with the train noise, the area is perfectly suitable for housing, as evidenced by the houses already there and the robust levels of housing development occurring in the area right now.
"I live by the train tracks," Strohmaier said. "It's a very desirable neighborhood."
West noted that Missoula is surrounded by valleys and there aren't a lot of remaining open pieces of land near the urban core where people can walk or bike to work. She also pointed out that developers are building new, fairly expensive housing in the area right next to the railroad tracks, so it's obviously a neighborhood that's in demand.
Hermina Harold, the executive director of the Missoula-based affordable housing nonprofit Trust Montana, said the site needs housing.
"At this point, all land in the urban core area should be developed for housing that's affordable," she said. "A lot of people already live close to the tracks. People get used to the sound, and the Northside is a great place to live. And Missoula is in the midst of an affordable housing crisis."
Lena Kent, the executive director of public affairs for BNSF Railway, sent a statement to the Missoulian regarding the company's stance on the DEQ proposal.
"The Missoula Railyard has been owned and operated as a railroad property for more than 100 years and that is not expected to change in the foreseeable future," Kent said. "Therefore, the clean-up of the property is consistent with required commercial industrial standards. In the unlikely event that the use of the property/zoning were to change in the future, the developer of the property would be required to ensure it met applicable standards for such an intended use as part of a zoning change."
Travis Ross, the environmental health supervisor with the Missoula City-County Health Department and Water Quality District, said his office has been tracking the investigation and monitoring of this site since the mid-1990s.
"Initially, petroleum contamination of groundwater was measured in feet of liquid floating on top of the aquifer," he said in an email. "This has improved significantly, albeit not to drinking water standards. Soils were contaminated with lead and Petroleum Aromatic Hydrocarbons (PAH's) primarily. We are pleased to finally arrive at the Proposed Plan stage of the superfund process. However, we see the proposal to address clean-up of soil to industrial exposure levels as not sufficient."
Ross noted that the Missoula community is growing.
"The need for housing is critically important and we've seen recent examples of former Superfund sites in our community that, at one time, could not be imagined as housing, now developed as active communities," he said. "These examples include the former Sawmill District and White Pine and Sash. The community has identified the area on which the BN site is located to be one day, homes for people. It makes sense that cleanup should reflect this and be completed to residential standards. Doing cleanup thoroughly, right now, makes sense."
The DEQ has a variety of factors they use to determine what type of cleanup they'll conduct at the Missoula site. A comprehensive summary of the site can be found online at bit.ly/3urC7nR. Public comments must be submitted by May 2 via email to zachary.neudeck@mt.gov​.