As mist moves over the foothills of Ted Turner's Flying D ranch, the bison that linger and roam in the rain stand out as an obvious indicator that this native species has found a refuge on this 175-square-mile spread southwest of Bozeman and northeast of Ennis.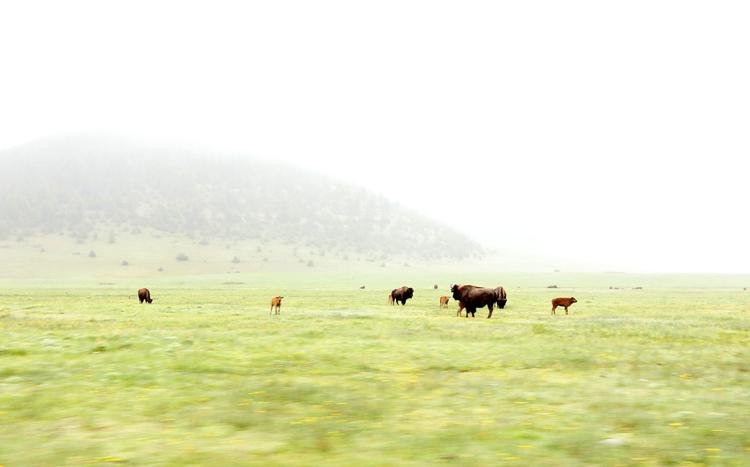 It takes a little more effort to discover that another native Montana species is inhabiting this massive — and private — landscape: westslope cutthroat trout.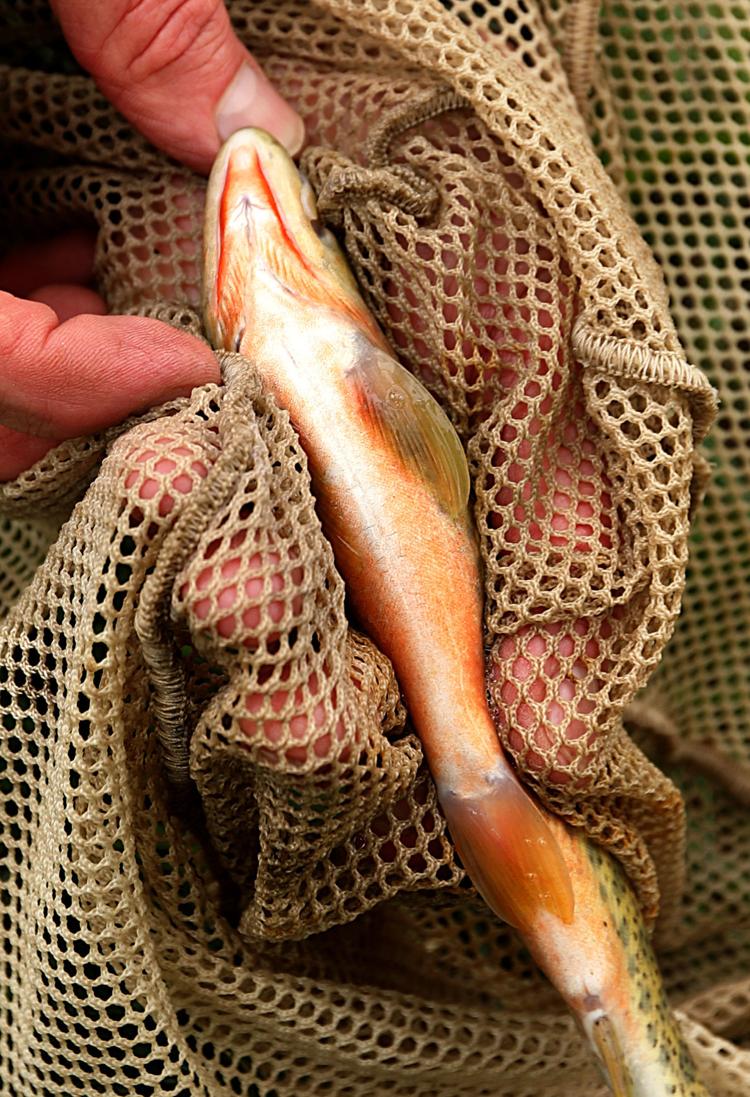 To find them, you have to follow a pair of fish biologists to the high and fast waters of Cherry Creek in the midst of spring runoff, where one biologist wades in with a backpack shocker and the other follows behind with a net, scooping up the briefly disabled fish and dropping them in a pickle bucket.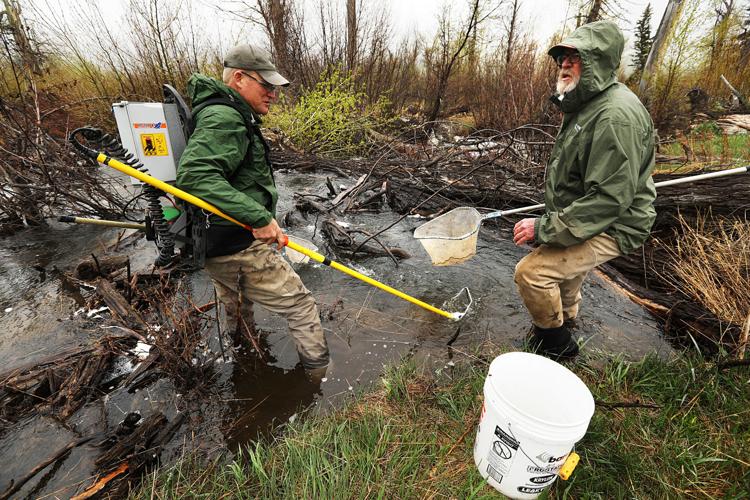 According to the biologists — Jim Olsen, a Butte-based employee of Montana Fish, Wildlife & Parks, and Pat Clancey, who is retired from the agency — these fish are evidence not only that a lengthy and costly project to restore westslope cutthroat to Cherry Creek was a success but also that a new plan to do a similar project on French Creek, near Wise River, is likely to succeed too.
"We now have shown we can restore cutthroat trout to a more-than-50-mile segment of stream," Clancey says, standing on the shore of Cherry Creek. "It's doable."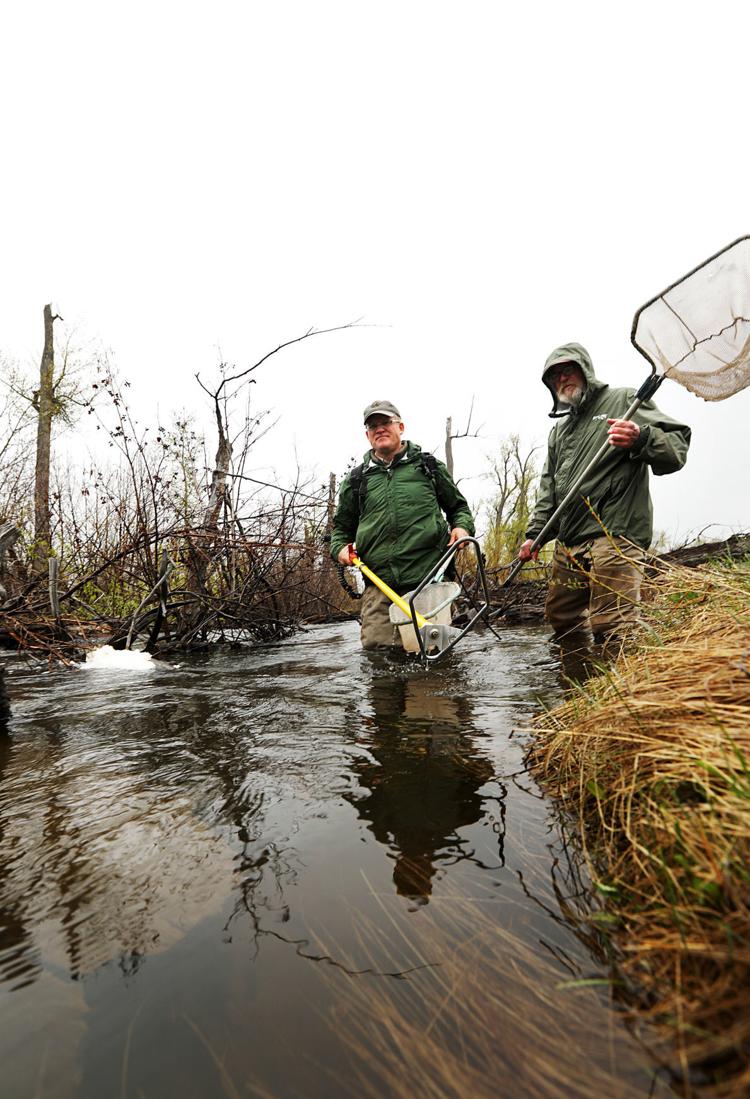 "We get a lot of flack about 'oh, these fish are bad' or 'they're not as good as brookies' or 'they're less hardy,'" Olsen says. "That's not the case. The problem is (the) interaction between those two species. You eliminate that interaction, and the cutthroat do fantastic."
But many observers don't see it that way.
They doubt the results, fear the methods, and question why an agency charged with protecting the state's treasured outdoor resources would use poison to clear trout from pristine lakes and streams.
Count Jack D. Jones among the skeptics — and the opponents.
"It's so senseless it's almost comical to think that anybody could be so stupid to say that this is going to be a good project," Jones says on a recent afternoon at his home in Butte.
A retired wildlife biologist who spent 36 years with the Bureau of Land Management in Montana, Jones started fishing Cherry Creek in the 1950s, back when he was a high school kid in Bozeman.
Back then, he says, the Flying D was still a cattle ranch, and he'd go up to Cherry Creek, its tributaries, and its headwaters at Cherry Lake to catch rainbow trout, cutthroat trout, Arctic grayling, brook trout, and native whitefish.
So when Jones heard, some forty years later, that FWP was planning to poison the lake and some 60 miles of streams in the Cherry Creek drainage in order to remove those species he had caught as a kid to make way exclusively for westslope cutthroat trout, he was astounded, and incensed.
"They're trying to reinvent something, and it's absolutely absurd," he says.
But according to Clancey, the idea of restoring westslope cutthroat trout wasn't about reinvention, it was about the opposite: restoration.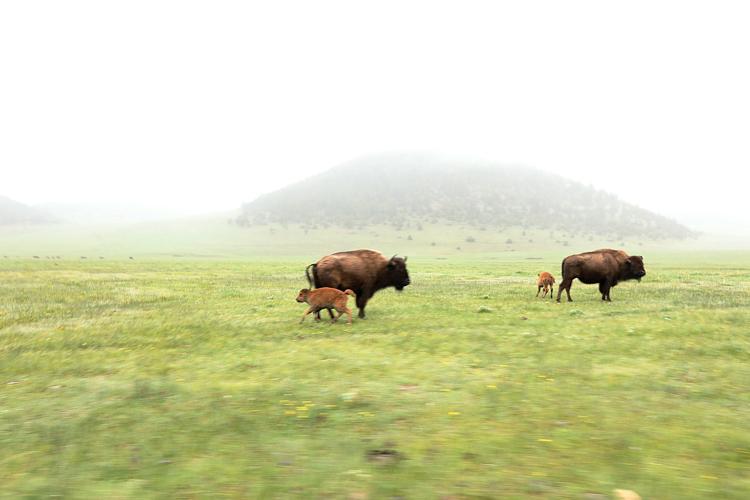 The notion of bringing westslope cutthroat back to selected tributaries of their historic range in the upper Missouri drainage and in Montana west of the Continental Divide first arose in the mid-1990s, when various circumstances "all just sort of came together," Clancey says.
First, there were studies that showed populations of the species were diminishing, largely as a result of non-native species infiltrating habitat, outcompeting the cutthroat, and hybridizing with them. This led biologists from various federal and state agencies to draft a westslope cutthroat recovery document that outlined "actions that would be taken to conserve and restore westslope cutthroat trout," Clancey says.
A second factor was an outbreak of whirling disease among rainbow trout in the Madison River, which deformed the fish, affected their swimming pattern, made them more susceptible to predators, and caused their population on the Madison River drop about 90 percent over about a five-year period, Clancey says.
According to Clancey, the drop in rainbows in the Madison and the call to restore dwindling westslope cutthroat populations led FWP's director at the time to think that "maybe we could kill two birds with one stone: we can start doing some cutthroat trout restoration in some of these tributaries (of the Madison), and some of those fish will be juvenile fish in the tributaries and then move down into the river and be available for anglers."
So Clancey was deployed to the Gravelly Range to see if any of its streams might be suitable for westslope restoration. When an article on the work FWP was doing appeared in local newspapers, it caught the eye of Turner, who asked his staff to discuss the possibility of using Cherry Creek for the project.
By August 1997, officials from FWP and Turner Enterprises were surveying Cherry Creek. And just a year later, after FWP conducted an environmental review and issued a decision notice that the project was going to start, Clancey and a large crew were on the Flying D, ready to start, when the first in a series of stumbling blocks arose.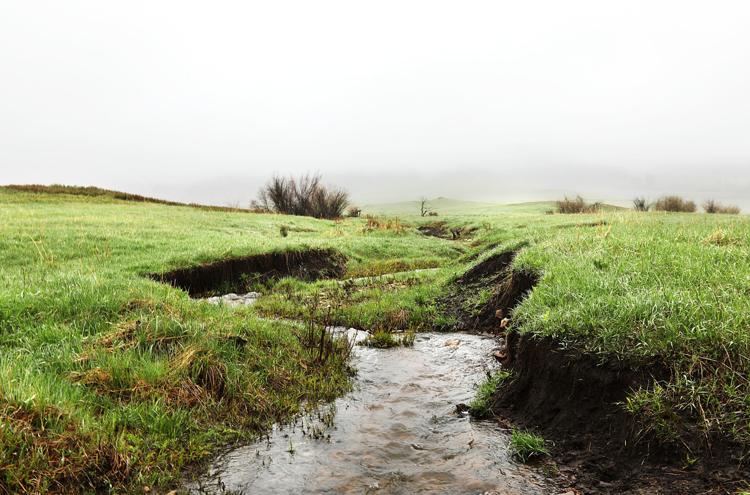 "We were literally getting into the vehicles to drive to the upper end of the drainage to start," Clancey says, "when one of the Turner employees came over and said, 'Hang on a minute, Ted's got some questions.'"
As the process of answering those questions dragged on through the summer, officials were forced to delay their start until 1999.
"But in that interim between 1998 and '99," Clancey says, "is when some of the project opponents — primarily two or three people — started working with an attorney who represented the cyanide heap leach mining industry in Montana, Alan Joscelyn."
Those two or three primary opponents included Jones and his childhood friend Bill Fairhurst, a onetime mayor of Three Forks who died in 2014.
Together, they went to extraordinary lengths to preserve Cherry Creek as it had been when they'd fished it in their youth, even going so far as to do scouting missions over the stream in a small plane in order to bypass access restrictions imposed by Turner, the landowner.
Mostly, though, they relied on more conventional methods, raising objections in print and at meetings, contacting legislators, challenging agency decisions to approve the project, and eventually filing a lawsuit.
At the heart of their appeals to stop the project were claims that state and federal agencies had failed to follow proper procedures, that the permitting process was flawed, and that the planned use of fish poison represented a violation of water quality standards.
You have free articles remaining.
You're out of free articles
Sign in or create a FREE account to keep reading.
While their efforts successfully delayed the start of the project until August 2003, FWP and Turner Enterprises ultimately got the green light to poison the Cherry Creek drainage.
But things didn't go as smoothly as planned.
After breaking the project down into four phases, with temporary fish barriers between each, Clancey and his colleagues started at the top of the drainage, in Cherry Lake, dispersing rotenone — a naturally occurring but potent poison — in the water as methodically as possible.
According to Clancey, it takes at least two treatments over two consecutive years to ensure complete eradication of existing fish populations in an area, so that's what they did.
After they'd seemingly completed phase 3, officials from FWP and Turner Enterprises went back in 2009 to sample to ensure they'd "completed the eradication" upstream of the barrier between phases 3 and 4, Clancey says.
But when he and Carter Kruse, director of conservation for the Turner Endangered Species Fund, checked, they kept finding adult fish where they weren't supposed to be: in the waters of phase 3.
"So Carter was literally standing on this barrier one day going, 'How are they getting by here?' And a rainbow trout swam past him," Clancey says. "He had actually done some modeling with an engineer that said, 'Rainbow trout can't get up this.' But a rainbow trout went past him."
Clancey says they were able to fix the issue by installing a screen on the barrier, but the problem caused yet another delay in their progress, as they had to spend 2009 poisoning phase 3 again.
And the next year, a massive spring runoff flooded the barrier they'd fixed, rendering it "ineffective," according to Clancey, as it was "entirely possible that fish could've just swum out of the stream channel and around the barriers and up into phase 3."
That meant yet another treatment of phase 3 in 2010. It was during this fourth treatment that something went seriously — and mysteriously — wrong, as Clancey realized while driving one morning from his home in Ennis back to the project site and noticed "a bunch of dead fish in lower Cherry Creek."
"And I was like, 'What the hell's going on here? Did these things all drift down?'" Clancey says. "Well, no, they didn't all drift down, because there's whitefish and brown trout that are dead down here, and there are none of those in the project area."
What happened, it turned out, was that rotenone persisted much further downstream than it should have, moving all the way through phases 3 and 4, down a 30-foot waterfall that provided a natural barrier for the end of the project area and through an approximately 8-mile stretch of Cherry Creek that ends in the Madison River. Along the way, the poison killed some 1,000 fish that weren't a target of the project.
The incident created an outcry, with longstanding critics arguing that the mishap validated their concerns about the dangers of rotenone — and the misguided nature of the project.
While Clancey says officials "never did pinpoint what happened" that day, it did lead FWP to adopt a new "hard and fast policy" that says any time rotenone is being applied within a distance of eight hours of streamflow time from the end of a project area, managers have to run a detox station that uses potassium permanganate to neutralize the poison.
"And there hasn't been accident since then," Olsen says as the FWP truck he's driving bounces across the muddy roads of the Flying D on a recent afternoon.
Soon after, he parks near the shore of Cherry Creek, where he, Clancey, and Kruse tout the success of a project that started more than two decades before.
"I've done three of these now where I have some post-monitoring data in New Mexico and here, so very different systems," Kruse says. "And we have a long-term average. And in all these cases, it's uncanny how close the abundance and the average size of the fish is after the project to what it was before."
As for concerns about how the poison might harm species other than fish, Kruse says the Turner organization has worked with graduate students and other scholars to study how the project impacted everything from aquatic macroinvertebrates to tadpoles to dippers. In general, Kruse argues, the effects were temporary, with organisms quickly bouncing back.
After Kruse passes out data that seems to back up his claims about the size and abundance of westslope cutthroat on Cherry Creek, Clancey and Olsen reluctantly wade into the cold, high water to shock fish and provide tangible proof that native fish are repopulating these streams.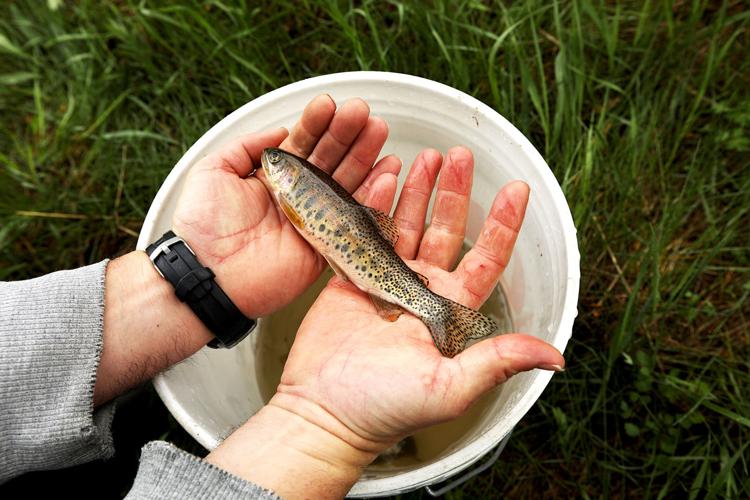 Despite such evidence, Jones says he won't be convinced.
"You're going to hear this story about how successful this (Cherry Creek project) was, and then you can put this in your article: if that is successful, I'm a lady astronaut," Jones says.
Deeming the whole effort a "boondoggle," Jones is now engaged in the fight to stop FWP from conducting a similar project on 40 miles of stream in the French Creek drainage, which flows into the Big Hole near Wise River.
Arguing that westslope cutthroat are simply a strain of Yellowstone cutthroat that were "totally unknown until the Anaconda fish hatchery started pumping them out," Jones casts doubt on the entire premise of restoring the species.
Arguing that the harmful effects of rotenone on species other than fish are not fully known, he says the piscicide poses a threat to other aquatic life, to birds, and even to mammals who drink from poisoned streams.
Arguing that such projects replace a diverse array of fish with a single species that's exotic to a stream's habitat, Jones says FWP is creating an unsustainable monoculture in places like Cherry Creek and French Creek.
Arguing that it's impossible to ensure no undesirable fish survive the poisonings, Jones says such projects are bound to fail.
Ultimately, Jones says, "This is my position, and it's gonna stay my position: why not manage the fisheries we have now? Because in Montana, we're fortunate to have all the great fishing that we have and the diversity we have. There's nothing wrong with diversity in fisheries."
In his opposition to the French Creek project, Jones has a new group of allies who have been raising their concerns for the past year — at meetings in Wise River and Butte, in comments submitted to FWP, and in a petition that has made its way to signatories from Dillon to Wisdom to Anaconda.
Martin White owns a cabin near the site where FWP plans to build a fish barrier that would be the end of the French Creek project area, and he has been at the forefront of the effort to stop FWP from moving forward with a plan that he calls a "travesty."
White says he has been discouraged by the response he's had going through the normal channels — attending meetings, submitting comments, requesting information from FWP — so next he's going to take a page from the Cherry Creek opponents' playbook and make appeals to U.S. Secretary of the Interior and former Montana U.S. Representative Ryan Zinke as well as to Montana's current representative and senators, to the governor, and to the FWP commissioners. White has also contemplated legal challenges to the project.
But, he says, he doubts whether he'll be effective: "I just don't think we'll win. I don't think they'll pay any attention. The Cherry Creek thing is a perfect example."