Saturday marks the passing of another St. Urho's Day in Butte, which means grasshoppers everywhere will be shaking in their boots.
In case you don't know the legend of St. Urho, it goes something like this: As St. Patrick drove the snakes from Ireland, so did St. Urho drive the crickets from Finland in an effort to save the country's grape harvest. And he did so by yelling really loudly, causing the crickets to run away.
St. Urho, of course, was a made-up saint. The holiday was actually invented in the 1950s by Finns in Minnesota who wanted to have an answer to St. Patrick's Day.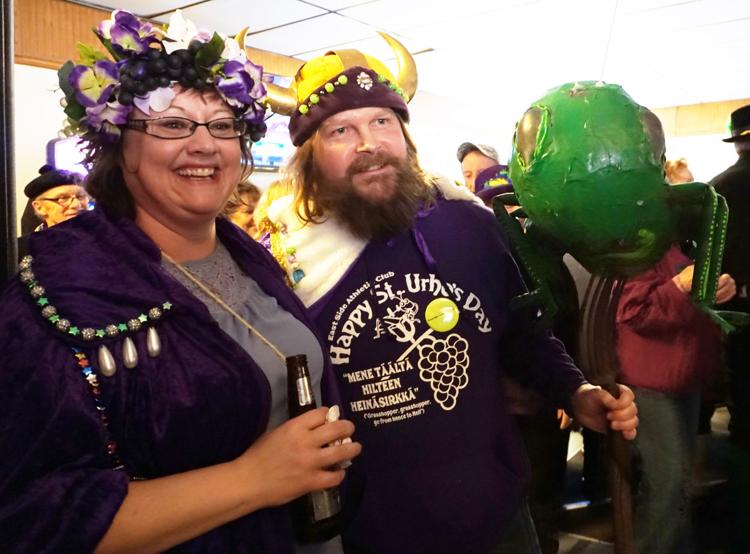 "The Finns were getting kind of miffed that they weren't having a holiday like the Irish. And of course the Irish would take St. Paddy's Day off, so they basically made this holiday up the day before St. Paddy's Day," said Gina Vareli, chair of the St. Urho's celebration committee.
Today, several towns across the Midwest celebrate the holiday. In Butte, the celebration involves the crowning of a Finnish man and woman as St. Urho and Princess Urho. Bestowed upon them are purple robes. St. Urho also gets a horned helmet and a pitchfork topped with an impaled grasshopper, while Princess Urho is crowned with a garland of flowers.
Last year's Princess Urho Barbara Hepola Burton told audience members — over 200 of them crowded into the East Side Athletic Club — that she took her title very seriously and that there wouldn't be an infestation of grasshoppers under her watch.
"It has some humor to it," Vareli said, describing the lighthearted nature of the holiday. "It's a blast."
The celebration also involves a cocktail or two.
Vareli has been organizing the celebration for several years at the East Side Athletic Club on Dexter Street off Continental Drive.
The first St. Urho's Day in Butte took place in the early 1970s at the Helsinki Bar. The tradition was brought to Butte by the bar's then-owner Ervin Niemi, a Minnesota native.
Niemi passed away in October.
Vareli, who formerly worked at the Helsinki, has been involved in the planning of the celebration since 2002. When the Helsinki closed, she brought the holiday to the East Side, now in its fourth year of hosting the celebration.
In light of her commitment to keeping Butte's St. Urho's Day alive, one would think that Vareli is a card-carrying Finlander, but she's actually Italian.
"I'm an Italian in Butte, Montana, putting on a Finnish holiday," she said, laughing.
Vareli loves the holiday nonetheless. For her, it's part of the cultural backdrop of the Mining City.
"I believe in tradition, and I think it's wonderful," she said.
Glenn Laitinen is a longtime member of the celebration committee.
Laitinen said for him, Butte's St. Urho's Day is a matter of upholding the Finn tradition and continuing it — "and just having a good time."
Laitinen lived in Butte's Finn Town neighborhood when he was very young, and according to the Butte resident, his grandfather only spoke Finnish to him, to the point that English was almost like a second language when Laitinen entered school. Today, Laitinen still speaks a little bit of Finnish.
Holding the title of St. Urho Saturday will be Dean Petersen, who was also St. Urho in 2017.
"Oh yeah, it's a good time," Petersen said when asked if he's looking forward to the event. "It's a Butte tradition."
He added that he hopes more young people will get involved in the celebration so that the tradition lives on.
This year's Princess Urho is Autumn Kielb of Helena.
Her parents, Mark and Kim Waltee, are originally from Butte, and St. Urho's Day was a family tradition in her household.
During her childhood, she would wear purple to school on the special day and took pleasure in explaining to her classmates her festive look. The next day, her family would often wear purple and green to celebrate the heritage of both her dad and mom, who's part Irish.
"I'm pretty excited about it, just to be part of the tradition," said Kielb, noting that she's looking forward to the celebration.
Her mom and dad will also be attending Saturday.
"They wouldn't miss it," she said.