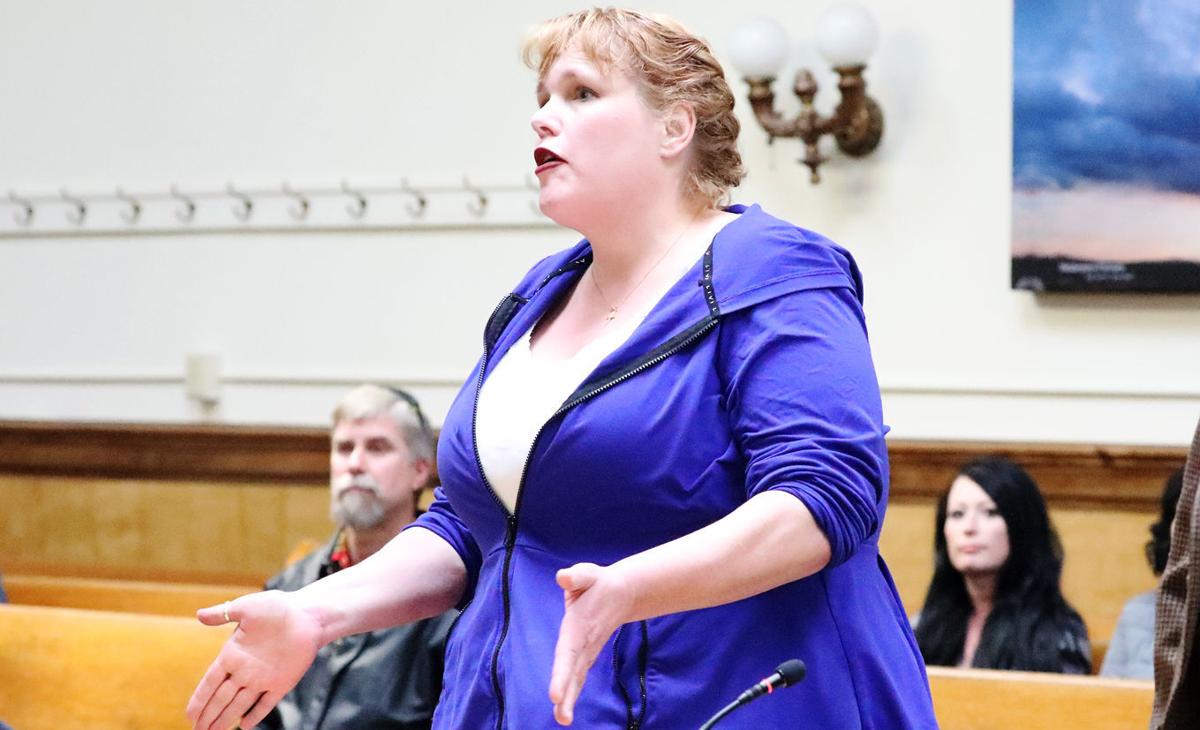 A couple has accused a Butte Central High School teacher of engaging in sexual activities with one girl student and having an "unwanted and illegal sexual relationship" with another girl and trading grades for their silence.
John and Heather Stenson also allege in a civil lawsuit that Brad Kadrmas, 45, and his wife, Amy, 42, gave alcohol, cigarettes and marijuana to minors while Brad worked as a teacher at Butte Central High School and he and Amy lived in a dormitory on school grounds.
Kadrmas has been a math teacher at Butte Central High School since 2011.
But even though the allegations amount to serious criminal matters, Sheriff Ed Lester said police were only contacted about them on July 22 and they had very limited information so far.
"As of right now, law enforcement only has the information contained in the document that was filed in District Court," Lester said in a statement Tuesday. "If additional information becomes available, we will investigate the allegations of criminal activity."
While the allegations in the civil lawsuit are serious, The Montana Standard has no way at present to evaluate or verify them. Efforts to contact the Stensons and Amy and Brad Kadrmas by phone were not successful.
Although he is accused of sexual improprieties in the text of the lawsuit, Brad Kadrmas is not named as a defendant. The lawsuit seeks unspecified monetary damages for negligence and past and future emotional distress, among  names other things.
Lawrence Henke, an attorney at Vicevich Law in Butte who filed the suit on behalf of the Stensons and six unidentified minors, said he talked to a police detective Tuesday and answered all questions that were posed. But Henke declined to provide any details to The Montana Standard that weren't in the lawsuit. 
The Diocese of Helena, which oversees Butte Central Schools and is among the defendants named in the civil suit, says it learned of the allegations on July 22, contacted police immediately and requested the Stensons' attorney provide contact information for the unidentified children's parents or guardians.
"The Stensons' attorney declined this request," the Diocese said in a statement Tuesday. "The diocese will continue to pursue a path for preliminary investigation but at this time cannot verify the alleged sexual abuse in this third-party complaint. No direct or verifiable reports or allegations of abuse by Brad Kadrmas have been made."
Don Peoples Jr., president of Butte Central Schools, told The Montana Standard that he only learned of the allegations on July 22 and contacted police.
"Had we known, a criminal investigation would have already been underway," Peoples said.
The lawsuit was filed in District Court in Butte and names as defendants Butte Central High School, Butte Central Schools, the Montana Catholic Conference, the Diocese of Helena, the Roman Catholic Bishop of Helena and Amy Kadrmas as defendants.
Henke declined to say why Brad Kadrmas wasn't named as defendant, saying he doesn't publicly discuss such matters or strategy.
Among other things, the Hensons allege that Brad Kadrmas identified vulnerable minors.
"Brad capitalized on his position, and ready access to the vulnerable, whereby he engaged in unauthorized sexual contact with (one minor female) and an unwanted and illegal sexual relationship (with another girl.," the lawsuit said.
"Brad was able to keep the minors silent through intimidation and a scheme of trading grades for silence as to his conduct," the lawsuit said.
Butte Central assigned the two female students to Kadrmas to be tutored, the suit said, but he still had grading authority over them. 
The lawsuit does not provide specifics of what the alleged sexual misconduct entailed and Henke declined to provide any additional details to The Montana Standard.
Amy Kadrmas already faces criminal charges in Butte-Silver Bow County for allegedly providing marijuana to two teenagers while living in the apartment at Butte Central High School.
In December 2019, prosecutors charged Amy Kadrmas with two felony counts of criminal distribution of dangerous drugs on or near school property and two misdemeanor counts of endangering the welfare of a child.
According to prosecutors, Amy and Brad Kadrmas were living with a 14-year-old boy in the apartment and she provided marijuana to him and a 14-year-old friend. Brad Kadrmas was a math teacher at the school. She pleaded not guilty and that case is still pending.
The school district placed Brad Kadrmas on administrative leave after those charges were filed. It was not clear late Tuesday afternoon whether he is still on leave.
The suit also alleges that Butte Central and the diocese did not do a thorough background check of the Kadrmases. Peoples declined to comment.
It also alleges Central was negligent in not providing better oversight of the couple and their interactions with students.
Specifically, it says a student was found with alcohol on the Butte Central campus, it was atypical behavior for that person and "the investigation into this incident was the thread that unraveled this tragedy."
Over at least the past two years, the lawsuit says, Brad and Amy Kadrmas targeted minors and Butte Central students and groomed them for abuse "through the introduction of alcohol, providing cigarettes as a gateway to marijuana use," and that let to drug addiction and sexual exploitation.
It says marijuana and alcohol were given to at least four of the minors, Brad Kadrmas had sexual contact or relations with two female students and "was able to keep the minors silent through intimidation and a scheme of trading grades for silence as to his conduct."
It says he used a "quid pro quo" grade exchange to capitalize on his supervisory status as an adult and teacher over the two female students, as well as others.
The exchange "was made possible by the inaction of Butte Central High School in reacting to other teachers' reports of poor performance by students who were getting unreasonably high grades from Brad," the lawsuit says.
The Diocese of Helena issued a page-long statement on the allegations Tuesday saying its safe environment protocols include full cooperation with police and a preliminary investigation when any abused is reported against a volunteer or employee.
"The Diocese of Helena does not tolerate any harmful action, especially abuse, toward children and takes all reported allegations seriously," the statement says. "We will continue to carefully look into this complaint and maintain close contact with law enforcement should an official investigation begin."
Get local news delivered to your inbox!
Subscribe to our Daily Headlines newsletter.