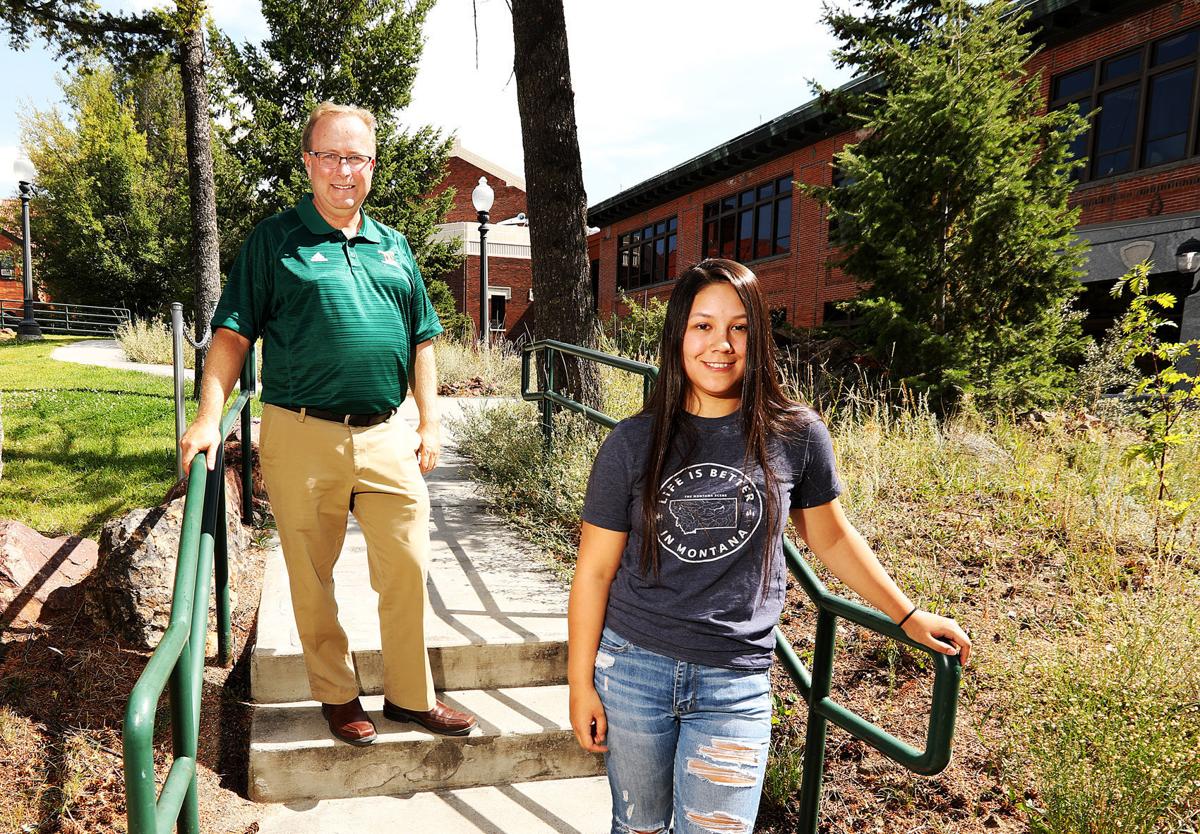 A decade or so ago, Jasmin Juarez, Aryana Rodrigues and Grayson Gleason all shared a classroom at West Elementary.
Today, those three are freshmen at Montana Technological University — and recipients of the Montana Resources Opportunity Scholarship for 2019.
While Rodrigues' and Gleason's full-ride scholarships were announced at a Butte High-Butte Central basketball game last winter, Juarez' scholarship was announced by the university just this week.
Juarez, a 2019 Butte High School graduate, started her college career just a couple of weeks ago. And while it's not a position she necessarily expected to be in, she's loving it.
The scholarship is part of Tech's Be the First initiative and is underwritten by Montana Resources and the Dennis and Phyllis Washington Foundation, along with many local donors. The scholarships, in their second year, provide all the costs associated with attending Montana Tech — tuition, fees, room and board, and books — although Juarez is electing to live at home for now.
Michael Barth, executive director of the Montana Tech Foundation, said Thursday that Tech is interested in finding Butte students "who have the aptitude for college but don't know how to make it happen financially," and therefore may not have even applied.
Indeed, Juarez, the youngest of seven siblings, had thought a lot about college — she has a particular aptitude for mathematics and loved her science classes — but had not applied before a momentous day this spring when she was invited to the Butte High library to talk with Barth and others from Tech.
The Tech team had already spoken with her counselor, Eric Mankins, and other school district officials about Juarez. They had a pretty good idea that she would be an excellent candidate. And despite the fact that, as she says now,  "I was pretty nervous," she made an excellent impression.
 Suddenly, she allowed herself to think about the possibility of college. And then, early in the summer, those thoughts turned to reality when she discovered she'd been chosen.
Now, as her first year's work has begun, she's really enjoying college life.
"The big difference (from high school) is that everybody wants to be here," Juarez said Thursday.
A biology major, she's particularly enjoying her chemistry and calculus classes this semester.
Juarez says that for the last several years, "Math has always been my favorite subject."
Juarez traces her liking for mathematics to "a great teacher in eight grade" at East Middle School — Janet Pascoe, now retired.
"I got a D in math the year before, but then she showed me that math was not so bad," Juarez says with a smile. "I was lucky to have her the year before she retired."
Juarez isn't positive what she wants to do professionally. But a degree in biology will give her plenty of options.
"I chose biology because I find it challenging," she said.
Mike McGivern, Montana Resources' vice president of human resources and himself a Montana Tech alum, said, "Montana Resources and the Washington Foundation are really excited to see the second group of Butte students enter Montana Tech, and we are confident that the support of Montana Tech's staff and the quality of these students will produce a great outcome. We wish them all the best. Go Diggers!"
Barth said that Tech's investment in the scholarship winners includes making sure the school's Institute for Educational Opportunities is there to provide support and "help them navigate through the process" of setting schedules and getting acclimated to campus life.
"Our goal with this," Barth said Thursday, "Is to remove the financial concerns and let the student focus on education — on being who you really are."
Get local news delivered to your inbox!
Subscribe to our Daily Headlines newsletter.