Anaconda and Butte Head Start students are taking part in "Week of the Young Child" celebrations this week.
This year in Butte and Anaconda, these goals are being met by celebrating young students and their futures.
At 1 p.m. on Monday, Anaconda Head Start students, ages 3 to 5, paraded with their parents in the rain from their school building to the Kennedy Commons downtown park. Most students clutched blue and silver pinwheels and a parent's hand, and wore shirts with the famous Dr. Seuss quote, "Today is your day! Your mountain is waiting. So … get on your way!"
At the park, the students sung the "I am a Head Start kid" song and "You are My Sunshine," said teacher Katie Montz. When they returned, it was back to play-based learning.
Montz has been teaching at Anaconda Head Start for the past seven years and said the school has always celebrated "Week of the Young Child" with its students. Through different themed dress up days, a movie day at Washoe Theater, and displaying students' art in various businesses around town, Montz said school administrators hope to show the kids how important they are.
"We tell them we're celebrating them because they're our future, they're what's next," Montz said.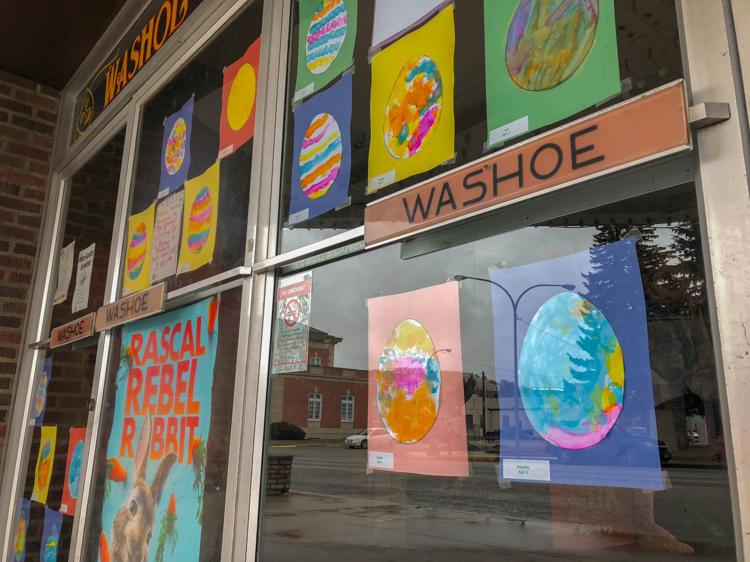 And some of the displayed art projects encouraged Anaconda Head Start kids to think about their futures. In the window of the Anaconda Oxygen Service store on Main Street, pictures of students floating in paper hot air balloons had things like "I want to be a police officer," "I want to throw away garbage like dad does," and "I want to be a pumpkin," written on them.
Bridgette Raybold, a coach and family engagement coordinator for Butte Head Start, said their school had similar activities planned the week, and a similar outlook on what it's all about. Butte Head Start students have themed dress up days this week and will work on making different instruments, like maracas or drums, for a school-wide parade planned on Thursday.
"We celebrate them and their uniqueness because the little ones are our future, and it builds their self-esteem," Raybold said, which is why she feels the "Week of the Young Child" is especially important.
"Family engagement through events like this help build confidence and a solid foundation for when they (children) are older."