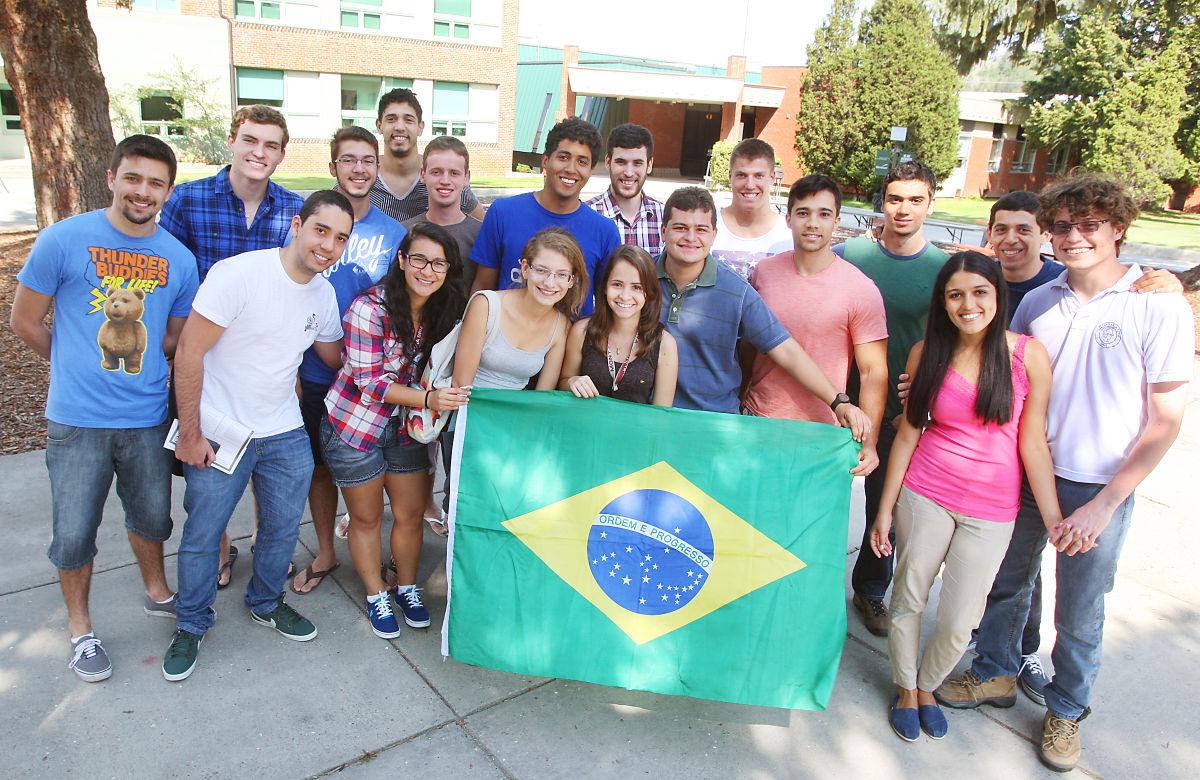 Montana Tech will host nearly 200 international students this year from about 20 countries.
They bring a diversity that enhances campus life for foreign and domestic students alike.
Canadians usually make up the largest contingent followed by students from Saudi Arabia. This year, the Brazilians are strongly represented.
"Here comes our army," Thaiza Silva said with a grin while standing in the mall area of Tech's campus on Wednesday.
Silva, a Brazilian exchange student, was referring to the 23 Brazilian studying at Tech this semester. And there would be another 25 students from Brazil if Tech had the dormitory space.
The Brazilian students are in Montana participating in Brazil's Science Without Borders program, which provides scholarships to undergraduate students from Brazil for one year of study at colleges and universities in the United States.
Studying at Tech this year are students from Australia, Brazil, Canada, China, Czech Republic, Germany, Honduras, India, Kyrgyzstan, Kuwait, Malaysia, Mauritania, Portugal, Russia, Saudi Arabia, Sweden, Thailand, Turkey and Vietnam.
When Silva arrived in Butte in January, the snow and cold were something of a shock.
"I was scared," she said. "We have one snow in 1,000 years."
But even though she misses Brazilian barbecue and pao de queijo – Brazilian cheese buns – Silva soon adapted to Butte and to a smaller campus than the university she studies at in Brazil. She's studying civil engineering.
"(Tech is) cozy," she said. "The professors try to make us feel comfortable."
Another perk to studying at Tech? She met her boyfriend, fellow Brazilian and civil engineering major Joao Oliveira, at the school. The two grew up in cities nearly 1,000 miles apart, but Butte brought them together.
The pair has taken advantage of the opportunity to see the United States – neither had been here before – during their study abroad trip. They've traveled to New York City, Hawaii, California, Chicago and Washington D.C. They're also traveling around Montana, visiting Yellowstone and Glacier national parks and learning to ski.
There are some differences from their courses in Brazil. Learning the English system of measurement – inches, feet, yards – instead of the metric system, for one.
Oliveira said in Brazil their civil engineering studies are broader than in the U.S., where students specialize in one particular type of engineering. There's a positive to that, though, because it has piqued their interests in specific fields – structural engineering for Oliveira and transportation engineering for Silva.
"It's an opportunity for students to learn and grow" said Paul Beatty, associate vice chancellor for students and dean of students. "(International students) add a richness to campus."
Get local news delivered to your inbox!
Subscribe to our Daily Headlines newsletter.