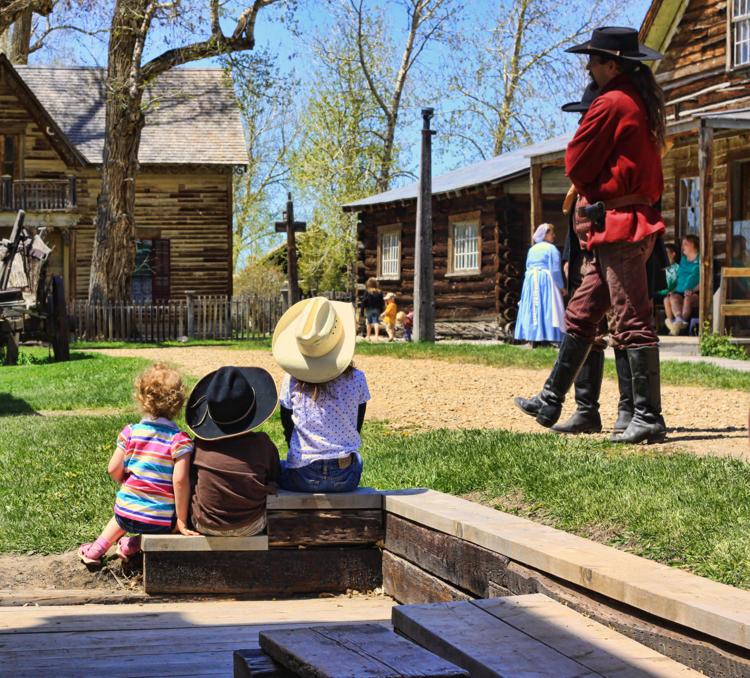 MAY
18 — Virginia City Area Chamber of Commerce will host its Annual Chamber Dinner & Auction. The event includes dinner, dessert auction, silent auction, and a live auction, too. Bidder registration and the silent auction starts at 5 p.m. and dinner is at 6. The dessert and live auctions will follow. Auction proceeds benefit the Virginia City Area Chamber of Commerce. Items to be auctioned include the original artwork, handcrafts, dinners, valuable services, entertainment packages, live plants and more. Dinner reservations are required by calling 406-600-2599 or email: dudley_r@yahoo.com.
25 — The annual Spring Horseback Poker Ride is Saturday, May 25, in Virginia City. This year's poker ride is sponsored by the Virginia City Area Chamber of Commerce. Registration is at the Bale of Hay Saloon from 8:30 to 10 a.m. Admission is $20 per rider, which includes a meal after the ride. First and last card will be given at the Bale of Hay. For you non-riders out there, we will also offer a Poker Walk around Virginia City. In the case of inclement weather, call the saloon for up-to-date status on the ride, 800-829-2969, ext. 1.
25 — To celebrate the season, attend the annual Virginia City summer kick-off parade following the poker ride.
25 — Thompson-Hickman Museum opens at 10 a.m. for the 2019 season. The museum houses some of Virginia City's most interesting Virginia City artifacts.
JUNE
1 – From noon to 9 p.m., the Bozeman Chord Rustlers, a group of men of many different ages, gather together in celebration of the truly American art form of barbershop music. They will visit the Nevada City Museum and will stroll through Virginia City for spontaneous performances. In addition, they will perform during both opera house shows at 2 p.m. and 7 p.m.
7-9 — Irish Weekend presented by the Montana Order of Hibernians, the Virginia City Chamber of Commerce, and businesses and people of Virginia City, includes family-friendly fun, music, painting the green stripe on Wallace Street, parade, food, cultural information, and history.
28 — The Growling Old Men will be in concert at 7 p.m. June 28, at the Elling House Arts & Humanities Center, 404 E. Idaho St., Virginia City. Ben Winship (mandolin and vocals) and John Lowell (guitar and vocals) have been performing and recording together since 1998. Together the duo presents a tight, yet relaxed set of original and traditional bluegrass songs, ballads and tunes – informed equally by the music of the Appalachian hills and the western plains. Tickets are $15 and can be purchased at the door or reserved in advance by calling 406-843-5454.
JULY
4 — Professional fireworks display begins at dusk from the Boot Hill area. All donations benefit the Virginia City Rural Fire Department Auxiliary.
6 — Annual kids fishing derby 10 a.m. to noon at the kids' fishing pond between Virginia City and Nevada City. The kids will be divided into three age groups: 3-6, 7-9 and 10-12. There will be prizes for the largest fish, the heaviest fish and for the child who has come the farthest to fish. The Virginia City Vigilance Club, in cooperation with the state of Montana, sponsors the pond and the annual derby. The Ennis Fish Hatchery provides the fish. Details: Virginia City Area Chamber of Commerce at 800-829-2969.
26-28 – The 44th annual Virginia City Art Show will be from 10 a.m. to 6 p.m. Friday, July 26, 10 a.m. to 7 p.m. Saturday, July 27, and 10 a.m. to 4 p.m. Sunday, July 28. Stroll along the boardwalks and enjoy the works of artists from all over Montana and the Pacific Northwest.
AUGUST
18 — The annual 1865 Grand Victorian Ball is from 6:30 to 11 p.m. Period correct dancing with lovely music and Civil War-era ballroom dress required at the Virginia City Community Hall. The "Boardwalk Promenade" is at 6:30 p.m., and the Grand March is at 7. Sponsored by the Virginia City Preservation Alliance. Tickets, which must be purchased in advance, are $40/person, $75/couple, and $15/youth (15 and under) and are available at http://www.virginiacitygrandvictorianball.com/ or by calling 1-800-829-2969, ext. 6.
31 — The annual Labor Day Horseback Poker Ride begins with registration from 8:30 a.m. to 2:30 p.m. Admission fee is $20 per rider, which includes a meal after the ride. For non-riders, there is a Poker Walk around Virginia City. Details: 406-843-5700.