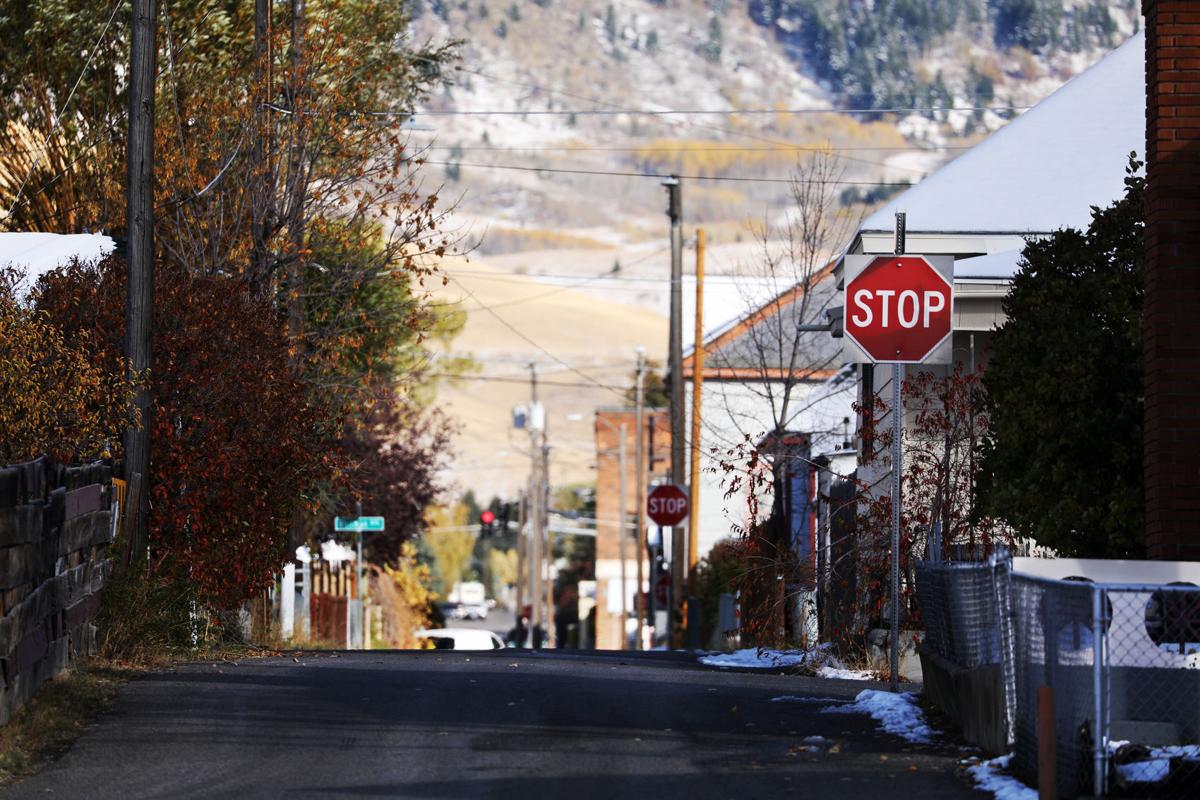 For years and years, narrow stretches of George Street in the heart of Butte have stirred anxiety and worries among nearby residents and given headaches to county officials who are asked over and over to make it safer.
The asking isn't over, but in the latest round, county officials and commissioners essentially declared "no mas." They had talked about it long enough, done all they could and could do no more.
It was solely an enforcement issue now, some commissioners said, and a few vague suggestions about putting more taxpayer dollars in the next budget to hire more traffic cops were just that — vague suggestions.
Sheriff Ed Lester says the day he turns down money to hire more police officers "is the day I've lost my mind." Short of that, his department does its best to respond to complaints and make streets safer, especially around schools.
The same goes for George Street, which runs a block north of Emerson Elementary School.
"It's a terrible design. It's a mess," Lester said. "The street is just too narrow. We do the best we can but we can't be there 24 hours a day."
A look back
George Street is quite popular with motorists.
Besides the interstate and Front Street, George is the only direct route from Harrison to Montana. Harrison actually turns into Front Street at its north end, and although Cobban Street gets drivers quite a ways toward Montana, it stops at Kaw.
From Harrison, George stretches 10 blocks through residential areas and then runs past fields and open space most of the rest of the way to Montana. It does pass the KOA campground and the Chamber of Commerce.
The stretch next to houses is the problem area because it seems more like an alley than a street. Commissioner Brendan McDonough says construction on some of the area houses started in 1912 — long before there were enough cars to create traffic concerns.
Complaints about the narrowness of George Street, traffic volume and speeding have compounded in recent years, and really became vocal a few years ago when cars crashed into houses in two separate wrecks.
County officials thought they hit on a solution by making five blocks of George one-way heading east from Oregon to Phillips avenues.
The official change in early 2018 followed months of study, an in-depth analysis by a traffic engineering consultant, a public hearing and a lengthy process for getting a county ordinance on the books.
It also involved four stop signs being nixed, two "Do not enter" signs installed and 18 one-way signs going up. Only five blocks of George are one-way, but the many sign changes were needed to notify motorists coming from all directions.
Not enough
It hasn't solved the problem, some current and former residents say.
Crystal Cook, who lives in the area of George and Whitman Avenue, told commissioners in a recent letter that people "still go down it either way," and some "fly down the street without thinking." It's also popular with folks on side-by-sides and four-wheelers, she said.
She suggested speed bumps be put in on George from Oregon to just past Lowell, and during an Oct. 7 meeting, commissioners took up her request to "remedy this situation."
A couple of former residents in the area, including Mary Sutherland, called in urging the same.
Sutherland used to live at George and Whitman Avenue and in June 2017, a car on George crashed into her yard, ran into a fence and patio equipment and hit the corner of her house. She wasn't home at the time, but $20,000 worth of damage was done.
Two weeks before that, a driver ran into a utility pole and crashed into another corner house on George and Whitman.
Sutherland has since moved elsewhere but called in anyway.
"We still have people we love and care about in that neighborhood and we're hoping that this time, something will actually change," she said.
"I know many of the commissioners have seen videos that we posted on social media of the radically insane speeding and going the wrong way and … all kinds of stuff about George Street, but I guess the city decided that making it one-way and posting proper signage was enough."
The problems are only going to get worse, she and others say, if a proposed greenway is created near the area as part of a sweeping Superfund agreement reached this year. That will mean more children and more motorists.
Talk, talk, punt
When commissioners started talking about George Street themselves, the recommendation starting out was to refer the matter to the council's Public Works Committee for more detailed consideration.
Commissioner Dan Olsen, who chairs that committee, seemed receptive to that. There were other street safety requests on the agenda, he noted, and speeding was a problem in a lot of places.
"I think maybe it's time for the Public Works Committee and the Public Works Department to maybe start looking outside the box and see if there is a different way to skin this cat," Olsen said.
McDonough's district straddles George Street and he helped get the traffic analysis done a few years back that resulted in the change to one-way.
"Maybe the only solution to the problems we have on our agenda tonight on traffic and speeding safety is to quadruple a speeding-ticket fine in a school zone and hire three more traffic cops," McDonough said.
"I am not joking when I say that," he said. "I'm not saying that facetiously. Maybe that is our only solution."
Commissioner John Morgan said if the one-way change wasn't working, maybe it was time to consider closing down George completely.
At that point, Public Works Director Mark Neary was asked to weigh in.
First, Neary said, speed bumps come with their own problems and are no longer an acceptable means of slowing traffic in streets.
Those problems, according to traffic safety advocates and organizations, include an increase in traffic noise, damage to vehicles, motorists going off-road to dodge them, and slowing emergency vehicles.
Closing George down, Neary said, would simply push traffic to adjacent streets and cause problems there. Speed limits are 25 mph unless marked otherwise, he said, and "we have a million dollars worth of signs down there and we have it one-way."
Given all that, Neary said, it was now an enforcement issue.
"We are not closed-minded at Public Works. We work for the citizens too, but I don't know any other avenues of slowing down traffic," he said.
In the end, commissioners decided more discussion in the Public Works Committee would lead to the same dead end, so they voted 10-2 to put the issue to bed. Olsen and Commissioner Michele Shea voted against doing that.
Lester said there are anywhere from four to seven officers on street duty in Butte during the day, and they do their best to respond to complaints and patrol schools.
But there are hot spots all over town, he said, including Dewey Boulevard, Grand Avenue and Continental Drive.
And he reiterated that at any of the locations, including George Street, they can't be there 24 hours a day.
Get local news delivered to your inbox!
Subscribe to our Daily Headlines newsletter.