In the basement of the Butte 4-C's building, a support group met. They grabbed snacks off of a table near the door, shared the highs and lows from the previous month, and offered each other advice based on their shared experiences.
The group members were parents with kids at different ages who go to different schools or who have graduated high school and are living on their own. All of these kids have different special needs or mental health issues, ranging from autism to ADHD. 
Called the Circle of Parents, this group has met monthly for over three years at the Butte 4-C's, a private nonprofit organization that offers a variety of services related to the well-being of children and their families. 
"We cry a lot, and we laugh a lot," said Heather Stenson, the group's facilitator. "It's truly a safe, non-judgmental place to vent." 
Stenson works at Butte 4-C's as a family development specialist. She has a 20-year-old son with tuberous sclerosis, a rare multi-system genetic disorder that is generally associated with the brain, often resulting in seizures, developmental delay, intellectual disability, and autism. 
But Stenson is not only a parent and Butte's Circle of Parents facilitator. She also helped secure funding to start up similar support groups in eight communities across the state. 
Circle of Parents is a national group network that aims to prevent child abuse and neglect. Through the parent-led gatherings across 18 states, the organization hopes to strengthen families through mutual self-help. 
Butte was the first Montana community to start a Circle of Parents group, which is focused specifically on parents that have children with special needs or mental illness. The idea started in 2014 at a Butte Community Council public forum on child mental health, Stenson said. 
"There was a particular mom who said she felt overwhelmed and misunderstood," Stenson said, looking back on the forum. "Her daughter had autism and was non-verbal at the time, and she wanted to know if there were any support groups she could go to. I stood up and volunteered to start one." 
Through Butte 4-C's and money from the Montana Children's Trust Fund, Stenson was able to start the Circle of Parents group. 
Stenson said parenting a child with special needs can sometimes seem daunting. She said it can be lonely, that parents often feel judged by their peers or their school district, and that there are days when no matter what you say or do, your child does not listen to you. These feelings, on top of the other struggles that come with being a parent, make some people want to give up. 
"Kids and adults with special needs rank number one for being abused because they can't advocate for themselves," Stenson said. "That's why it's so important to educate parents to support and protect them." 
Through her job, Stenson has witnessed the abuse of people with special needs firsthand. That's part of why she wanted to start the support group through Circle of Parents — to inform, protect and show parents they aren't struggling alone. 
At the November Circle of Parents meeting, about seven parents, including Stenson, talked for nearly two hours. Some of their children played in a room next door as they snacked and chatted. The mother who spoke out at the 2014 forum was there, sitting beside another mother who was attending the meeting for the first time. 
The conversations were both serious and light. The new mother said she was on the brink of a nervous breakdown. Others shared their frustrations and talked about how they often have felt like they were doing something wrong as parents. They all laughed about their children's misbehavior and worked to build up the parental confidence of those in the room. 
"Our society today makes us feel like we have to be such perfect parents, but no parent is perfect," Stenson said at the meeting after some members had expressed guilt and shame. 
Early next year, similar conversations between parents in Billings, Missoula, and six other towns will begin to take place, Stenson said. Through a $90,691 grant from Children Special Health Services, a division of the Montana Department of Public Health and Human Services, Stenson and group member Barb Fitzpatrick will train and support Circle of Parents leaders in eight Montana communities over a two-year period. 
With the expansion, Stenson hopes to strengthen both support within and services for the special needs community. 
"It's so neat because now we're not just a couple of parents in Butte," Stenson said. "We are a coalition of communities that can go to legislators and advocate for our kids." (See related story.) 
A SOURCE OF SUPPORT
When Carla Sue Chapman spoke out at the Butte Community Council forum four years ago, she said she didn't think someone would volunteer to start a support group. But she's really glad Stenson did. 
"I feel honored that she started the group because of me, but I kind of think she needed it too," Chapman said about Stenson. 
Chapman has three children who "all have their own issues," she said. Her 10-year-old, Allie, struggles with anger. Her 9-year-old, Alex, has ADHD. Her 8-year-old, Abbie, has both ADHD and autism and was non-verbal for the first five years of her life. 
When Chapman was in the public school system, she said she had learning problems, too. She was in the special resources classroom, like Abbie is now, and also has a sister with special needs living in a group home up in Helena. 
"I know what my daughter (Abbie) and my son have to go through," Chapman said. "I tell them there's nothing wrong with what they have, but life is going to be harder for them."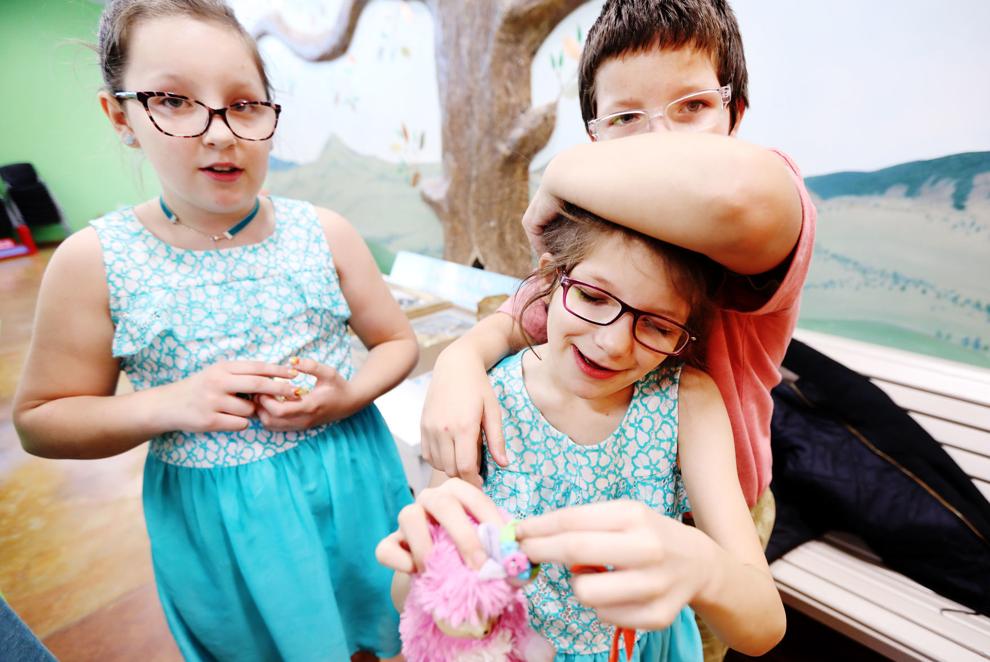 Chapman said she's been to nearly every Circle of Parents meeting. She and other parents said they have learned a lot about how to support and advocate for her kids from parents like Stenson who have older children. As a result, she said, they feel less alone. 
"Nothing has changed in my house. There have been no day-to-day changes since I started going to the meetings," said Tanya Smith, a parent of four. "But every time I come home, I feel immense relief that I am not alone."
Smith said Circle of Parents helped her better understand her 12-year-old daughter, Holley. She said she grew up in a home where ADHD was considered more of a discipline issue than a medical disability. So when Holley didn't follow directions or grew belligerent with Smith when she was 3 years old, Smith assumed her parenting was to blame. 
"I thought, 'OK, I am doing something wrong or there is another issue,'" Smith said. "I didn't know the seriousness of it." 
Holley has ADHD, along with sensory processing and eye tracking issues. For example, if she is in school taking notes from a whiteboard or projector, she has a hard time keeping her place, Smith explained.
Her sensory problems feed off of each other, Smith said, so it's hard to isolate and address each one. There are no services in Butte to help Holley, so they travel to Bozeman once a week so she can learn the skills she needs to live with these disabilities. 
Although Smith now has a better understanding of Holley's learning difficulties, she said there are still some days she wants to throw her hands in the air and say, "I quit!" The Circle of Parents helps because it gives her time to herself and a place where she can share her emotions and not feel judged. 
"You keep your sanity by having a thing that's yours," Smith said. 
But while the group does a good deal of venting, they also celebrate successes, too. At the November meeting, Travis Jackson said he had recently discovered his 15-year-old son, Connor, had learned how to tie his shoes from his "big brother," or mentor. 
"He's realizing he has so much more to offer than he thinks, that he's been limiting himself," Jackson said at the meeting. "He keeps making progress and surprising us."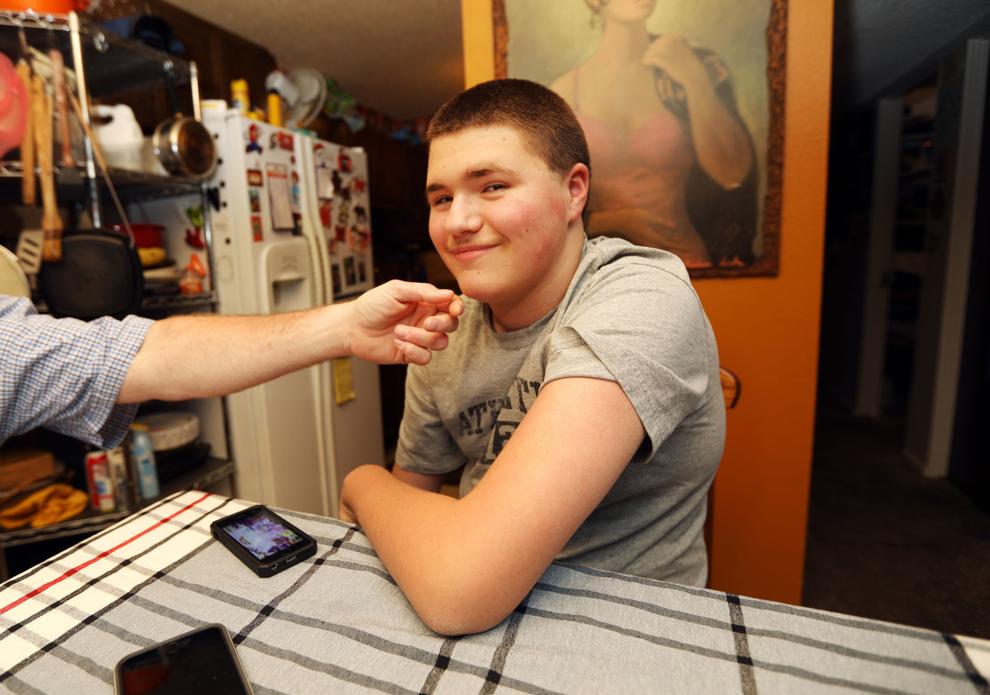 At the Jackson family's home, Connor showed off his collection of Monster Jam monster trucks, stacked in neat rows on shelves above his bed. He pointed out his favorites and talked about his other collections, including WWE wrestling figures he enjoyed matching up and facing off inside the plastic ring set up on his bedroom floor. 
"His personality has changed a lot since he started working with Marcus," Jackson said about Connor and his Family Outreach direct service provider, or "big brother," Marcus Richards. "He's starting to figure out how other people think and feel and is more attuned to other people's needs." 
Connor has Asperger's, a mild form of autism, Jackson said. And through Connor's diagnosis, Jackson said his wife learned she has Asperger's, too. 
"A lot of times parents don't realize they have a disability, too," Jackson said. 
At their kitchen table, Travis and Connor talked about the progress he's made. Last spring, Connor participated in Special Olympics track, has had an awesome year at East Middle School, and is getting better at engaging in conversations. They also talked about what life after high school might look like for Connor. He wants to work at Game Stop, own a cat and a puppy, and maybe even get an apartment of his own someday. 
"I love cats," Connor said, smiling as he talked about visiting the animal shelter cat room. "I like it when they lick my hands." 
Jackson said Connor and his family have been through a lot. If he has any advice to parents who have children with special needs or mental health issues, it's to persevere.  
"Don't ever give up. You may not see any progress in the beginning, but it will come," Jackson said. He and his wife didn't think Connor would ever talk, but now he said they are amazed at the things he's achieved. 
Although access to services after high school isn't always certain for kids with special needs, Circle of Parents members like Jackson said the Butte community has been supportive of their children. Butte has an independent Special Olympics team and many group members' kids are involved with organizations like Family Outreach Inc. and Aware Inc. 
But Stenson said there still is a huge need. She believes if Butte knew how much a mentor or volunteer means to kids and adults with special needs, along with their families, community support would increase. 
"Besides during Special Olympics, when do you ever hear of people wrapping their arms around kids with disabilities? You don't," Stenson said. "We live in such a busy society, but if people understood the need, they would be willing to help. I know they would."