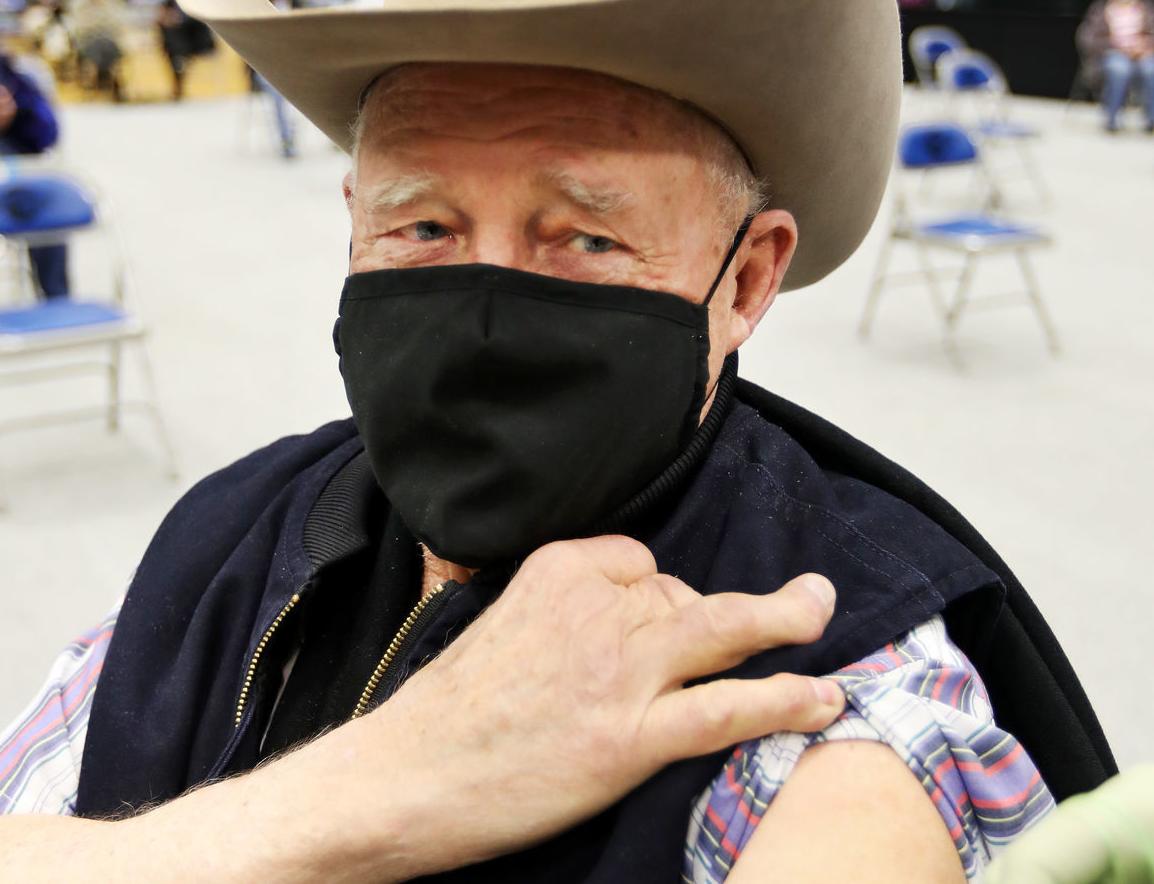 Butte-Silver Bow is planning a public awareness campaign encouraging county residents to get COVID-19 vaccinations and reminding them the pandemic hasn't been snuffed out.
"Butte is doing a great job on vaccinations but our worry is that we're going to have vaccines available and we're not going to have arms to put them in because people are resistant to getting it," said county Chief Executive J.P. Gallagher.
Health Officer Karen Sullivan announced Monday that many open slots were available for the mass vaccination clinic set for 9 a.m. to 3 p.m. Wednesday at the Civic Center, when anyone 16 or older can get the shots.
Gallagher said the campaign will include public service announcements, or PSAs, with "real statistics" to convey that "we're not out of the woods yet."
"People have died from COVID but nobody has died from injections for immunizations," Gallagher said. "The (adverse) reactions are very low and the success rate is extremely high with the vaccinations, and it's safe."
Sullivan said the county will leverage "all media" to get the word out, including newspapers, television, radio and social media.
"We are looking at conducting a robust campaign to educate people about the vaccine — its efficacy, its safety, its ability to get us back to normal," she said.
According to the Butte-Silver Bow Health Department, the county had administered 21,976 vaccine does as of Monday, with 9,376 fully immunized, meaning two doses. The latter figure means 32.8% of the county's eligible population are fully immunized.
After this week's clinics, including ones for first doses Monday and Wednesday and second doses on Tuesday, Sullivan estimated about 50% of those eligible will have received at least one dose and about 37% will be fully immunized.
Sullivan said it's difficult to project with COVID what the herd immunity "tipping point" is. Eighty percent of total population is often noted as a goal, she said, but numerous factors such as vaccine hesitancy and new variants make it hard to calculate.
And Butte isn't an island.
"If we achieve 80% of our population being vaccinated, but Anaconda-Deer Lodge does not, what does that mean for our community?" Sullivan said.
Since the first case in Butte-Silver Bow was confirmed on March 13, 2020, through this past Sunday, there have been 3,998 positive cases here, with 26 still active. There have been 82 COVID-related deaths.
The county's current positivity rate — the percent of people testing positive in a given time period — was 6.9 percent for the week of March 24-30, down from 7.1 percent the previous week.
Recent surveys show a growing number of Americans plan to get vaccinated, but some still have questions or concerns. A recent Pew Research Center poll showed people aged 18-29 are the least likely to say they would get the vaccine.
"The younger we go in terms of who's eligible to be vaccinated, the more hesitancy we'll encounter," Sullivan said. "The preponderance of our older demographic, as well as those who have underlying health conditions, have wanted to be vaccinated.
"Younger, healthier individuals might believe they're invincible and therefore they don't believe they need the vaccine."
Gallagher said the PSAs will point to "where we can go back to" if too many people forgo vaccinations. Two weeks ago, for the first time in more than a year, he said he was able to give his mom a hug.
"So we can go back to talking to our parents through a window or Plexiglas or we can get vaccinated and go back to more normalcy in our lives," he said.
According to the U.S. Centers for Disease Control and Prevention, more than 167 million doses of COVID vaccines were administered in the United States from Dec. 14, 2020 through April 5. During that time, a vaccine adverse reporting system received 2,794 reports of death among those who received the vaccines.
CDC and FDA physicians review each report, and according to available clinical information from death certificates, autopsy and medical records, there is no evidence so far that the vaccination contributed to patient deaths.