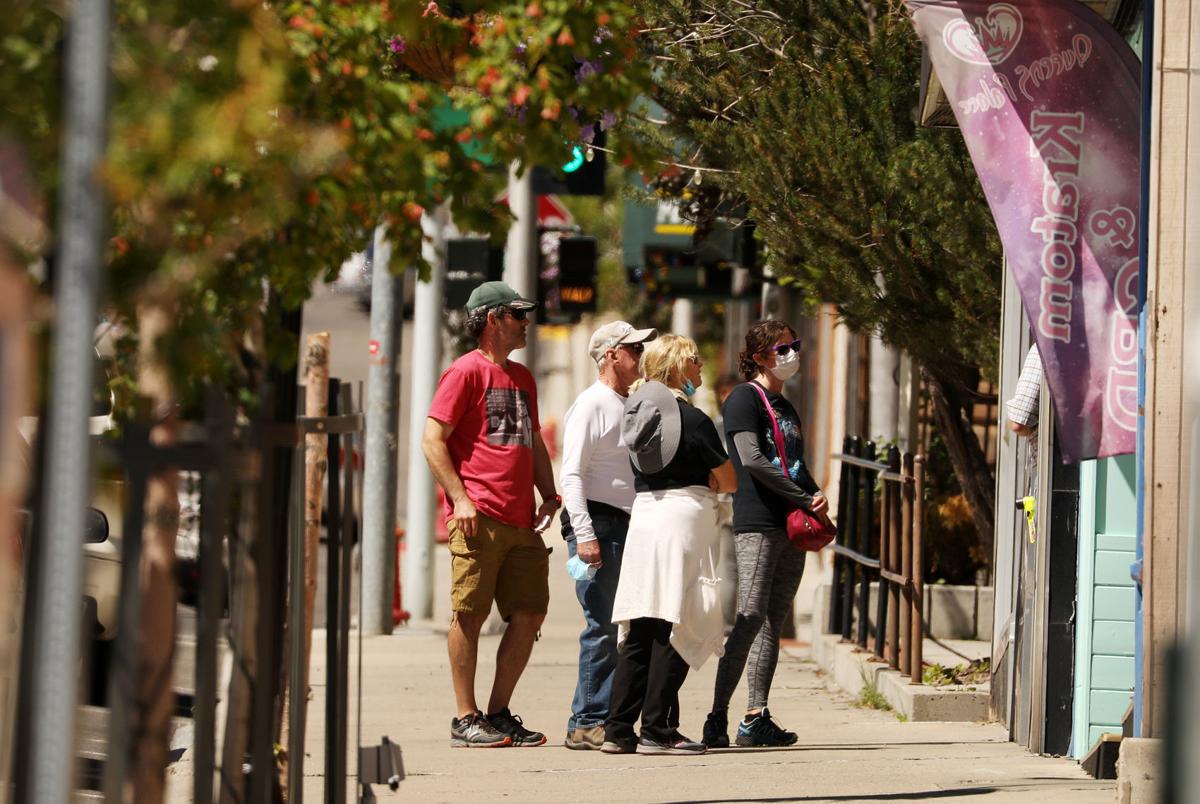 Hours before Butte-Silver Bow health officials were to take in more public comments on possibly mandating face masks because of COVID-19 concerns, Gov. Steve Bullock made the decision for them.
On Wednesday, Bullock issued a statewide order requiring the use of a face covering in indoor business settings open to the public and outdoor gatherings with 50 or more people when distancing is not possible. The order is effective immediately and applies to counties with four or more active cases.
Health officials in Butte had initially scheduled a special meeting and public hearing for late Wednesday afternoon to consider a similar mandatory mask rule and order. But Bullock's order made it moot so it was canceled.
"The Butte-Silver Board of Health and Health Department staff are very grateful to Gov. Bullock for his issuance of the mask directive," said county Health Officer Karen Sullivan.
The department had already received 637 written comments about the proposed order, with 507 individuals in support of a local mandate and 130 in opposition, Sullivan said.
"The fact that 80 percent of the emails we received on this issue were supportive of a local mandatory mask mandate gives me great hope that the vast majority of Butte-Silver Bow residents will do the right thing and mask up for the good of themselves, their family, their friends and the wider community," she said.
Now businesses must post signs that masks are required for those ages 5 and up, and it applies to employees and customers. They will not be required when consuming food or drinks in establishments that offer them for sale.
Sullivan said enforcement of Bullock's order locally would be complaint-based. She said the health department will be accepting complaints about non-compliance at its call center, at 406-497-5008.
"We will work with businesses and other applicable entities to guide them on how to enforce the governor's directive," she said. "As the governor said, businesses and other public entities, for those who refuse to wear masks, can deny entry, can refuse service, and can ask the individual to leave."
If a business owner or an operator of an indoor public space is not enforcing the governor's directive, Sullivan said the health department would reach out "to ensure that they are aware of the directive and able to follow it."
"If a business or indoor space still refuses or fails to follow the directive, they may receive a warning from the health department, and possibly a health officer's order if they still fail to comply after the warning," Sullivan added. "It is also possible that legal action may be taken to enforce the order if a business refuses to close or comply."
The governor's mandate comes as Montana again set a record for the number of cases added in a single day, with 145 new cases reported Wednesday. The state now has 1,147 active cases and 37 hospitalizations.
Meanwhile, Butte-Silver Bow reported Wednesday two men in their 20s tested positive for COVID-19 earlier this week, bringing Butte-Silver Bow's current total to 27 cases.
The new cases are still under investigation and county health officials are following up with contact tracing, Sullivan said.
Since June 22, the county has announced 16 newly confirmed cases. Of those, eight have been identified as a close contact to another confirmed case and four cases were linked to travel outside of the state. The health department has not been able to determine how the other four cases contracted the virus.
"We have not yet declared community transmission of the virus," Sullivan said. "Should that time come, we will work with the Montana Department of Public Health and Human Services to make the declaration of community spread, and announce that to the public." 
Some of the written comments received cited health reasons for not only supporting a mask mandate, but opposing one.
"As a person in their 60s with asthma, I highly encourage you to mandate the use of mask indoors," one person wrote. "I continually see people in stores especially Walmart not following any guidelines to prevent the spread. If we don't get this under control our health is in jeopardy."
Another one said, "I cannot wear a mask for health reasons and I ask for the personal choice to wear a mask, no mandates please. I can't breathe in a mask. My health is important to me. I am law abiding, but I can't wear a mask, will I be fined or jailed?  I'm so stressed out by this.  No masks please!"
Here is a sampling of others:
"The benefits of taking action to minimize the spread of this thing in our community outweigh this inconvenience ... Minimizing the spread in Butte and keeping the cases low will help businesses stay open and for us to continue our routines without having to go into full-scale shutdowns."
"People will be coming in from around the state and the country bringing higher risk for exposure to COVID-19. I believe masks are the best way to protect ourselves, our loved ones, and our community. We should have a mandatory mask ordinance because people are taking this serious enough."
 "While I understand the importance of a mask, as someone with asthma I am unable to wear one. I have been to the emergency room with my daughter as well as a doctor appointment and I have put a mask on. It is extremely hard for me to breathe with a mask on because of my asthma and I have to use my inhaler more than usual. I know I am not the only person with this problem and for that reason masks should not be made mandatory. People who have a hard enough time breathing because they have asthma or even COPD should not have to subjected to mandatory masks. Therefore I say that the masks should be a choice not mandatory."
"My vote is no. There still aren't masks available. We have people ask for them every day where I work and we just can't get them. The ones that we have been given for work state on the package they "do not protect against COVID-19".  If they don't protect against COVID-19 why are we still wearing them?  False security.  Are you going to be able to provide two or more masks to every person in the County?  Free of charge if you are the entity mandating they be worn?  If providing disposable masks the amount would be much more. If providing cloth masks then at least two per person to allow them to be laundered."
Get local news delivered to your inbox!
Subscribe to our Daily Headlines newsletter.