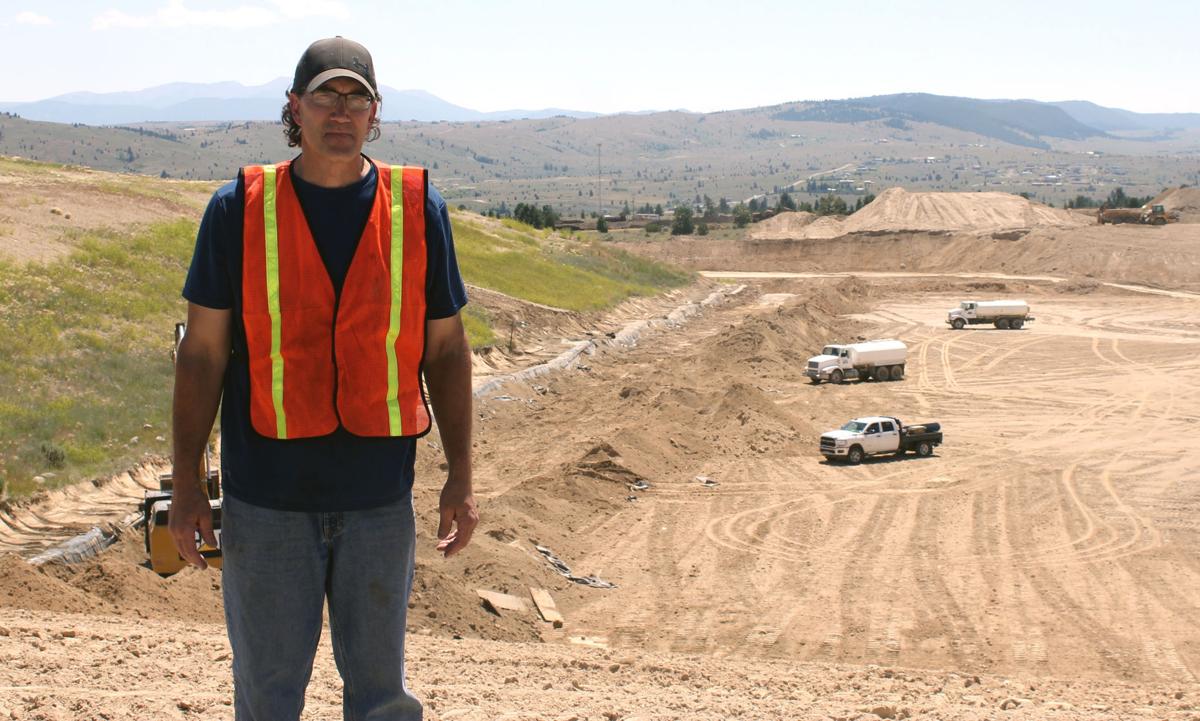 In the midst of one of the biggest "outta sight, outta mind" places in Butte-Silver Bow County, there's a deep, $2 million hole that's impossible to miss if you just go up and over a hillside.
The new cell at the county's landfill spans nearly a dozen acres and for 15 years or so, will be slowly filled with household garbage that residents in this county and Anaconda toss out.
There's actually a lot more work to be done, some of it quite technical, but construction is expected to finish around late October. Then, when room runs out in the current cell, the new one will be ready and waiting.
"We have about eight more months left (in the current cell)," said Glen Rafish, who oversees solid waste management for Butte-Silver Bow. "When that is full, we go right into this one. The catch is, you have to have all this done ahead of time."
The total cost of the project is about $2.4 million, with about $2.1 million of that going to construction work overseen by Intermountain Construction Services in Butte.
Property taxpayers in Butte-Silver Bow pay an annual $25.37 landfill access fee, and separate tipping fees are charged for "demolition" loads including such things as bricks, concrete, lumber and other materials not considered household trash. Anaconda Deer-Lodge County also pays to use the landfill for the household garbage its residents produce.
Most Butte residents now pay just over $106 a year to have their garbage picked up and hauled to the landfill by McGee Trucking, but that's for collections. The other fees cover landfill operations.
Costs for the new cell are being funded by a capital reserve account set up years ago when the landfill started operating just north of Rocker in 1993, so residents aren't paying higher fees to fund it, officials say.
Digging at the new cell — the fourth at the landfill — began in late May and much is completed. The more complicated work will begin soon.
Next steps involve multiple layers of lining being put down, each serving specific purposes in an overall effort to keep anything, such as oils or household chemicals, from leaking out and making its way to groundwater.
Pat Cunneen, the county's senior operations engineer, said a lot of the construction cost is in the liners and ensuring they are properly installed. Part of installation is connecting them to the liners of the current cell.
"When they get down to the final grade, it gets very technical," Cunneen said. "We are talking tenths of inches that are important."
Like previous cells, the groundwater underneath this one will be monitored, as will methane gas and other things. Decomposing material, including garbage, produces methane gas and if pockets get too big, they can become explosive, Cunneen said.
The cell will also have a system to capture leachate, which forms when rainwater and snowmelt makes its way through the garbage. It can't penetrate the liners, of course, and it would take up lots of space in the cell if allowed to stay.
Instead, it goes into a drainage system that empties through a pipe to a specially lined area at the landfill. The Montana Department of Environmental Quality allows the county to then take that water and spray it on top of the cell to keep dust down.
"Everyone thinks this is just a dump, it's a hole. It's somewhere to put your garbage," Rafish said. "But it's very technical and important that we monitor groundwater and make sure things are done properly and everything is working well.
"You don't just dig a hole and place garbage in it."
The landfill has to meet environmental monitoring standards to keep operating and Rafish said it has consistently fared well over the years. It got good marks again in a recent report from the DEQ, he said.
"We have been very fortunate," he said. "Under comments, we get very, very favorable comments. We go above-and-beyond to do what is right."
Although the new cell only started taking shape two months ago, it and most everything else at the landfill was planned out three decades ago. Locations for a fifth, sixth and seventh cell are part of the original design and the landfill itself should last another 68 years.
"That is how well they did back in 1991 when all of this was just a thought," Rafish said.
Get local news delivered to your inbox!
Subscribe to our Daily Headlines newsletter.