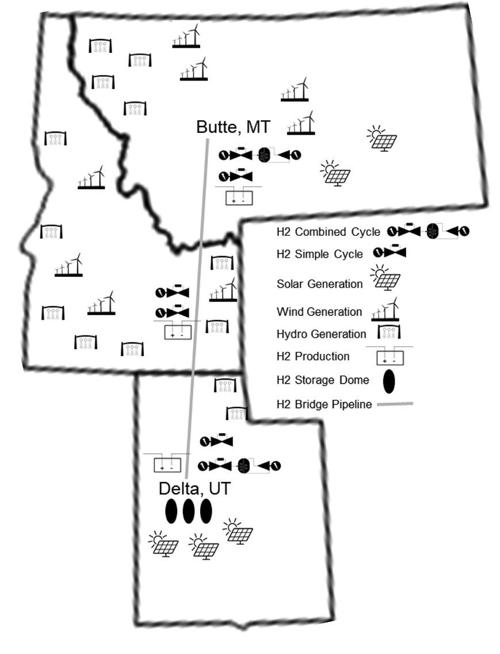 Butte-Silver Bow could potentially become home to a key cog in the Western power grid in the near future as the march toward embracing renewable energy solutions while severing ties with CO2-producing fuels continues. 
Oriden LLC, a venture of Mitsubishi Hitachi Power Systems focused on clean energy production, launched in Pittsburgh last year, has been given the go-ahead to purchase land in Butte that could be used to construct hydrogen production and gas turbine facilities — infrastructure that may eventually help power areas from Los Angeles to the Pacific Northwest in the first major development since the idea was discussed late last year.
County commissioners approved an agreement Wednesday night that gives Oriden up to five years to purchase 160 acres in the industrial park for its energy processing operations. The parcel is north of the REC Silicon plant.
Under the deal, the county will reserve the parcel for Oriden for an annual fee of $5,000 and the company can purchase the land outright within five years by paying $240,000, or $1,500 per acre.
Kristen Rosa, administrator for the industrial tax district, said $2,000 per acre was the usual asking price in the area but they agreed to $1,500 per acre for a couple of reasons.
One, the parcel does not have direct access to industrial water and some other ready infrastructure like some other vacant parcels, and two, if Oriden does exercise the purchase option, it will be for the full 160 acres and nothing less.
"This is the first step in what we hope to be a bigger project," Rosa told commissioners early this week. 
The Option to Purchase Agreement was first presented to the Tax Increment Financing Industrial District Board on May 15. The Board unanimously voted to recommend an agreement approval to the Council. 
In that meeting, Michael Ducker, Mitsubishi Vice President of Renewable Fuels, stated a region-wide focus on renewable energy, particularly a mandate by Los Angeles to rid itself of coal power, has "created the first critical need for hydrogen storage in the Western region."
The necessity for storable, clean energy has arisen with the increasing commitment to wind and solar farms, alongside the desire to reduce dependency on coal and other CO2-producing forms of energy.
While wind and solar emit no carbon emissions, they of course can leave the grid in limbo if the air is still and the sun isn't shining.
Enter hydrogen, the universe's simplest and most abundant element. It has the potential to become the future of renewable energy as it possesses the capacity for long-term storage and can be readily and cleanly converted into copious amounts of electricity when the grid requires extra juice.
The concept of producing hydrogen in Butte was first discussed in December between Mitsubishi, Montana Resources, Atlantic Richfield, NorthWestern Energy and Butte-Silver Bow officials.
The process would involve converting treated and polished water from the Berkeley Pit into hydrogen through a process known as electrolysis that leaves only oxygen and water vapor as a byproduct. The hydrogen gas would be transferred via a to-be-constructed 450-mile gas pipeline, then stored in vast salt domes in Delta, Utah, about 130 miles southwest of Salt Lake City.
While a pipeline of that length may seem implausible, it is not without precedent. There is an active 310-mile hydrogen pipeline connecting Texas City, Texas and Lake Charles, Louisiana. According to the United States Office of Energy Efficiency and Renewable Energy, there are approximately 1,600 miles of hydrogen pipelines currently in use across the country. 
The Delta salt domes, massive bored caverns with diameters of up to 300 feet and depths of up to 1,500 feet, can each be pumped with up to 150,000 Mwh worth of compressed hydrogen, or enough to power over 13,000 homes for a year. It's estimated the salt formation in Delta is large enough to house 100 of these storage domes.
Hydrogen not pumped to Delta could be converted to electricity at the site in Butte via gas turbines and then transferred along high voltage transmission lines that run west from Colstrip's diminishing coal operations to Butte and then on to the Seattle and Portland areas.  
Near the salt domes in Utah is the Intermountain Power Plant, which supplies electricity to 23 cities in Utah and six cities in the Greater Los Angeles area including Anaheim and Burbank. The plant, one of the largest in the nation, aims to operate on 25 percent hydrogen and 75 percent natural gas by 2025 and 100 percent hydrogen by 2045.
Hydrogen produced in Butte and piped hundreds of miles south could help see that goal realized.  
Montana Standard reporter Mike Smith contributed to this report.