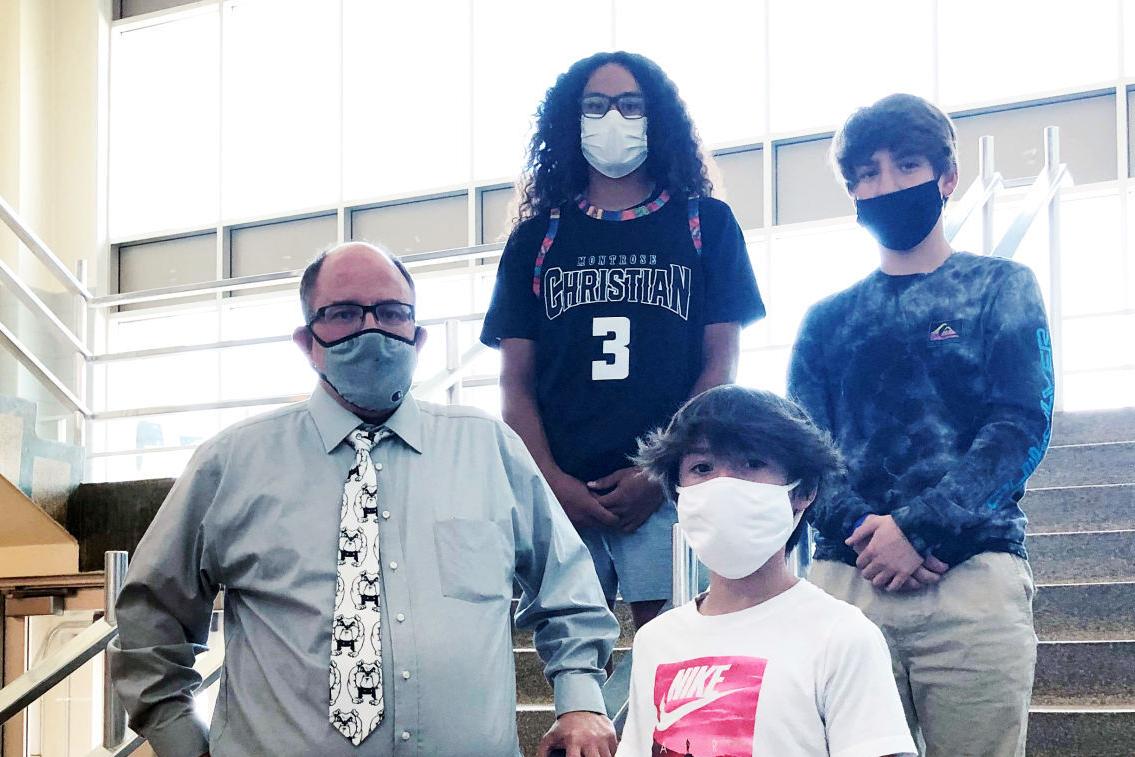 If you didn't know Butte-Silver Bow's largest school district was starting its new year this week, and you were anywhere in town Monday morning, well, you certainly knew then.
Yellow school buses everywhere. Kids with backpacks ambling along neighborhood sidewalks, sometimes three wide. Traffic jams — as close to those as they come in Butte, Montana, anyway — around every school.
After a long, hot, mostly quiet summer, Butte High School, East Middle School and all six elementary schools that make up the Butte School District were back in action Monday as more than 4,400 students started the 2021/2022 school year.
The kids weren't the only ones with first-day butterflies.
Keith Miller, principal at East Middle School, said he, his staff and all the teachers had them, too.
"It's over different issues, obviously, but the cool thing about school is it's a fresh start every year and you get to start all over again," he said.
There are some big changes for all students at East Middle, even those who went there last year as seventh graders now returning for the eighth grade.
Because of COVID, students attended classes last year in "cohorts," with kids in each one sharing a single teacher for half the day. During a lunch break, desks and classrooms would be sanitized, then that cohort would go to another teacher for the afternoon.
That went on for six weeks, then cohorts got another two teachers for six weeks, and so on. It was all in an effort to minimize multiple class changes and mingling that might make it easier for the virus to spread.
This year, though kids throughout the district are starting out with mask mandates, they go to several classes with different teachers each day, just like it was before the pandemic hit in March 2020. The kids call that "normal school."
"It's kind of weird going back to normal school but I'm happy to be back," said eighth grader Cayde Stajcar. "Us eighth graders, we didn't get the seventh grade experience of normal school. We had the COVID year and it was kind of hard. So everything is new this year."
Fellow eighth grader Gunner Bushman agreed.
"I liked the summer but this gives you something to do and this is the first normal year in middle school and it's like new," he said.
Butte Central Schools started their new year on Aug. 23, while kids at Ramsay began classes last Wednesday. Divide, like Butte Schools, began Monday and Melrose gets going on Sept. 7, the day after Labor Day.
Because of the spike in COVID cases due to the delta variant, mask mandates are in place at Butte Central for the first nine weeks, and in the Butte district for the first four weeks. They will be re-evaluated periodically to determine if they continue.
Regardless, masks weren't at the forefront Monday.
Pat Kissell, principal at West Elementary, said the year had started off "absolutely fantastic."
"It's alive again and we are as happy as happy can be," he said. "The masks are no issue and the kids are doing fine. Parents have been better than they ever have been, so things are going in the right direction."
Although it was the first day for most Butte district kids, it wasn't for teachers.
District Superintendent Judy Jonart said teachers spent all last week getting up to speed on new technology, computer software, online tools and other things. The district is also implementing a new math curriculum in all grades that's more closely aligned with state standards.
But the prep work started weeks ago.
"Teachers came in and got their rooms ready, and that goes with making sure their class is welcoming, the bulletin boards are still up, the name tags are out, the postcards go out to families welcoming them," Jonart said. "There is a lot of work that goes into making sure schedules are right.
"All those things take time and most of the teachers started coming back the first week in August to get all that put back," she said.
Although East Middle is starting a "normal school year" in many ways, it is still in the middle of a major, multi-million dollar renovation project that includes a new gym and science wing, a remodeled library and new ventilation throughout.
The front and sides of the school have been reconfigured with a wider parking lot and a new parent/student drop-off zone, and although there was still a mini-traffic jam Monday morning, it was much better than previous years.
But lots of interior work is still being done, and for now, Miller is a principal without an office. Even his office door is taped up.
It's all fine by him, even on day one.
"I like to get around anyway," he said after steering a lost student to the right classroom. "I've got a couple of places where I can sit down and do some work and stuff like that, but it's actually good for me because I like being out with the kids."
Like others, one of them — eighth grader Rhett Arntson — said it was nice to be back for a "normal school year."
When asked what the best part of that was, he didn't hesitate, and his answer had nothing to do with books.
"Seeing friends again," he said.
The Montana Standard's Tracy Thornton contributed to this story.