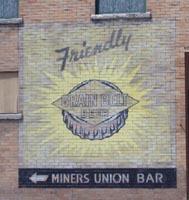 Editor's note: The following is one of a series of columns to run throughout the summer from the Citizens for Preservation and Revitalization. Topics will concern Butte's architecture and other topics that relate to its historic buildings.
If you believe historic preservationists are all of one stripe, think again.
Nowhere in the sometimes hysterical world of preservation is the disagreement sharper than when it comes to ghost signs. Should they be preserved in their state of "arrested decay," showing them as historic elements that have weathered along with the buildings? Or restore them, with proper original colors, but so they are legible, striking artworks contributing to the modern streetscape?
Butte's ghost signs are in all states of repair and disrepair. In The Montana Standard for July 9, 2001, Kim Kohn documented about 40 signs in Uptown Butte, spanning at least four decades from the 1890s to the 1940s.
"Tom Morgan for Mayor," on the east side of the Blue Range on Mercury Street, is an example of a restored sign. One might think Mr. Morgan was running in the 2008 election.
Restoration — essentially, simply repainting — is pretty easy. Preservation is far more difficult and costly. Sometimes modern sign ordinances may impact these often gigantic signs, and lead paint issues may have to be dealt with. What should be done with multi-layered signs? Preserve which one?
It takes a real craftsman to apply just enough paint to keep a sign from disappearing completely, yet not appearing to be new. Few if any ghost signs in Butte have received such attention, but the value of the signs to our history and our stories is unarguable.
Most Butte preservationists would agree that the question is a knotty one that should be addressed on a case-by-case basis. Butte CPR is ready to provide guidance to building owners contemplating work on their ghost signs, with the goal of enhancing everyone's view of Butte's living history.
— Dick Gibson is a volunteer Citizens for Preservation and Revitalization. For details about CPR, visit http://www.buttecpr.org/.