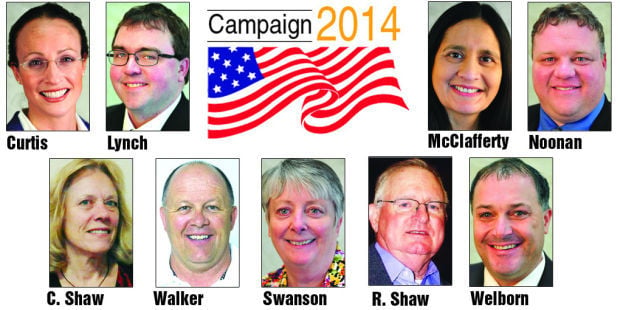 But host of legislative, local commission candidates officially file
Democratic state Rep. Amanda Curtis, a Butte teacher who gained notoriety for making daily video reports on the Legislature during her first session last year, is not seeking re-election this year.
Curtis cited a combination of professional and political reasons for not seeking a second term.
But several incumbent lawmakers in the Butte area and other parts of southwest Montana did file for re-election Thursday, including Democratic state Reps. Ryan Lynch, Pat Noonan and Edie McClafferty. The filing period runs through March 10.
At the local level, incumbent Butte-Silver Bow Commissioners Cindi Shaw and Bud Walker filed for re-election. Four other seats on the 12-member council are on the ballot this year.
Butte-Silver Bow Justice of the Peace Debra Williams also filed for re-election.
Lynch, Noonan and McClafferty would continue to represent parts of Butte and Silver Bow County if re-elected in legislative districts that were redrawn last year to reflect demographic changes following the last U.S. Census.
D-Anaconda, also is seeking another term, as are Republican Reps. Ray Shaw of Sheridan and Jeff Welborn of Dillon.
Swanson said she brings the experience of two terms into her re-election bid and said education, economic investments, heath care and "keeping public lands in public hands" as primary concerns this election season. Swanson has represented House District 86 the past four years but would now be in District 77.
Democrat Douglas Schidler II of Butte is running in a new House District 78 seat that includes parts of Silver Bow, Deer Lodge and Powell counties.
Republican Rep. Kirk Wagoner of Montana City filed for the House District 75 seat, which covers most of Jefferson County.
Most of the area was in District 77 before the maps were redrawn, with the new district losing a part of Helena in the north but gaining Whitehall to the south.
Curtis won her first term in House District 76 in November 2012, succeeding Democrat Jon Sesso of Butte, who was elected to the state Senate that year.
But the district was redrawn last year, and even though Curtis could have run in the new 74th or 78th districts, she decided against it.
"I am only four classes away from getting my master's degree and when I was in session in Helena I wasn't able to continue that," said Curtis, who is seeking a master's in educational leadership from the University of Montana.
Politics also played a part in her decision.
Running again could have pitted her against Noonan or state Rep. Gordon Pierson of Deer Lodge, both fellow Democrats whose views often mirror her own, she said.
"Pat and Gordy both voted 99.9 percent the same as I did," Curtis said. "Pat and I only differed on four bills out of 2,000. I'm really disappointed I didn't get to continue in my seat and represent Butte, but I know we are in really good hands."
Running again could be an easier decision for Curtis in 2016. If Noonan wins another term in November, he could not seek re-election again in 2016 because of term limits.
Shaw, who is chairwoman of the Butte-Silver Bow Council, said she would continue to support economic growth while preserving Butte's unique beauty and character.
She represents District 11, which covers the northern portion of Silver Bow County including part of Uptown. Walker represents District 7, which covers parts of Central Butte.
Walker said the council tackled some contentious issues the past few years, including public pensions, appointing two judges and a commissioner and passing an ordinance banning drinking in pubic from 2 a.m. to 8 a.m.
Walker expects economic development to be a big issue going forward, especially with NorthWestern Energy's plans to build a new headquarters Uptown and serious discussions for building a multi-story parking garage.
"We have a good group that works together," Walker said of the council. "We respect each other and that is a big thing anymore."