Residents from Butte and beyond will be treated Sunday to an annual collaboration among Butte's stylists, designers and other creatives in an event that, according to organizers, befits an on-Broadway show.
In a recent radio interview, the show's producer Leigh-Ann Whitworth described the show simply as "all of the things."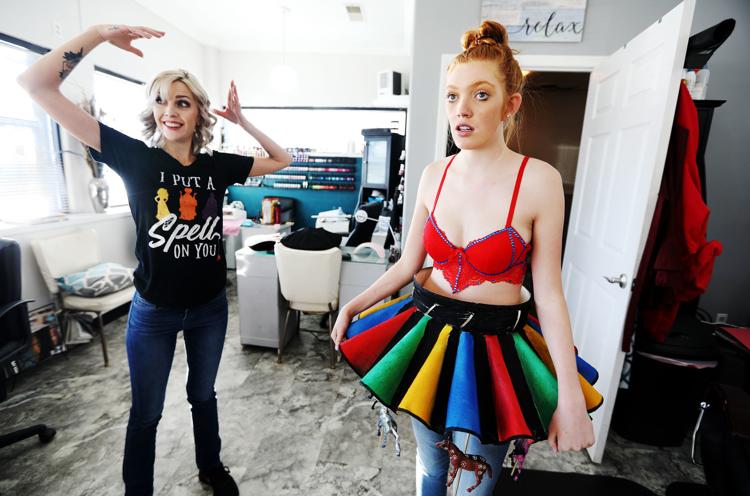 "It's just an art explosion," Whitworth told The Montana Standard Friday. "It's technicolor."
Popularly known as the "hair show," the event is an annual art showcase that features a fashion show to music and video, along with avant-garde clothing, makeup, and hair.
Now in its eighth year, the "explosion" takes place at 5 p.m. and 7 p.m. Sunday at the Fairmont Hot Springs Resort.
Whitworth, who owns Essentials Salon in Butte, collaborated with other local stylists to create the show eight years ago.
But even before that, she said, she and fellow stylist Jackie Higgins competed in avant-garde shows internationally.
"We're creating art. We're creating spectacle," she said. "We look at the human body as an art form and as a canvas in the show."
The theme and title of this year's show is "Rise," and it connotes all of the things one might think of. "Rise above, come from the dead, resurrect, lift, phoenix – it means all of that," said Whitworth.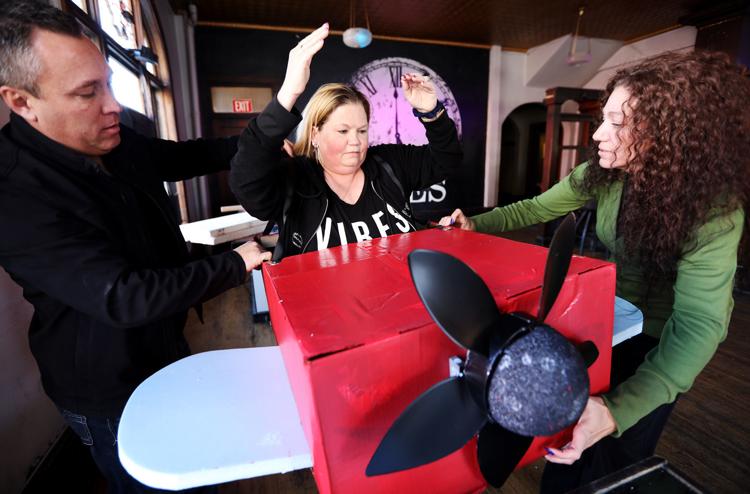 The show will feature two halves. The first is titled "Night at the Museum" and will feature, among other things, walking paintings, models dressed as dinosaurs, and wedding dresses painted to look like Vincent van Gogh's "Starry Night," Claude Monet's "Water Lilies," and "The Scream" by Edvard Munch.
The second half promises to be both celebratory and cathartic.
It's named after the Mexican holiday Day of the Dead.
Whitworth explained that, according to the holiday's tradition, there are three types of death.
The first death occurs when one realizes his or her mortality. The second represents the moment when the spirit leaves the body.
"And the third, which is by far the saddest, is when no one ever says your name again," said Whitworth.
Several of the scenes in the second half are tributes to people and places important to Butte and to Butte culture – things that organizers want to invoke so they won't die and won't be forgotten.
One of the tributes is to the late well-known Butte resident Luigi Jurenic.
Another is a tribute to Sara "Miro" Mirabdolbaghi, a 19-year-old artist who died from cancer in 2012. The tribute will include models who currently have or have had cancer, who will be dressed as warriors.
Whitworth described the scene as "powerful."
"We have all experienced someone with cancer," she said Friday.
You have free articles remaining.
Keep reading for FREE!
Enjoy more articles by signing up or logging in. No credit card required.
Other tributes are to Butte miners and to Columbia Gardens. Miners will be wearing helmets made of hair, while the Gardens' amusement park rides will come to life.
The models walking Sunday had to try out to get a place in the show. But the people who will model aren't "models" in the sense that one might think.
Instead, they range from children to grandmothers and come in all shapes and sizes, Whitworth said, adding that she enjoys watching the models come out of their shells and transform into their characters.
"Anyone who tries out, we want to recognize them as a runway model," she said.
Whitworth added that another notable aspect of the show is the fact that stylists reuse and recycle many of the garments and props used in previous years.
Sometimes garments get ripped up and are sewn into something new, like a cage that formed a dress in a previous year and later became a lion's mane. This year the cage will form a chest piece.
Stylist and cosmetologist Kyra Persons was busy fitting 19-year-old model Kellie Maloughney for her costume Wednesday morning at The Beauty Bar Salon on Cobban Street.
Maloughney is to play the part of Columbia Gardens' carousel, replete with a lampshade skirt that looks like a carousel top.
Using a lazy Susan for Maloughney's garment, Persons created a wheel of carousel horses, which spins independently from the dress.
Sunday won't be the first time Maloughney has been part of the annual show. Last year, she was dressed as a bird, for which she wore an elaborate mask and sported hair styled to look like a bird's nest.
"It was exciting to be transformed into a different character," she said, reflecting on the experience.
As for Persons, she said the annual show lets stylists and other professionals showcase their talents.
"For us as stylists, it's that one time of year we can be super creative," she said.
Lindsey Reilly-Rasnick, head of wardrobe, created the hand-painted wedding dress designs, which will be auctioned after the event.
She and Frank Hall were busy Wednesday afternoon putting the final touches on one of the show's costumes: a bi-plane reminiscent of the airplane ride at Columbia Gardens.
"You're going to see so much of the Columbia Gardens that we all miss coming back to life," she said, standing inside The Times Bar on East Galena Street.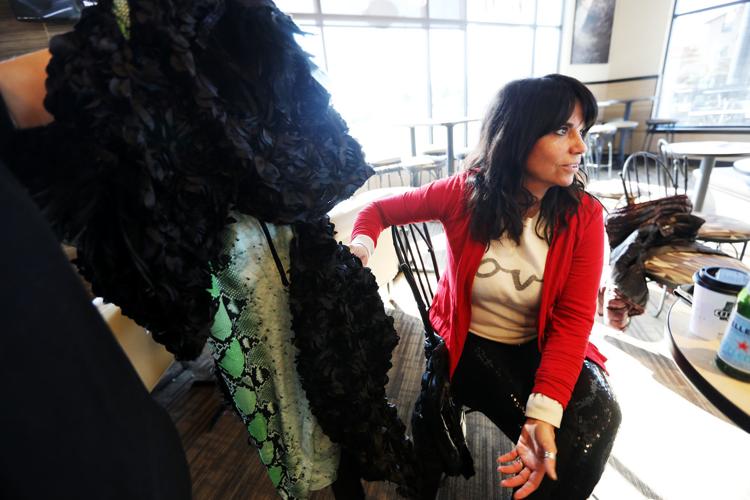 Reilly-Rasnick described herself as a banker who serves as "a wardrobe guru" one month out of the year.
"This is fun because it's so outside my every day, so I get to use the creative side of my brain," said Reilly-Rasnick, who's been participating in the show for four years.
Reilly-Rasnick described the show as something beyond words.
"It's so much more than just your average fashion show," she said. "It's everything. It's like a Broadway production brought to Butte."