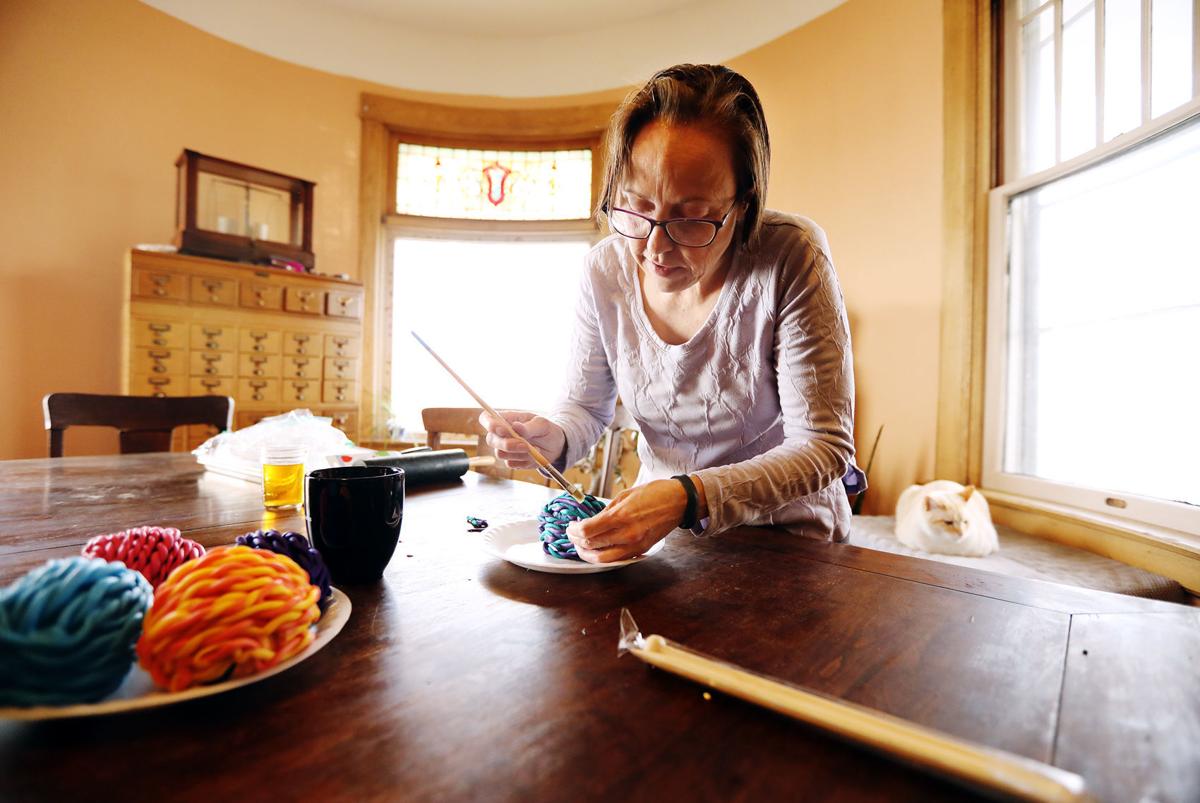 Librarian Shari Curtis didn't come up with the idea for the Butte-Silver Bow Public Library's annual Edible Book Festival, but some might say it's kind of in her wheelhouse.
Before becoming a librarian, Curtis was a chef who specialized in baking.
On Saturday, Curtis and others will bring edible works of art to the library for the fourth iteration of the festival, which she said has been growing in popularity with evermore elaborate snacks and desserts that pay homage to works of literature.
Curtis, programming librarian and the manager of the library's Carle Gallery, explained the festival is part of an international campaign and that it was a colleague of hers who came up with the idea of bringing the event to Butte.
For Curtis, the concept seemed like a no-brainer.
"You know, it's literary and it's food," the librarian said.
To take part in the festival, entrants create sweet or savory dishes that draw inspiration from both fiction and non-fiction books.
The creations can be based on characters, events, cover art, and just about anything industrious home cooks can think of related to their favorite books.
One year, for instance, Butte resident and proprietor of Montana Cake Whisperers Mary Mathews made the "Monster Book of Monsters" from the Harry Potter series, replete with claws and chomping, jagged jaws.
During the first year, Curtis made the caterpillar from the children's book "The Very Hungry Caterpillar," by stringing together balls of fruit. For Saturday's event, she's fashioned pieces of cake and fondant icing into bright yellow yarn balls, a reference to the mystery novel "Knit One, Kill Two." In an ironic, not ironic, twist, the kind that Alanis Morissette might sing about, Curtis's cat made off with some of the yellow fondant for her yarn balls, which her dog later ate.
Last but not least, B-SB librarian Sara Karbassi previously tried to make the tower from "Wuthering Heights," but the cake collapsed, so she changed the theme to "Things Fall Apart."
As Curtis noted, the creations don't have to be made of cake—in another state, someone turned a canned ham into the face of Earnest Hemingway—and the books don't have to be novels. In fact, during a previous year a friend made a lentil dish in honor of one of her favorite non-fiction books, "Lentil Underground" by Liz Carlisle.
The festival starts at 3 p.m., Saturday at the library, 226 W. Broadway St., and registration is from noon to 2 p.m., so they'll be time in the morning for last-minute creative cooks to whip up inspiration from their favorite books.
After 3 p.m., the creations will be judged and prizes will be handed out. Judging this year is KXLF reporter John Emeigh, Maggie Davis from Butte Broadcasting and local author and library trustee Marian Jensen.
Afterward, participants feast on the edible books, perhaps proving that the best works of art are transitory.
Butte resident Diane Larson has been helping the library spread the word about the festival by handing out fliers and alerting local businesses.
She noted that she isn't a baker or a cook, so she has a plan and a backup plan for Saturday. Her idea is to make a cake based on "All the President's Men." And if that doesn't work out, she'll make a cookie recipe included in the back of the mystery novel "Decaffeinated Corpse."
Also making a repeat appearance Saturday will be residents from The Springs at Butte senior-living facility on Mt. Highland Dr.
Last year residents made a cake based on "Chicken Soup for the Grandparent's Soul."
To give residents a "taste" of what young readers are into these days, said staff members Tonya Kish and Andrew Zemljak, this year residents made a cake honoring the cover of "Twilight" – the first book in the young-adult vampire series "The Twilight Saga" by Stephenie Meyer.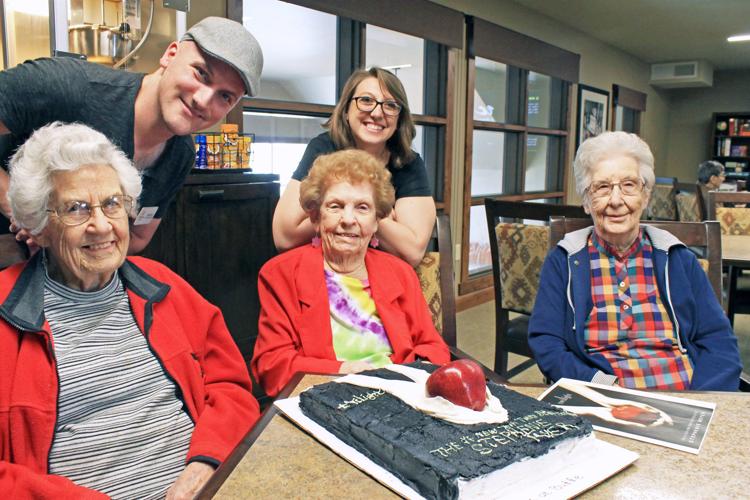 The book cover is black and shows a pair of outstretched hands holding an apple. Residents Mary Hecker, Helen Maichel and LaVera Kalsater displayed the edible book at The Springs facility Friday. They, and other residents, used fondant to create the hands and placed a real apple in the center.
At first someone came up with the idea of putting the fondant, known for its malleability, into a pair of gloves to create a hand-like shape. When that didn't work, they simply made the hands by shaping the icing.
Kish and Andrew said residents have a lot of fun preparing for the festival—they've even become involved in more library events because of last year's event—while Kalsater said the residents "get a little silly" while baking.
As for Curtis, she sees the festival as a fun way for people to learn new things, get more involved in the library and combine their passions.
"We've had it here for four years and people really love it," Curtis said, reflecting on the event. "It's celebrating books and food."
And for a chef-turned-librarian, it doesn't get any better than that.